As we've mentioned before, when it comes to dinosaur popularity, it's tough to beat a Tyrannosaurus rex. And as we've also mentioned before, our view of these extinct animals has undergone a major evolution over the years.
And now? It's time to take the next step in this ever-changing journey in understanding this prehistoric predator.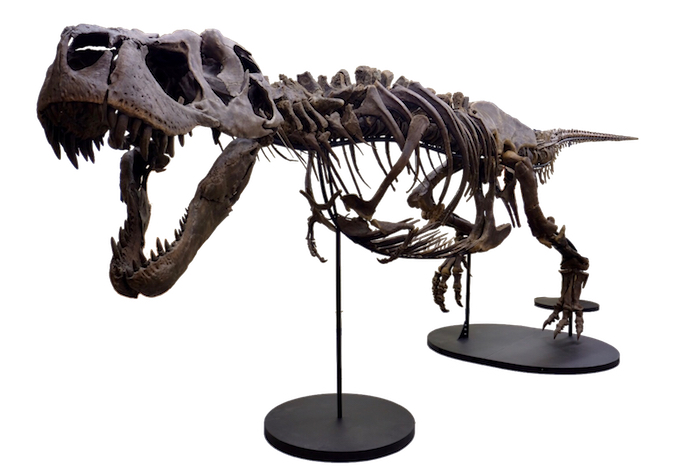 Victoria's is the second-most complete T. rex ever found. (Courtesy of IMG)
Meet Victoria. She's the star of a brand new T. rex exhibit opening this November at the Arizona Science Center in Phoenix. It's appropriately called Victoria the T. rex, and it features the second-most complete skeleton of this mighty dinosaur ever found. (As we've also mentioned before... finding complete fossils is essentially impossible, so this find is a big deal.)
Though the exhibit is still a couple months away, we've got a sneak peek for you. So let's roar into this, shall we?
Queen Victoria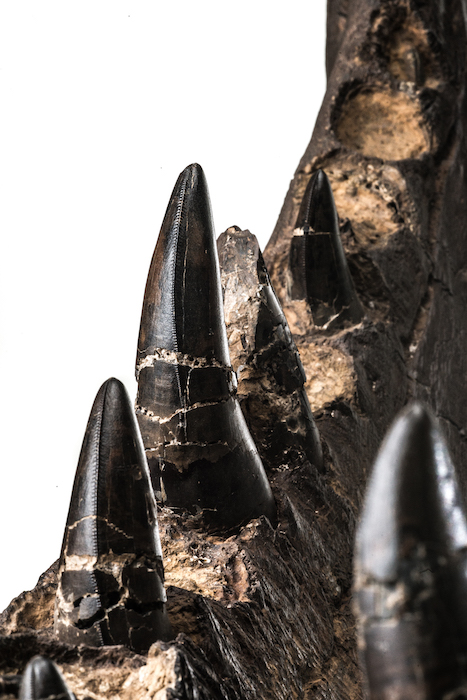 These mighty serrated teeth are just a few of the 199 discovered bones that make up Victoria's skeleton. (Courtesy of IMG)
This lovely dinosaur may be getting her public debut in Arizona, but her journey getting there has already taken her across the continent, including Canada. In fact, her name comes from the town in which her skeleton was assembled: Victoria, British Columbia!
The bones themselves were dug up just outside Faith, South Dakota—a state that is well known for its fossils. That skeleton was of a sub-adult T. rex, likely between the ages of 18 and 25 when she died. Victoria the T. rex was about 12 metres (40 feet) long and 3.5 metres (12 feet) tall, and probably weighed around 9,500 kg (21,000 lbs.) — though as a sub-adult she would've grown to be even larger!
She lived and died around 66 million years ago. But despite this length of time, her fossil contains a mind-blowing 199 bones! Keep in mind — many fossils are reconstructed from just a handful of bones!
On the move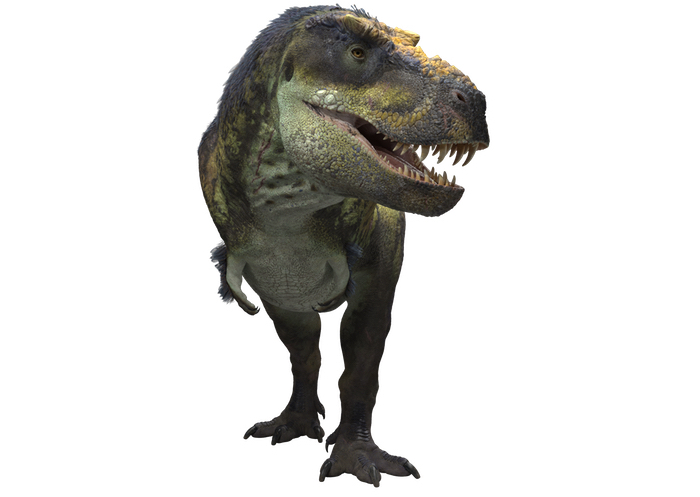 Look out, world! Here comes Victoria! (Courtesy of IMG)
This significant skeleton would be special enough on its own. But the Victoria the T. rex exhibit is doubling down on her story, using 3D projection mapping, holograms, and interactive video to make her come alive. As you can see, she has been digitally reconstructed. This gives us a window into the latest theories on how feathers might have been worn by a dinosaur like T. rex. And the exhibit promises to reveal insights into Victoria's world, habitat, prey, battles through life, movement, and more.
And speaking of movement, Victoria may be opening her show in Arizona, but the plan is for her to enjoy a five-year tour around the world! We don't know when or where she'll end up after her stay in Phoenix, but since she was built in Canada, perhaps she'll pay us a visit, too?
We'll be keeping our eyes peeled for a Tyrannosaurus on the loose!