You can find a LEGO version of just about anything these days, even a mosaic of your own face!
But if you thought that the toy company had done it all, its latest set will come as a really cool surprise. Women of NASA is a five-figure set that will be released later this year. It is a tribute to five women who helped to shape NASA and its projects in vital ways. These women include astronauts, mathematicians, astronomers, scientists, and executives.
Let's meet them!
The phenomenal five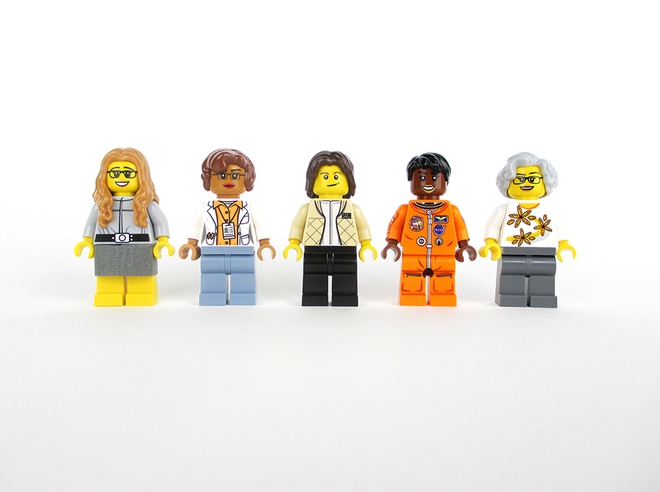 They changed our place in space! From left to right: Margaret Hamilton, Katherine Johnson, Sally Ride, Mae Jemison, and Nancy Grace Roman. (Courtesy of LEGO)
This inspirational group highlights an lesser-known part of American history, and includes Katherine Johnson, a central character in the 2016 movie Hidden Figures. This Oscar-nominated film was about the three "hidden" black women whose super smarts helped NASA achieve some of its earliest successes.
The LEGO website said this about its phenomenal five.
"Margaret Hamilton, computer scientist: While working at MIT under contract with NASA in the 1960s, Hamilton developed the on-board flight software for the Apollo missions to the moon.
Katherine Johnson, mathematician and space scientist: A longtime NASA researcher, Johnson is best known for calculating and verifying trajectories for the Mercury and Apollo programs — including the Apollo 11 mission that first landed humans on the moon.
Sally Ride, astronaut, physicist, and educator: A physicist by training, Ride became the first American woman in space in 1983. She founded an educational company focusing on encouraging children — especially girls — to pursue the sciences.
Nancy Grace Roman, astronomer: One of the first female executives at NASA, Roman is known to many as the "Mother of Hubble" for her role in planning the Hubble Space Telescope.
Mae Jemison, astronaut, physician, and entrepreneur: Trained as a medical doctor, Jemison became the first African-American woman in space in 1992."
How did this happen?
Sally Ride became the first American women in space in 1983. (Getty Embed)
The set was submitted to the LEGO Ideas website by science writer Maia Weinstock in July of 2016. This site is a place where potential new sets are voted on by the public. The set received over 10,000 votes, and as a result, it was added to a list of 12 finalists. Then on February 28, 2017, LEGO announced that it was approved as their Ideas set for the year. Wow!
Weinstock is pretty thrilled about all this, and she's not alone. As she recently told Space.com, "I had tons of people commenting on how they wished that they had had this kind of toy when they were kids. And it's been amazing."
We can't wait!