Recently, a group of four Grade 9 students from West Humber CI won a pretty awesome award. Thisaana, Ishmeet, Sowmika, and Gurmehar designed an app called Yellow Trillium. It was entered into the health and wellness development category of Tata Consultancy Services' goIT Student Technology Awareness Program. In a nutshell, this is a contest to get students excited and active in tech!
In this case, it definitely worked—Yellow Trillium won that category. So just what is the app about?
Making kids immune ... to suspensions!
The students designed a digital version of the yellow immunization cards that everyone in Ontario receives. The card is a record of the shots a person receives to protect them against diseases like measles, tetanus, and more. But if a student loses that card or forgets to update their shots, it can lead to suspensions. Yellow Trillium was designed to make the whole process easier and to keep these records in a place where they would not be lost.
We were so inspired by the efforts of the West Humber Yellow Trillium Team that we had to speak with them about their experience. Take it away, team!
OWLconnected: Were you all interested in tech before coming across this competition?
Yellow Trillium Team: All four of us are in the MST program at school, which specializes in math, science and technology. But none of us have actually been in a technology class.
While in the competition, we got to work with a different form of technology, an app builder, which was very cool. Seeing how an app is built was very interesting. This definitely made us more fond of technology than we already were, and because of this competition we are thinking of taking tech classes next year.
OC: Do each of you have different roles to play within the group?
YTT: We all play different roles when we work on a project. For example, Thisaana has a personality of a leader, and whenever we feel stuck we know that she'll be there to help us and take control of the situation.
Gurmehar looks at a situation in depth, which helped us a lot during this competition because then we would always change something in our app and make it better.
Sowmika is more carefree—she gets things done quick but the work she does is great. Her personality helped us during the competition because she made the situation more calm. Also, her artistic skills helped us ... the amazing logo that we have is all because of her skills!
Lastly, Ishmeet works hard and tries to get the best out of a material, which helped us with the app.
All in all, our personalities are one of the main reasons why we were able to make such a great app.
OC: What role do your teachers play in the process?
YTT: During this experience, we got a lot of support from our teachers. Ms. Whang and Ms.Dabas, at West Humber Collegiate Institute, gave us this opportunity with goIT, which got us to where we are. During the time of producing the app concept, our teachers gave us thoughtful feedback.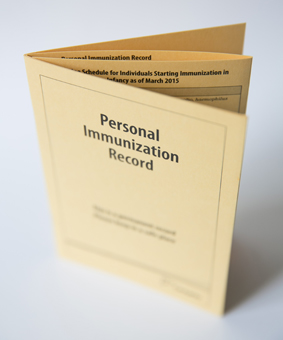 The girls hope to replace this card with their app. (Courtesy of Government of Ontario)
OC: Talk to us about the situation with immunization records that led to you making this app. Kids are actually getting suspended if they can't produce their immunization records, right?
YTT: Yes, there have been many suspensions due to students not updating or getting their vaccines. About 26% of the 300 students that were notified at our school were suspended. Since we live in a generation that allows you to access many things on a smart device, we decided to make the immunization cards digital. For society, this will be easier—because almost everyone has access to a handheld device, and they can access our app.
OC: Has there been any talk yet of using Yellow Trillium to officially help with this problem?
YTT: People that heard about our concept want to have this app officially made because it does help with the problem of losing your yellow card. That's why we would like this to be official.
OC: What's next for the four of you? Do you have any plans to build another app?
YTT: So far with this app, we don't think that we're done yet. Because of interviews, our idea is slowly getting known to more people around Ontario. We would really like to see this app be made, as it will help many Ontario residents.
At this moment, we don't have any other app ideas. Right now, our focus is on exams and this app. But for the future, we have learned that if we have an idea that we're passionate about and want to bring a change, we should try to achieve it.