If you read OWLconnected regularly—and if you're here, we bet that you do (and thank you!)—you know how much we love science. So it's no surprise that one of our very favourite times every year is the event that is held in partnership with the Natural Sciences and Engineering Research Council of Canada (NSERC).
Held this year from May 1 to 16, Science Odyssey is a national celebration of Canadian achievements in STEAM (science, technology, engineering, arts and mathematics). Here on the website, we featured two weeks of fascinating science posts from us (no, really, it was our pleasure!). And, even better, we collected TONS of entries from readers like you into the NSERC/Owlkids Science Odyssey Contest.
In 2021, everyone really outdid themselves. We received so many submissions, full of young people and their families engaging in science. Experimenting, exploring, researching ... there are so many ways to get into science and our awesome readers pretty much covered them all. Way to go!
And the winners are ...
Of course, such effort deserves to be rewarded, and the prizes for this year's Science Odyssey were maybe the best ever! NSERC and Owlkids gave away a total of 12 prizes this time, and in two age categories: OWL/Chickadee readers and Chirp readers.
Let's meet those winners right now!
OWL/Chickadee contest winners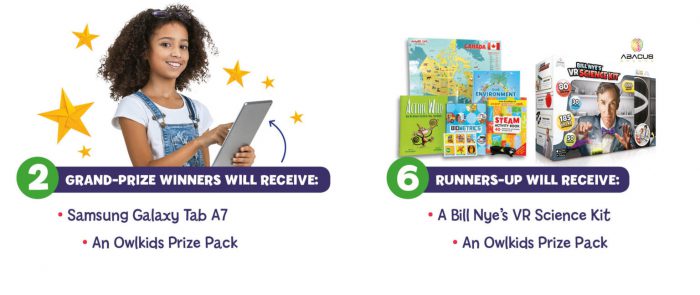 The entries into this category were eligible to win one of two Grand Prizes of a brand new Samsung Galaxy Tab A7, plus an Owlkids Prize Pack full of books, magazines, and more! And the six runners-up recieved a Bill Nye VR Science Kit (to continue their experiments, of course!) as well as an Owlkids Prize Pack.
Our 2 Grand-prize winners: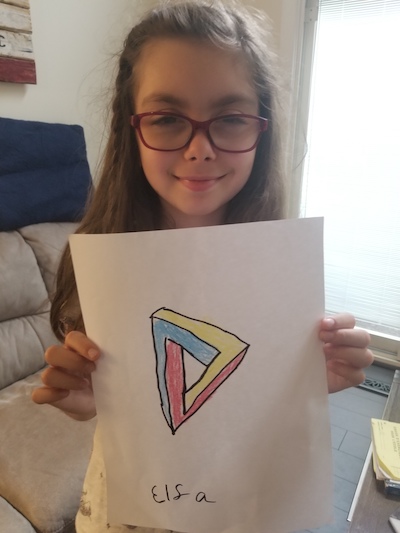 Grand-prize winner Elsa and her Penrose triangle. (Courtesy of entrant)
Elsa, 9, whose work included making a baseball animation using the coding program Scratch, drawing a Penrose triangle (an impossible object that can't exist in the real life), and using Google Maps to visit the International Space Station, the Moon, Mars, and beyond!
Julian, 7, who performed a powerhouse two weeks that included: researching the periodic table, building an octopus habitat from recycled materials, bird watching, learning about the water cycle, drawing the night sky, experimenting with colour mixing, and planting a bean and tracking its growth. Whew!
Runners Up:
Thomas, 6
Abigail, 8
Rose, 9
Maiya, 8
Ella, 9
Imani, 10
Chirp contest winners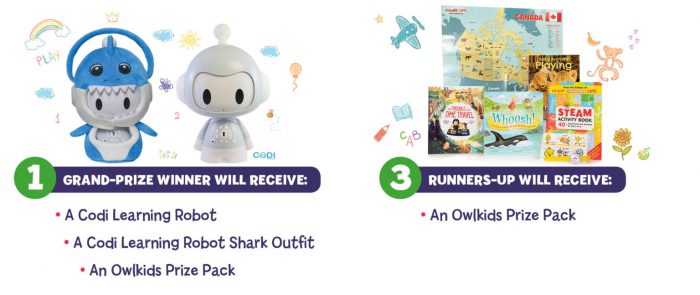 In the Chirp category, there was one Grand Prize of an awesome Codi Learning Robot (plus an adorable shark outfit!), and an Owlkids Prize Pack. And three runners-up received their own jam-packed Owlkids Prize Pack.
Our Grand-prize winner: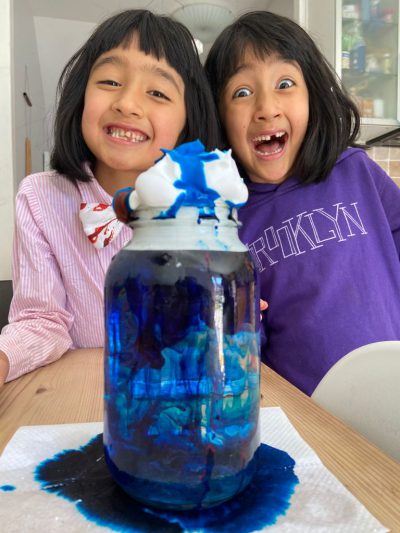 Twins Mika and Zuzu and their shaving cream cloud! (Courtesy of entrant)
Mika and Zuzu, 6, who made a wild cloud experiment out of shaving cream and food colouring. Messy, eye-catching, and fun!
Runners Up:
Wyatt, 5
Jesse, 5
Yuri, 6
Congrats to everyone who won, and thanks to all who entered! We received hundreds of entries and it was so inspiring to see all of your projects. Great work, everyone—we hope you had fun!