A 12-year-old BC boy named Quinn Callander has put his time isolated at home — and his tech know-how — to great use.
The young Scout from Maple Ridge has 3D printed up over 300 'ear guards' for doctors and nurses to wear with their surgical masks. His efforts have turned him into a social media sensation, earned the gratitude of healthcare professionals both near home and around the world, and proved that Prime Minister Trudeau really meant it when he said that kids had their part to play in stopping this virus.
But what is an ear guard exactly? And why are they so useful?
Mask overload
Finding surgical masks these days is very difficult. But wearing them constantly brings another kind of pain. (Getty Embed)
In hospitals surgical masks are already common. Usually it is about making sure that doctors and nurses don't accidentally infect patients during surgery. But right now, doctors and nurses are wearing them to make sure that they don't get infected themselves while treating patients with COVID-19 .
These simple masks are worn by hooking elastic straps over the ears. And this is where the problem starts. After hours and hours of wearing the masks, the straps begin to irritate the skin behind the ears to the point of pain. But what if they didn't sit around the ears?
Enter ear guards!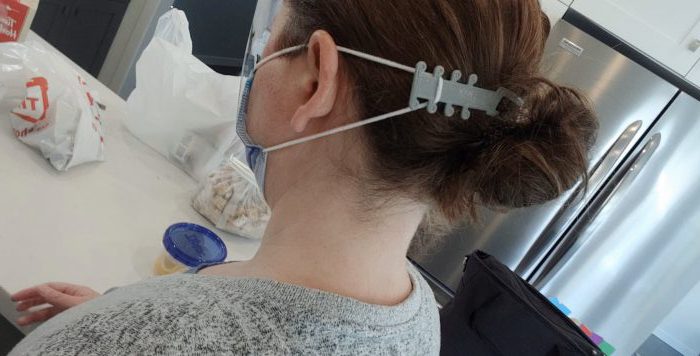 This picture shows how the ear guards work by taking pressure off the ears. (Heather Roney/Twitter)
This is where Quinn's awesome ear guards come in. They are simple but effective. The flexible plastic strips have a series of T-hooks on either end. You simply hooks the straps of the mask around the hooks that best fit your head (kind of like adjusting the straps on a baseball cap).
And presto! No straps around your ears — no ear pain!
It may sound like a small thing, but working without pain allows doctors and nurses to better concentrate on their patients and the safety of everyone. And given just how hard they are working, Quinn's efforts are literally a lifesaver!
Gratitude for Quinn
In an interview with The Globe and Mail, Quinn's mother Heather Roney said that the gratitude has been overwhelming.
"We've heard from thousands of people who say, 'This is the difference between working your 12-hour shift comfortably and being in constant pain,' because of pressure on their ears."
It takes about five hours for Quinn to print eight of the ear guards. By running his machine 24 hours a day for days, he made 300. And that number is still climbing. Both in his home and around the world because his design can be downloaded and printed by others.
Check out this tweet from his mother.
Update: 450,000 shares of the post. The print file downloaded 48,000 times. Thousands of people printing and donating ear gear in their cities. You are never too young to make a difference. Proud parents! Thanks for sharing a good news story @TheEllenShow @jjhorgan @somegoodnews pic.twitter.com/fCpLM1Y4Gr

— Heather Roney (@Hroney1) April 9, 2020
Thousands of people are now using their own printers to help healthcare pros work pain-free.
Congratulations, Quinn. You're a real inspiration!