History records tell us that the very first Thanksgiving celebration in North America took place in Canada when Martin Frobisher, an explorer from England, arrived in Newfoundland way back in 1578. For a few more hundred years, Thanksgiving was celebrated in October or November, until it was declared a national holiday in 1879. The government at the time declared that November 6 would be the official day of Thanksgiving. It stayed that way until 1957 when the date officially moved to the second Monday of October, which is when we still celebrate Thanksgiving today.
What is the annual Canadian holiday all about? It's a day to give thanks!
What are you thankful for?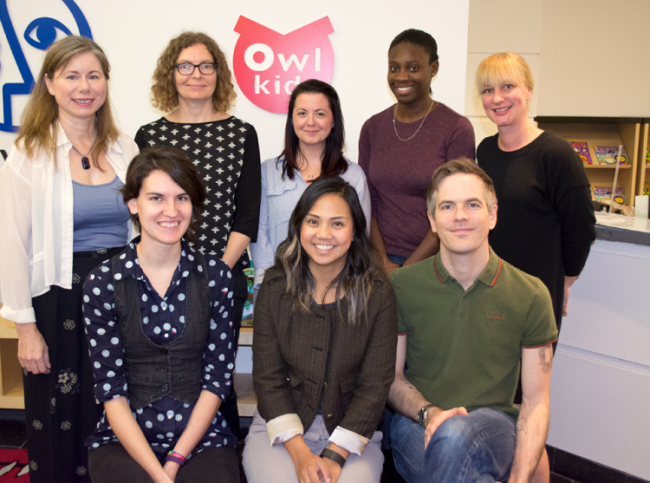 Top (from left to right): Faith, Angela, Melissa, Jaleesa, and Kendra. Bottom (from left to right): Katie, Jill, and John.

Here's what the OWLconnected team is thankful for this year.
Everything! So hard to choose one thing. But I'm thankful to live in a peaceful country that strives for social justice and equality.—Faith
I'm thankful for a safe, happy and healthy family (and for the Blue Jays post-season)!—Angela
I'm thankful for my friends, family, and all the turkey I'll be eating this weekend!—Melissa
I'm thankful for my family and record stores.—Jaleesa
This year I'm thankful for a lot of things, but mostly to live in an amazing country like Canada and to be able to wear sneakers to work (at a job I love!) everyday.—Kendra
I'm grateful for my siblings, because we always support each other even though we live far apart.—Katie
I'm thankful for my family, especially for my two daughters. I am also thankful that I get to work here at Owlkids. I not only get to do what I love (art direction and design), but I also get to learn about cool things in science, technology, sports, and more!—Jill
I am thankful that I live in a peaceful country, that my kids are healthy, and that Auston Matthews is a Toronto Maple Leaf.—John
If you're celebrating Thanksgiving today (or even if you're not), tell us what you're thankful for. We want to know!