Today is Remembrance Day. Known as Veterans Day in the United States, it is recognized in dozens of countries around the world, including the United Kingdom, France, Australia, and New Zealand.
It has come to be a day when we all acknowledge the sacrifice of the people who fought—and often died—in military service of the country. This includes recent conflicts in Afghanistan, the Korean War in the early 1950s, and the Second World War (1939–1945). But the date of Remembrance Day—November 11—is tied through history to the date of end of the First World War (1914–1918).
Known originally as Armistice Day, it had its 100th anniversary three years ago. But this Remembrance Day, we're recognizing another 100-year tradition—one that is the greatest symbol of day. You may even be wearing one right now.
It was a century ago—November 11, 1921—that Canadians first wore the poppy to honour those who fought.
From 'Flanders Fields' to France
Poppies bloom among World War I trenches in Belgium, also known as Flanders Fields. (Getty Embed)
Many of us already understand that the origins of the poppy and Remembrance Day start with In Flanders Fields, the poem written by Canadian medical officer Lt-Col. John McCrae. The WWI veteran from Guelph, Ontario's words open and close with mention of poppies.
In Flanders Fields, the poppies blow
Between the crosses, row on row,
...
We shall not sleep, though poppies grow
In Flanders Fields.
Flanders Fields is actually an English name for a large area that covers much of Belgium and part of northern France. This was an area where much of the fighting of World War I happened, and it is also often covered in bright red poppies. McCrae's poem resonated with people around the world for how it captured the feelings of loss after the war. But it took a French humanitarian named Anna Guérin to turn his words into a symbol we could all wear.
Anna's idea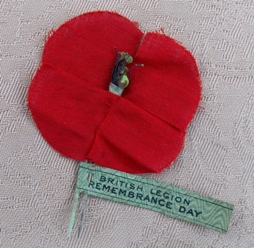 French-made silk poppy from 1921. (Wikimedia Commons)
Guérin was a humanitarian, fundraiser, and public speaker who worked across France, Great Britain, and United States. During WWI, she knew that there were many families that were losing husbands, fathers, and sons. They needed help to recover from the devastation of the fighting. So she started a fund to raise money for them, and traveled through France and the US speaking out for the cause.
After the war ended, she continued her efforts on both sides of the ocean. Working with the French government—and inspired by McCrae's poem—she came up with the idea of using a poppy as the symbol for her movement. Originally, her artificial poppies were made of French silk. Word began to spread, with Anna being known as "The Poppy Lady".
Her push began in the United States in 1919. By 1921, it was officially adopted as the symbol of Armistice Day across all American states. And thanks to a resolution by The Great War Veterans Association in Thunder Bay, Ontario on July 6, 1921, it was adopted across Canada as well!
Tradition stays strong
100 years later, the poppy endures. (Getty Embed)
Today, the poppy is as recognized as it ever was. Each year in Canada alone, around 18 to 20 million poppies are distributed. There was even a push to make poppy masks last year during the pandemic. It was a remarkable success.
The combination of McCrae's words and Guérin's efforts gave us a symbol that has helped to keep the memory of those who died alive, over 100 years since the fighting ended. May we never forget.