Recently we began a new series of posts designed to explore Black experiences and the problems of racism and injustice in society. So far we have discussed Juneteenth, Jagmeet Singh's motion to address systemic racism in policing, interviewed teen activist Charlene Rocha and educator Alicia Dyson. We've even heard from readers like you!
Today, we're looking at the life of American activist and representative John Lewis, a man whose public career spanned two of the greatest eras of social protest in his country—the Civil Rights movement of the 1950s, 60s, and 70s, and the current Black Lives Matter moment.
Throughout these posts, we invite the participation and feedback of all our readers and thank you for joining us.
On July 17, 2020, U.S. civil rights leader and the 'Conscience of Congress' John Lewis died. A conscience is an inner voice that helps us tell the difference between right and wrong. His nickname wasn't accidental.
Simply put, he was a legendary person. Through his later life, he served as a bridge to—and reminder of—a mythic time in American history.
The Civil Rights movement.
'Good trouble'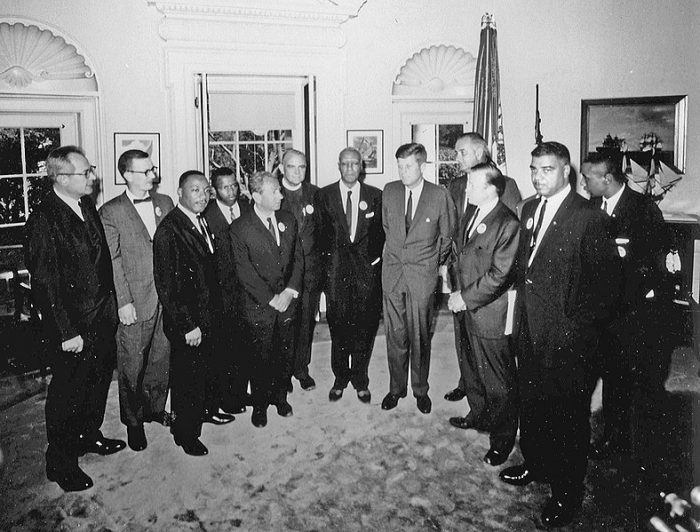 John Lewis (fourth from left) stands next to Martin Luther King Jr. in President Kennedy's White House following the 1963 March on Washington. (Cecil W. Stoughton/Wikimedia Commons)
Through the 1960s, John Lewis was a friend and follower of Martin Luther King Jr. But that doesn't mean that he receded into the background. A lifelong believer in what he called getting into 'good trouble', he pushed himself to challenge authority through protest, speaking, and demonstration.
In 1961, he was one of the original 13 Freedom Riders, a group of Black and white activists who rode on segregated public buses together to protest Jim Crow laws. (These were laws that separated public spaces so that Black people could not use the same areas and facilities as white people. The policy was also known as segregation.) He also participated in numerous sit-ins, where Black people sat in parts of restaurants where they weren't allowed to be.
In 1963, he was one of the main speakers at the March on Washington despite being just 23 years old (this is where Dr. King famously delivered his "I Have A Dream" speech). And two years later, he helped lead the march across the Edmund Pettus Bridge in Selma, Alabama, one of the defining moments of the entire movement.
At great risk
A mugshot of John Lewis from 1961 after he was arrested for using a restroom reserved for white people. (Getty Embed)
Getting into this 'good trouble' was anything but easy for Lewis. It was extremely risky and dangerous.
Starting in 1960, he was arrested over 40 times while protesting segregation. He was also beaten and attacked often, by both police and white supremacists. During his march in Selma, he suffered a terrible injury at the hands of officers.
"I was hit in the head by a state trooper with a night stick," he recalled. "My legs went from under me. I thought I was going to die."
But Lewis did not. Instead, the brutal attacks by police on his peaceful march outraged the American public. This cry for justice led to the signing of the Voting Rights Act of 1965, a groundbreaking law that made racial discrimination in voting illegal. It was a huge victory for him and his colleagues.
Move to Congress
Running for Congress in 1986. (Getty Embed)
In 1977, Lewis ran to become the representative for Georgia's 5th congressional district. This meant that he was trying to become a member of Congress. Though he lost this election, he tried again in 1986. This time he won, and he never looked back. He held the seat until his death, getting reelected an incredible 16 times.
Through his 33 years in Congress, he earned his 'conscience' reputation by being both fair and determined. He often voted against popular bills (proposed new laws) because he believed that they were wrong—even if doing so meant disagreeing with important leaders within his own party, or the president.
He still staged protests, too. Some were against laws in the United States, but others were about international issues, such as apartheid in South Africa (which was a policy of segregation in that country).
Marching with President Obama at the 50th anniversary of Selma. Pressure is growing for the Edmund Pettis Bridge to be renamed for Lewis. (Getty Embed)
But he also tried hard to work with his political opponents in the Republican party (he was a Democrat). Every year, he brought a bipartisan group (members of both parties in Congress) to recreate his march across the bridge in Selma.
"You never become bitter," he once said. "You never become hostile. You never try to demean your opposition."
A new era arrives
John Lewis lived by the idea that 'good trouble, necessary trouble' was important to bringing about change. And through his own life and what he witnessed, he was able to prove his point.
He went from growing up in the deeply segregated South, to serving in his nation's government for over three decades. And for eight of those years, he served under America's first black president, Barack Obama.
Which brings us to the present. Before he died, Lewis saw a new wave of protests against racism and police brutality sweep across America. How did this make him feel?
"It is very moving, very moving, very impressive. I think what the people in DC and around the nation are sending a mighty, powerful and strong message to the world that WE WILL GET THERE." Congressman John Lewis on #BlackLivesMatter Plaza this morning pic.twitter.com/kDNiOYzXta

— Muriel Bowser (@MurielBowser) June 7, 2020
Lewis was excited by what is happening today. He also noted that the movement was more massive and more inclusive than the ones that he was a part of as a young man in the 1960s.
"There will be no turning back," he said of where it would lead.
An inspiration
Tributes for John Lewis have appeared across America and beyond. (Getty Embed)
For the people involved in movements like Black Lives Matter, Lewis was a deep inspiration. In many ways, you can see them carrying on his model of 'good trouble'—peaceful but determined resistance to bring about change.
Brittany Packnett Cunningham, whose is a Black activist and educator, spoke to PBS after Lewis died about what he meant to her community:
I was finally able to thank [Lewis], face to face, eye to eye, for treading the path my generation was now walking. With kindness in his eyes, and determination in his voice, he reminded me that the road to freedom is never easy—and that's precisely why we have to keep taking it. 'You'll have setbacks,' he told me. 'Keep going. Be consistent. You will get there.'
Lewis' example to others was the life that he led. He may not have solved every problem before him or made perfect choices every time. But he never stopped working and staying true to his ideal.
And for the young people who follow in his footsteps, that determination made him an example to follow.
Please join us next week as we continue this series.
We want to hear from YOU! Do you have a question on this topic that you'd like answered? Do you have a message of hope or support that you'd like to express? Write us at owl@owlkids.com with the subject 'Speak Up!' and join the conversation of change.