Last week, the Green Party of Canada appointed a new leader ... and they are an expert in black holes! (Okay, we're definitely listening!)
Amita Kuttner is an astrophysicist who is focused on black holes and the early universe. And they are now also the new interim leader of the Green Party. They are also the first non-binary and trans leader of a national political party in Canada, and the first person of East Asian descent. That's a lot of firsts for a person who is still quite young for a national politician—just 30 years old!
So how did they find themselves in this position? Like a lot of things in politics, it's a combination of hard work and good timing. Let's dig into their story!
Activism and representation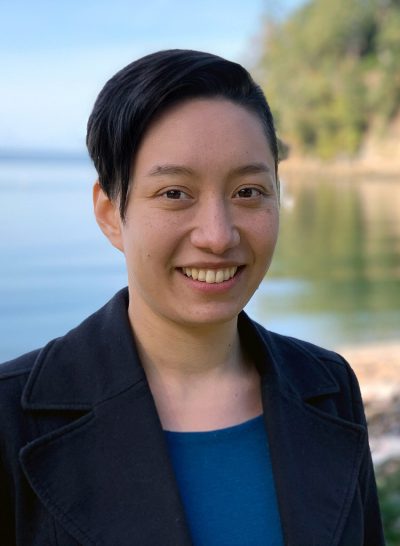 Amita Kuttner when they were running for Green Party leadership in 2020. (Wikimedia Commons)
Kuttner was heavily involved in activism in university. One of their causes was about standing up for marginalized people—such as those who were racialized or part of the LGBTQ+ community—in science so that they could have the same career opportunities as everyone else.
They also co-founded a non-profit called Moonlight Institute. It develops climate, tech, and decolonial policy (policy is a way of deciding how to address or solve an issue) while trying to make an equitable future for everyone.
It's no surprise then that Kuttner moved into politics after they got their PhD in astrophysics. They ran as a Green Party candidate in the 2019 federal election, and then ran again for leadership of the party in 2020. Now here in 2021, they have been named the new interim leader for the Greens.
A party in crisis
Green Party leader Annamie Paul (centre) participates in a debate before the 2021 election alongside Justin Trudeau and Jagmeet Singh. Despite her best efforts, the Green Party did not do well. (Getty Embed)
Kuttner can only hold this position for a maximum of six months—'interim' means temporary—but their job still will not be easy. This is because the Green Party is in a really tough spot.
In 2020, the party had elected a new leader, lawyer Annamie Paul. Paul was replacing Elizabeth May, who had led the party for 13 years, including to its best-ever result in 2019. Everything was looking up for the Greens!
But instead, the 2021 election was a disaster for them—their popular support fell from 12.5 percent to just over 2 percent. Shortly afterward, Paul resigned as leader, saying that she had experienced racism while leader and did not get proper support from her own party. As she left, arguments flew as the party split into disagreements over how to move forward.
Tough task
In her 13 years, Elizabeth May found a way to get the Green Party to its best ever position in the federal government. Kuttner wants to try and set the party up for even greater success in the future. (Getty Embed)
That's a pretty challenging situation for Kuttner. How do they plan to address it?
"I think it's up to all members of the party to fix it," Kuttner told CTV's Evan Solomon in an interview. "But I want to do it through love—through caring for one another and showing that we can rebuild trust."
The Greens will elect a permanent leader some time in early 2022. Between now and then, Kuttner is going to try to figure out how to bring that love and trust back to their party. But they are also going to focus on the party's message, especially its environmental one.
A native of B.C., Kuttner lost their mother to a mudslide in 2005. With rain warnings still in effect in that province after weeks of flooding and mudslides, they are determined to let Canada know that the Green Party's platform of switching to more environmentally-friendly tech and energy has never been more important.