Here are two things we love: Interviews with professionals on the frontlines of conservation and wildlife, and reporting done by young people, just like you. And if we get to mix the two? Even better!
Today's post is by Henry, 10. His uncle, Scott Stewart, is a rescue worker with Parks Canada and he works in the Yukon Territory. Henry spoke with him for a school project—and the result was so interesting, we asked if we could share it with all of you. And Henry said, Yes!
Take it away, Henry ...
Ultimate teamwork in the Yukon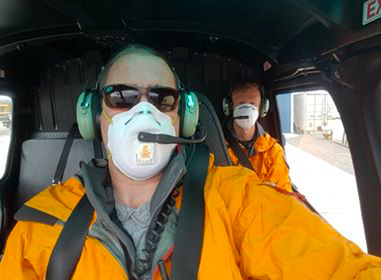 Scott gets ready to take flight in his helicopter. (Courtesy of Scott Stewart)
This is my Uncle Scott. He is a rescue worker and lives in northwest Canada. I decided to interview him because I thought it would be interesting to hear what he had to say about his life. After the interview I felt amazed because his answers were so descriptive. I think that his job is really important because he saves people's lives. He is a superhero to me!
Henry: What do you do for a living?
Scott: I work for Parks Canada in Kluane National Park, in the Yukon. I am the Visitor Safety and Fire Operations Coordinator. Which means I search for and rescue people who get in trouble, and I make sure wildfires are put out.
H: What kind of people get into trouble?
S: We have all kinds of visitors. Hikers, canoers, mountain climbers, rafters, bikers, researchers. The area we live in has lots of natural hazards (swift water, creek crossings, high altitude, etc.) that can injure people. Or they can become lost.
H: What kind of climates do you work in?
S: Our National park is north of the 60th parallel, meaning it is very far north. It can get very cold, especially high in the mountains, -40C. It can also get very hot +30C. And every thing in between. Storms and snow are a possibility all year. Visitors also climb Mount Logan, the highest mountain in Canada.
H: What qualities would someone need to have to be a rescue worker?
S: Safety is the most important part of my job—making sure I'm safe, my team members are safe, and visitors are safe. To make sure we act and respond as safely as possible, good personal attributes are calmness—the ability to analyze a problem and come up with solutions. Teamwork is very important, too. One also has to be in good physical shape to ski, hike, paddle, and climb.
H: What kind of exercises do you need to do?
S: Most of my exercise is outside: cardio from skiing and biking. I also do pushups, pull-ups, and squats. A good exercise is chopping wood.
H: What about mental exercises?
S: Myself and my team do yoga regularly. We also take breaks from work when we get too stressed or work for very long periods of time.
H: What kind of clothes do you need to wear when you are climbing a mountain?
S: Layers are key—to be able to take them on and off as you get hot and cold. It's not good to sweat in the mountains, because you can get cold quickly. GoreTex layers protect from rain and wind. We wear wool or synthetics, rarely cotton. My toque is the single garment that comes on and off on a regular basis.
H: Why?
S: Because the heat through my head is the easiest way to regulate my body temperature so I don't sweat. Also, wearing a toque makes me feel cozy. When I'm comfortable, I can perform my job better.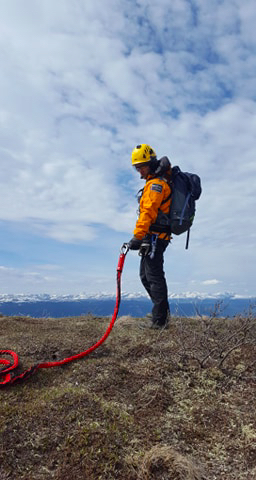 Scott practicing helicopter sling rescues. (Courtesy of Scott Stewart)
H: What kind of tools or gadgets do you need to do your job?
S: I always have a knife for cutting rope. We use specialized equipment if we have to travel on glaciers (rope, harnesses, carabiners, etc).
I always have gear in my pack to survive the night out if a helicopter can't come back to pick us up: warm layers, fire starter, food, shelter like a bivy sack. I use a GPS and compass to navigate. I carry a satellite phone, radio, and a satellite texting device so I can communicate anywhere in the world—even without cell service.
H: What is a carabiner and a bivy sack?
S: A carabiner is an oval shaped metal clip. It is used to attach rope and webbing together. A bivy sack is a light tarp shaped like a giant tube. I crawl in it to get out of the weather and keep my body heat if I have to spend some time out unexpectedly.
H: How do you feel when you rescue someone?
S: I feel glad that my team can help someone out when they need it. I also feel good because my team was able to work together to solve a problem. Sometimes I feel very relieved because the rescues can be stressful.
H: As a child did you think about being a rescue worker?
S: Yup. I always wanted to be a Park Warden working in national parks. I did that for a job for a number of years. Then I became a bit more specialized to work in search and rescue and fire.
H: How did you need to train?
S: It was not easy to get an interview and finally a job. There aren't that many people in Canada doing what I do. The most important thing was getting a university degree. Then spending time working in national parks and learning about them. Then working or volunteering for search and rescue organizations. Also getting my outdoor travel skills honed like the sharp edge of a ninja sword!
H: Haha! How does COVID-19 affect your job?
S: Very good question. The health and safety of visitors, employees and all Canadians is of the utmost importance and Parks Canada is following the advice and guidance of public health experts. The key is to not expose ourselves to close contact with infected people. So we make sure we use physical distancing from our co-workers and visitors as much as possible. All national parks have been closed to the public up until this week. Workers work from home when they can. We use special face masks, gloves, eye protection when we need to. We have a list of questions we ask patients when we first meet them to try to determine if they are COVID-positive.
H: Why were the parks closed?
S: A couple reasons. One was to limit the public from exposing themselves to hazards and risks that may have them becoming injured, thus needing rescues that expose rescue staff and their team members to them. The second reason was to limit tourists travelling unnecessarily to small communities, and gathering in large groups on confined trails, etc. Many parks are opening up for day use. Being in nature provides important physical and mental health benefits. Going outdoors is a great way to maintain health and wellness, so long as everyone follows physical distancing practices.
H: This has been awesome. Before we end is there anything else you would like to say?
S: It's been super fun! Thanks for showing an interest in my work. I think I have the best job in the world because I get to help people out and be outside a lot of the time.
H: Thanks!