May 1 to 16 is Science Odyssey, a celebration of all things science! OWLconnected is recognizing this two-week event with lots of science content, as well as with an amazing contest, presented by our friends at the Natural Sciences and Engineering Research Council of Canada (NSERC). Details are at the end of this post—be sure to enter!
And speaking of science (as well as lots of other STEM content), every two weeks we publish a new issue of our tablet and computer-friendly eMag, OWLconnected. It's free for OWL magazine subscribers!
Today we're talking about the brand new issue. Issue 119 is out NOW and it is specifically designed to celebrate Science Odyssey in all its glory! From us answering the question, What is space junk? to readers telling us their favourite science apps and books, we're leaving no STEM stone unturned.
To the laboratory!
I spy science!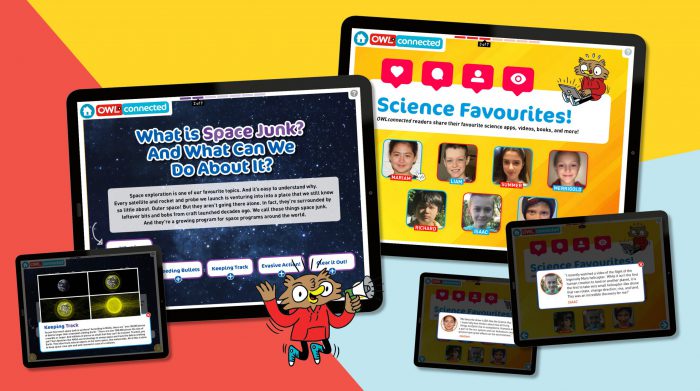 Science Odyssey recognizes that science takes all sorts of different forms. It is outer space exploration, but it is also observing insects in your backyard. It is diving to the depths of the ocean, but it is also reading and researching in your bedroom.
That's why we cover all the bases in this issue! Our feature story looks at the intriguing phenomenon of 'space junk'—this includes everything from leftover satellites and debris from space craft to meteoroids, all orbiting Earth. Why does it happen? How much is up there? Is it dangerous? Can we fix it? All your questions are answered in the issue!
Meanwhile, back here on Earth, we ask a bunch of our readers to talk about their favourite science stuff! YouTube channels. Apps. Books. We ask about all of it and we think the responses will really get you ready to experiment and observe! We also have a comic that looks at wind farms; a quiz about one of nature's most curious creatures, the cicada; and some insight into OWL editor Melissa's Science Odyssey activities!
Action-packed, right? We told you we love science. If you're already a subscriber, you can click here to sign in to the eMag right now!
If not, maybe it's time to take your OWL experience to a whole new level! Get ten print issues a year sent right to your door, plus over 24 issues of our exclusive eMag by subscribing right here.
Contest alert
Don't forget to enter the Science Odyssey Contest! Click HERE TO ENTER.