Every two weeks, we publish a new issue of our tablet and computer-friendly eMag, OWLconnected. It's free for OWL magazine subscribers. Issue 137 is out today, right in the middle of a very important time.
Black History Month!
To help explore the month, we dig more into this year's theme, February and Forever, and what it means. And we also have a special treat. It's an interview with Saskatoon author Khodi Dill who has written a really cool kids book!
Rapping with a rapper about rapping!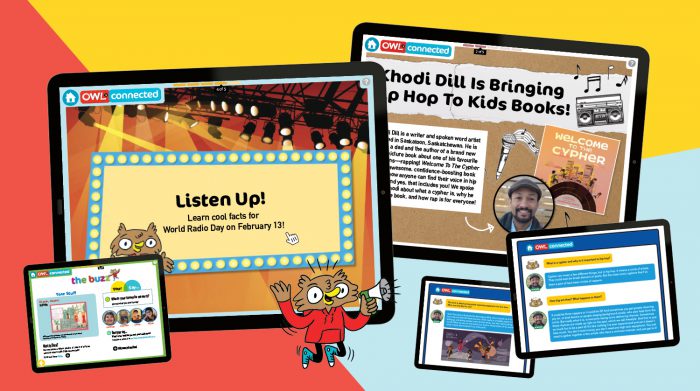 Khodi's book, called Welcome To The Cypher, is all about rapping. And giving you the power to get involved! So cool, right?
Yesterday, we posted one part of a two-part interview with him. In this issue of the eMag, we release part two! Here he talks about writing the book, why he loves hip hop, and the book's awesome artwork. He was so fun to speak with and we love his book!
But of course, that's not everything in this issue! We also have a reader review of the brand new Pokémon game, Legends: Arceus. How is this different to other Pokémon games? We tell you! Then there's a fun quiz to honour World Radio Day. How much do you know about radio and how it changed the world? Test your knowledge now!
If you're already an OWL magazine subscriber, you can click here to sign in to the latest eMag issue right now.
If not, maybe it's time to take your OWL experience to a whole new level! Get ten print issues a year sent right to your door, plus over 24 issues of our exclusive eMag by subscribing right here.