Dutch painter Vincent van Gogh is universally known as one of the most influential artists of his—or any—time. Why is that? Take a look at this painting, called Starry Night over The Rhone.
For starters, it's beautiful. But there's more to it than that. The way that van Gogh painted was full of both reality and imagination. It looks like a scene you recognize... but there is something else happening in the painting, too. His brushwork—or how he placed the paint on the canvas—was unique. It was his own style.
Like watching him practice
Most painters are famous for their finished paintings. That makes sense. But nearly all of these artists sketched—or quickly drew things—all the time. Artists do the same thing today. It's like how athletes practice before a big game. Sketching everything that artists see keeps them always thinking about new, better ways to make their art.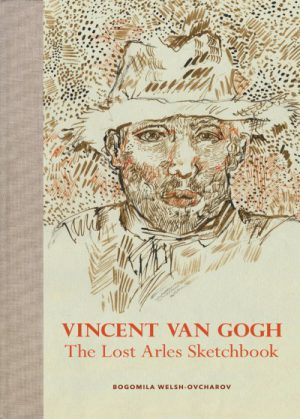 This new book has 65 lost sketches by Vincent van Gogh. (©Abrams)
That's why a new book called Vincent van Gogh: The Lost Arles Sketchbook is so exciting. The book publishes for the first time 65 sketches from between 1888 and 1890—a period when van Gogh was making some of his best work. At the time, he was living in a rented house near a cafe in a French city called Arles. Want to know what that room looked like? No worries, van Gogh painted it three times! Here's one of them.
So where were these sketches all this time? Did someone only just now think to check under his old pillow? Not quite... but close...
An amazing, rare discovery
The expert who helped bring these sketches to the world is University of Toronto professor Bogomila Welsh-Ovcharov. Three years ago, she was asked by a friend from France to take a look at a book that might have some of van Gogh's sketches. She was skeptical at first. People claim to have lost pieces of art all the time... only for it to be fake. But as she told CBC recently in an interview, "When I opened it up, the first thing I said was, 'No, unbelievable!' The first drawing that I took out and held in my hands, it was a moment of total mystical experience: 'Oh my goodness, this is impossible!'"
It turns out that the sketchbook had been a gift to van Gogh in May of 1888 from the owners of the cafe (they also owned the house where the artist was staying). Van Gogh filled it up with drawings over the next two years. He returned the book to the cafe some time in 1890. It stayed there, lost alongside notebooks about the cafe's business. And now, the whole world gets to use its drawings to take a fresh peek into the mind of one of the world's greatest painters. It even includes early sketches of finished paintings, like The Olive Trees below.
This world is funny that way. You never know what little treasure is left laying around, waiting to be discovered...