If you asked anyone to name shipwrecks in the Great Lakes, chances are the conversation would go something like, "Uhhhhhh..."
Outside of the Edmund Fitzgerald — the giant iron ore laker that went down in Lake Superior on November 10, 1975 — the average person would be pretty hard pressed to name a single vessel. But what they may lack in infamy, they make up for in numbers. After all, the Great Lakes were a prime waterway stuck in between two of the most resource-rich young countries on the planet (hint: Canada and the United States). Hundreds of thousands of ships have crossed its waters...and many have not lived to tell the tale. Historians estimate that anywhere between 6,000 to as many as 25,000 ships have sunk here.
And now three New York State-based researchers have found one of the oldest known examples of this: the sloop Washington.
A lost 18th century vessel finally found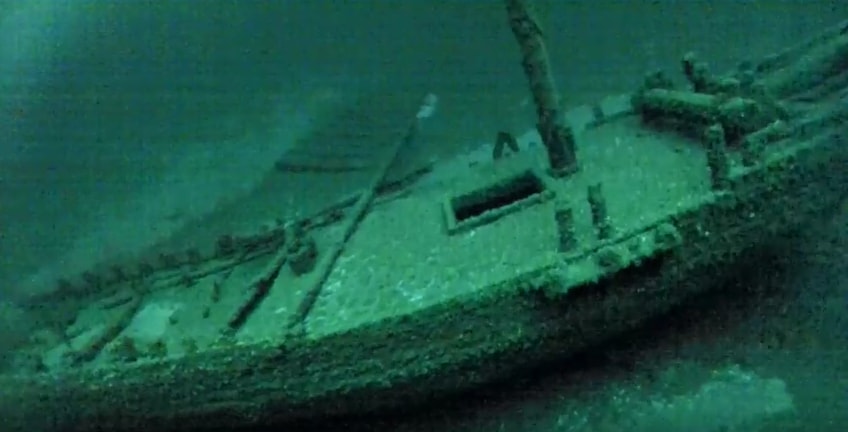 A screenshot from a video of the shipwreck of the Washington. (Courtesy of Roger Pawlowski)
The 53 foot-long sailboat Washington was built in 1797, at the end of the 18th century. The boat was a sloop, a medium single-masted sailboat. It was built near the city of Erie, Pennsylvania and originally sailed on Lake Erie. For about four years, it transported goods and people between the states of Pennsylvania and New York and what is now the province of Ontario, then called Upper Canada. In 1802, the Washington was sold to Canadian businessmen. They had the boat hauled by oxen across the Niagara Peninsula so that it could be used in Lake Ontario. (This was over 25 years before the Welland Canal was opened, which allows ship to travel between Lakes Erie and Ontario.) It would only sail on this lake for about year before tragedy would strike.
On November 6, 1803, the Washington sank while sailing between Kingston, Ontario and Niagara, Ontario. It was caught in a storm and all five people on board sank. Reports from the time stated that debris and cargo from the ship washed on shore the next day near Oswego, New York, a town on the south shore of Lake Ontario.
A rare find
The ship itself has remained undisturbed at the bottom of the lake for over 200 years. Until this July, that is. Jim Kennard, Roger Pawlowski, and Roland "Chip" Stevens are a trio of underwater explorers who have spent years discovering lost shipwrecks in the Great Lakes. This latest discovery is really something for the group — the 2nd oldest shipwreck yet found in the Great Lakes.
"This one is very special," Kennard told the CBC. "We don't get too many like this." (That said, these three guys also discovered the oldest Great Lakes shipwreck, the warship HMS Ontario, which sank in 1780 in Lake Ontario.)
You can see what he's talking about in this video, shot by a remote control camera.