A tiny bird sculpture is now officially considered the oldest piece of art ever found in China.
The small carving measures only 1.9 cm (.75 in) long by 1.2 cm (.47 in) tall. That's about the size of a board game piece or a di. Despite its miniature size, it contains a lot of information about what art was like during this time. How much?
Despite being discovered in 2009, a team of researchers from China, France, and beyond spent ten years carefully pulling apart its mysteries!
Not the first time
The figurine, which is made of the bone of an unknown animal, shows that an exceptional amount of skill was used. Whoever made it, they knew what they were doing.
Researchers counted 68 different 'worked areas', or places where the bone's shape had been altered. And they also noticed that a variety of techniques were used by the artist, including flaking, polishing, and gouging. And finally, the bone had been heated to at least 300°C as a part of the setting process.
All of these facts suggests that this bird sculpture wasn't just made by someone out of boredom. These were skills that had been refined over time.
Journey into the past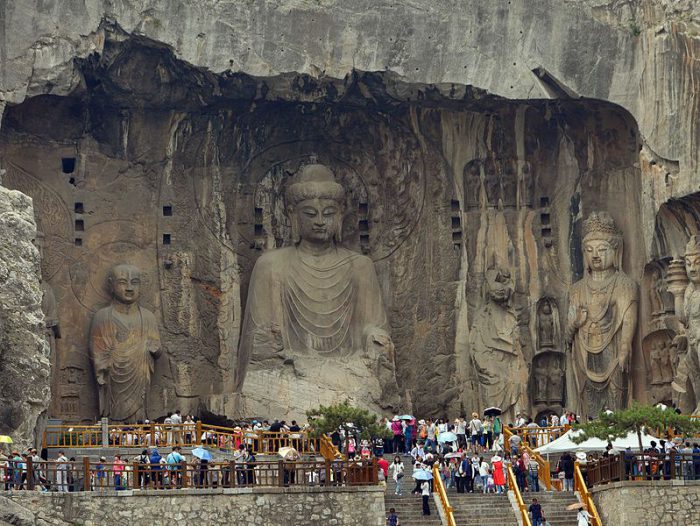 The bird was found in Henan Province in central China. This area is known as a birthplace of Chinese civilization. The famous Longmen Grottoes are found there, though they date back only about 1,500 years—the bird is about ten times older! (Anagoria/Wikimedia Commons)
Whenever archeologists discover something like this, the first thing they want to know is, How old is it?
By knowing the age of an artifact, they can then use it to better understand how human cultures grew and changed over time. But if this little bird knew how old it was, it wasn't talking. And finding out was going to take some effort.
The bird was so small that using regular dating techniques would have destroyed it. And what's worse, it was discovered by chance in 2009 in a pile of dirt that had been dug up by a mining company... back in the 1950s! This meant that scientists couldn't just immediately look at the surrounding rock to understand its age.
Instead, they had to date pieces of bone and charcoal from the same pile. Only after all of them came as dating somewhere between 13,000 and 13,800 years ago did they feel confident about the age of the bird sculpture.
What does it mean?
So now that they know the age, what does this piece of art say about ancient societies in east Asia?
This artifact still isn't anywhere near as old as the oldest bone carvings found in Europe, which date back around 35,000 years. But it is about 8,000 years older than anything found before in this area. And the skill used to make it suggests that this kind of art has a very long history that we know little about.
In other words, there are likely many more tiny birds (and other animal art) hidden deep in the dirt across China. Time to discover the rest of the flock!