This past Thursday, the Canadian government declared that civil rights activist Viola Desmond would appear on the new $10 bill. Many people have been waiting for this announcement since March 8, when Prime Minister Justin Trudeau said that a Canadian woman would be on one of Canada's new bill designs (March 8th is International Women's Day, by the way!). The new bills will be printed in 2018.
A pioneer for black rights in Canada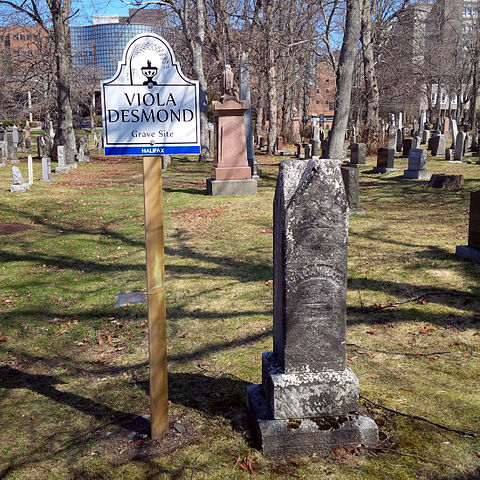 Viola Desmond is already well known for her work as an activist. Her grave site is officially marked in her hometown of Halifax. She was also featured on a Canadian stamp in 2012. (Wikimedia Commons)
Viola Desmond (1914–1965) was a black woman from Nova Scotia. She lived at a time when segregation was a part of many places in the United States (segregation was a set of laws that separated where white and black people could go in public places). Those were official laws in many states. In Canada, however, racism still existed, even if these laws did not. A black person like Viola grew up dealing with prejudice every day.
For example, Viola wanted to became a beautician (this is a person who sells and creates beauty products, such as makeup and skin care). But as a black woman, she was not accepted to any of the beauty schools in Nova Scotia. She had to travel to Montreal and New York City to get her training. Once she finished her education, she not only went into the beauty industry (making her own line of products), she also set up her own school—The Desmond School of Beauty Culture. She wanted other black women in Nova Scotia and New Brunswick to have the chances that she did not.
A day in the theatre
The official ceremony to unveil Viola Desmond as the new face of the $10 bill was attended by her sister, Wanda Robson (centre right). (Getty Embed)
But these actions were just the start of this brave woman's fight for respect and equality. On November 8, 1946, she went to see a film in a theatre in the town of New Glasgow, Nova Scotia. In that theatre, black people had to watch movies from the balcony—only white people were allowed on the main floor. When Viola refused to leave her seat on the main floor, she was arrested. She was also fined.
She went on to fight this arrest in court. Though she eventually lost the decision and moved to Montreal, her determination created a legacy. Experts and historians look at the example that she set as an important moment for civil rights in Canada.
A part of the country's history
The face on Canadian money will change in 2018. The $5 and $10 bills are getting new faces. Former prime ministers Sir, John A MacDonald and Sir Wilfrid Laurier are moving to the $50 and $100 to replace fellow former prime ministers William Lyon Mackenzie King and Robert Borden. Queen Elizabeth will stay on the $20, though. (Getty Embed)
Though Viola Desmond lived her final years in New York City, she is today remembered as a great Canadian. And soon she will be the first Canadian-born woman featured on our money.
When finance minster Bill Morneau made the announcement, he said that "Viola Desmond was a woman who broke down barriers, who provided inspiration to Canadians around social justice issues and showed that each and every one of us, individually, can make a difference." Desmond will replace Sir. John A. MacDonald, Canada's first prime minister, on the $10 bill. MacDonald's face will be moved to either the $50 or $100. Sir Wilfrid Laurier, who is now on the $5 bill, will also be moved to one of those bills. His replacement will be named some time next year.
Who do you think should be on Canada's new $5 bill?