During these times, there are two things many of us have been leaning on to help us through. One is positive vibes from friends and strangers alike. The other is takeout food.
Now, a pizza joint in Brooklyn is combining the two. Vinnie's Pizzeria has officially added 'comforting words' to its delivery menu.
Check out our new menu item. ❤️ pic.twitter.com/sbnU4aNDPj

— Vinnie's Pizzeria (@vinniesbrooklyn) September 30, 2020
We'll take our positive vibes with extra smiles and breadsticks, please!
Keeping things silly ... and tasty!
For people in Brooklyn, Vinnie's already has a bit of a reputation for the, ahem, cheesy and over-the-top.
According to its website: "Vinnie's Pizzeria's world famous special boards featuring delicious daily specials, groan-worthy puns and lots and lots of dry erase markers." Check out this WaLuigi-inspired menu from three years ago!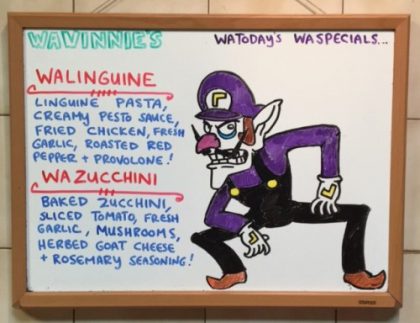 (Vinnie's Pizzeria/Tumblr)
Or this Star Wars one.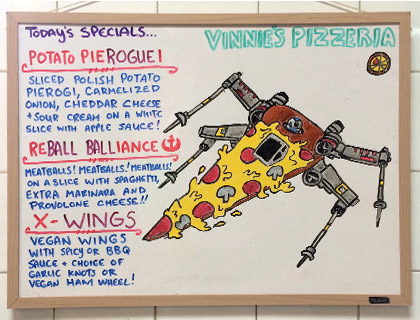 (Vinnie's Pizzeria/Tumblr)
Very silly ... and boy are we hungry!
So it's maybe not too surprising that this particular pizzeria has decided to add something like 'comforting words' to its menu. But whether or not it's all a bit of fun, we think it's a great idea.
Throughout the pandemic, New York City has been one of the hardest hits areas, not only in the United States, but the entire world. Time and again, people living there had to rely on the kindness and support of their community to stay upbeat. Who doesn't want to hear: EVERYTHING'S GONNA BE OK AND YOU'RE DOING THE BEST YOU CAN? That's worth a dollar in our book.
And if you get to eat a slice of Walinguine immediately after hearing this, all the better. Keep it up, Vinnie's!