New York City is known for plenty of things. The Statue of Liberty. The Empire State Building. Museums, art galleries, sports stadiums ... and, of course, lots of people!
It is also known for something else. Rats!
New York City is not officially the most rat-infested American city (according to a 2022 study, that honour goes to Chicago, with NYC being number two). But people tend to still see NYC and rats as going hand-in-hand. (Or is that hand-in-paw?)
A lot of rats!
New York's rat population has grown. (Getty Embed)
Usually, these rodents are something that people want to avoid. But these days some New Yorkers are actually leading tourists toward the rats!
Kenny Bollwerk is one of them.
When he moved from the state of Missouri to New York in 2019, he was amazed at the number of rats. In an interview with CBC, he said that "I didn't think it could be as bad as people [were] saying, but I've gone through a couple of infested spots around the city, and they're just running from underneath construction sites, going to the sidewalk."
He claims to have counted up to 100 rats in some places. So he started to film and livestream the rats on TikTok to draw more attention to the problem.
The RatTok guy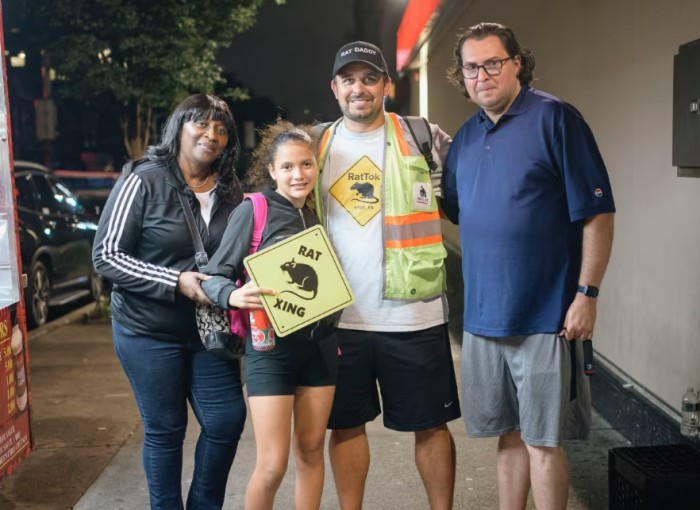 Kenny Bollwerk (centre right) runs tours where he takes people to see rats. (Courtesy of Kenny Bollwerk)
His TikToks quickly gained a large following, with thousands of people at a time tuning in to watch his videos. On one hand, his videos have been working. Every time he films a group of rats, hundreds of people call NYC authorities to complain about the issue.
But something else quite strange also happened.
People started contacting Bollwerk saying that they wanted him to take them on a tour of the most rat-infested spots. And so his free RatTok tours were born!
"I can't believe this is actually a thing," he told CBC. But it is! He takes locals and tourists out on late night guided tours so they can come face-to-face with the rats.
As he told the New York Post, "Rats are like New York City mascots. People want to see them for themselves."
A real problem
New York's mayor Eric Adams is getting tough on rats. (Getty Embed)
Of course, too many rats in a big city is a problem. New York's rodent population exploded during the pandemic lockdown. Without as many humans around, rats were more easily able to find shelter and food.
Now that normal life has returned, New Yorkers are finding that there are more rats around than ever. NYC mayor Eric Adams is trying to tackle this problem with new regulations on garbage. (Leftovers are a favourite rat food.) New Yorkers have limits to how long garbage can be placed on the curb and are being asked to use covered bins, not just bags on the street.
These policies might help in the future. But for now, the rats are celebrities of New York!