Every two weeks, we publish a new issue of our tablet and computer-friendly eMag, OWLconnected. It's free for OWL magazine subscribers. In Issue 142, we're previewing Science Odyssey, something that we really hold dear around here!
Science Odyssey—which happens this year between May 7 and 22—takes many forms for us. For starters, we feature a run of exclusively science and engineering related posts here on OWLconnected. And with this year's theme being the environment, we'll also be adding some info on green innovations and research. But maybe the most fun thing about this event is the Science Odyssey Contest.
What's that, you ask? We'll talk about it more here as May gets underway, but if you want a preview, head over to our new issue now.
Kids making their mark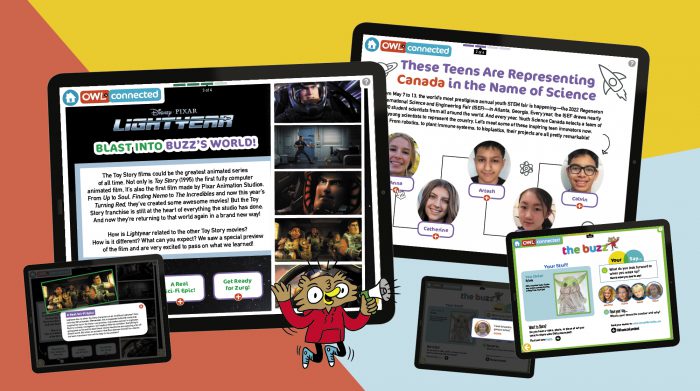 Another big part of Science Odyssey is celebrating science fairs. These are events where young people get to perform experiments, invent gadgets, and overall just flex their STEM muscles!
One of the biggest events in youth science fairs is the Regeneron International Science and Engineering Fair (ISEF). This year's ISEF is happening in Atlanta, Georgia, and Youth Science Canada is sending a team of elite teen scientists to represent the nation. Want to meet them? We profile five of these inspiring kids in this issue!
We also shift gears a bit, going from science facts to science fiction. That's because we saw a preview of June's biggest movies, the new Disney/Pixar sci-fi epic Lightyear! What is this thrilling new film about? And how does it relate to the groundbreaking Toy Story films? We reveal all. (Or, at least, just enough. No spoilers!)
If you're already an OWL magazine subscriber, you can click here to sign in to the latest eMag issue right now.
If not, maybe it's time to take your OWL experience to a whole new level! Get ten print issues a year sent right to your door, plus over 24 issues of our exclusive eMag by subscribing right here.