We cannot lie.
Ever since we here at OWLconnected saw the teaser trailer for Turning Red, we have been beside ourselves with excitement.
A Pixar movie about a young Chinese-Canadian girl who lives in Toronto(!) and turns into a magical red panda?? We are so there! Like... So. Pumped.
But it's one thing to love the idea of a movie. It's something else to love the movie itself—especially when you have such high expectations. That's why we're so pleased to say that we truly do love Turning Red.
Yes, it is super thrilling to see Toronto of the early 2000s recreated in a big budget animated movie. But while the city is a large part of the movie (and of the director Domee Shi's upbringing since she grew up there!), this is a film that works no matter what city or country you call home.
Because ...
It's a film about family
Mei and her mother, Ming, are about go through some big changes in their relationship! (© 2022 Disney/Pixar. All Rights Reserved.)
Meilin Lee is a 13-year-old Chinese-Canadian girl who loves her family. Especially her mom, Ming.
After school and on weekends, she helps out in the family's business—a Chinese temple that is dedicated to an ancestor whose patron animal was the red panda. She sweeps up, does chores, and even gets dressed as a red panda to add some flair to the tours! Then it's back home to help fashion dumplings to be cooked by her super chef father, Jin.
It's, uh ... perfect! Except ...
It's a film about friends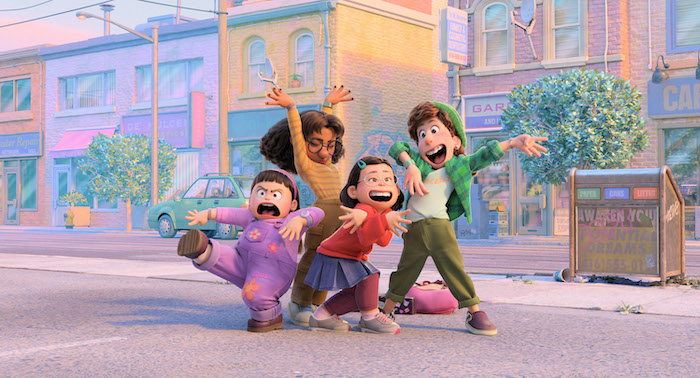 Abby, Priya, Mei, and Miriam are super friends! (© 2022 Disney/Pixar. All Rights Reserved.)
At school, Meilin is Mei. A full-on, super confident (if super dorky) girl who loves math, flute, and her friends.
Mei's posse is tight. There's the unflappable Priya, the mini-volcano Abby, and her uber ride-or-die bestie, Miriam. They love hanging out, sharing laughs, and singing tunes—especially the songs of the hip boy band 4Town! She's got the best friends. She's lucky, and she knows it.
But lately, things haven't felt quite right. She still loves her mom. But she really wants to spend more time with her friends. And she's very curious about that boy who works at the convenience store. Plus there's that upcoming 4Town concert! Why won't her mom let her go? It makes her so mad!
It's a film about big big changes!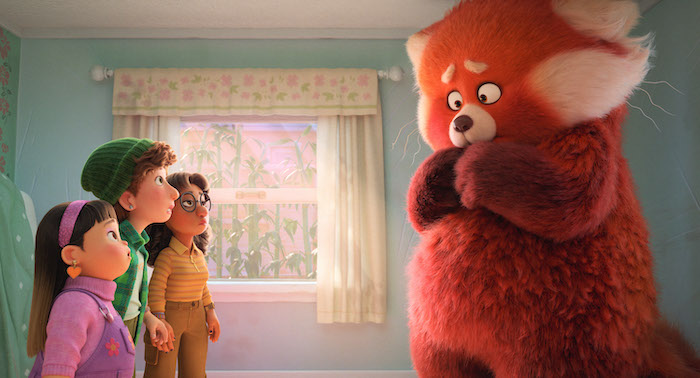 Mei's friends have her furry back in Turning Red. (© 2022 Disney/Pixar. All Rights Reserved.)
Turning Red is all about growing up and the huge changes that happen as we leave our 'kid' years and begin the journey of becoming teenagers. It might even be something you're feeling right now? Everything is so thrilling! And so unfair! And so confusing!
When all of her frustration and excitement boils over, Mei becomes a red panda. Like, not a costume. A real red panda! Her friends think it is the coolest. Her mom is freaked out. Her grandma and aunties are very worried. And Mei is just trying to figure it all out.
Should she choose her mom? Her friends? The panda? Herself?
Turning Red gives you her inspiring answer, all while delivering music, magic, eye-popping animation, mouthwatering Chinese food, and the most adorable monster battle of all time.
We can't recommend it enough!
INTERVIEW: Rona Liu, production designer
What was it like to work on such a cool film? We asked production designer Rona Liu to give us the lowdown on being a part of Turning Red. She also dished on middle school friendship, her inspirational chickens and cats, all things red panda, and embracing the messy and the cute!
OWLconnected: What does a production designer do?
Rona Liu: I am basically the person that oversees the whole look of the film. I would work with Domee (Shi, director) to come up with how this film should look, and then I would work with all of the different departments to bring her dream into reality! It is a very exciting job.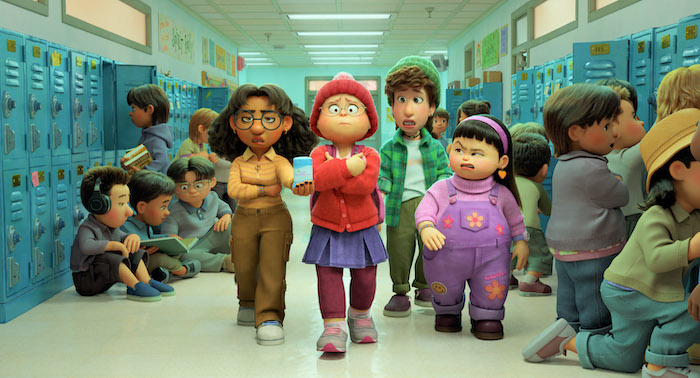 Rona and others on the film had a lot of fun looking back on their own time in middle school to get the look of Turning Red. (© 2022 Disney/Pixar. All Rights Reserved.)
OC: This film is set in the early 2000s. How did you nail the look of it?
RL: Domee and I know this era so well because we were 13 when when it was 2002. It was actually like taking a trip down memory lane! Part of our research was opening up our yearbooks and photo albums and being like, What were our friends dressing like? What was their hairstyle? What type of like toys were we playing with? What kind of notes were we passing to each other?
I found this box of notes that my best friend and I would pass each other in between class breaks and stuff. And then I was like, Oh, I forgot that I was so boy crazy! (laughs) It was, like, a different boy name on every note! And it's things like that that we drew inspiration from.
OC: On your website you say that you have lots of pet chickens and cats.
RL: Yes! Yes!
OC: As you can imagine, our readers really love animals! Do your animals inspire anything that you do in your work at Pixar?
RL: Oh my gosh, definitely! There's going to be little cats in our movie and Domee also has cats. We totally look towards our own pets and animals for a lot of the colouration and the cuteness. The way that we draw their muzzles and how round their faces are! One of the kittens in the movie even has Domee's own cat's colours because we wanted to feature one of her cats in the movie!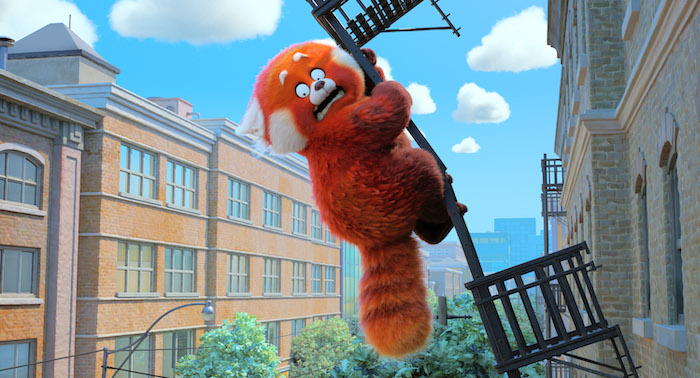 Making Mei's red panda form was a lot of fun for Rona and her team. (© 2022 Disney/Pixar. All Rights Reserved.)
OC: In real life, red pandas are kind of long and cat-like in their body shape. But Mei's red panda is more sort of chonky and rounded. How did you all arrive at that style?
RL: The style as a whole in the animation, we went for what we call 'chunky and cute'. Everything in the movie—from buildings to characters—has a big head-to-body ratio. So everything looked like if you basically squashed them down. So the red panda, we basically took a tube and just squashed her down. (laughs) And it really fit with Mei's personality, too.
Because when [Rona and Domee] looked at our own photos from when we were teenagers, we were kind of chubby. Everything was just kind of a little rounder, you know? When we designed Mei and Mei's panda, we really wanted to make them look the way we felt like we looked: chubby, cute, chunky!
And with Mei panda, too, her fur is kind of matted and clumpy. We wanted to make her look like she's really cute, but also imperfect. Because we really want to bring out the message that we need to like embrace all sides of ourselves. You can embrace the cuddly, but you can also embrace the messy!
Thanks, Rona!
You can embrace Turning Red today because it is streaming now on Disney+. Watch the trailer below!
Disney and Pixar's Turning Red is streaming exclusively on Disney+ on March 11.