Video games are big business.
You only need to look at the $1.35 billion made by the Super Mario Bros. Movie. Or the latest Zelda game, Tears of the Kingdom, which sold 10 million copies in just three days.
But video games can be small, too.
More and more indie (independent) game developers are making shorter games that tell interesting stories. One example is Blanc, an all-black and white game about a friendship between a deer fawn and a wolf cub who get lost after a winter storm. (It is super cute and worth checking out!)
Another is the brand new narrative (storytelling) game called Venba. It was made by a small Toronto company called Visai Studios and tells the story of an immigrant family living in Canada.
"It's a story of culture, love, and loss, especially when you're living in a home away from home," said the main designer, Abhi, in an interview with CBC Radio.
And the game play really cooks.
For real!
Let's make some food!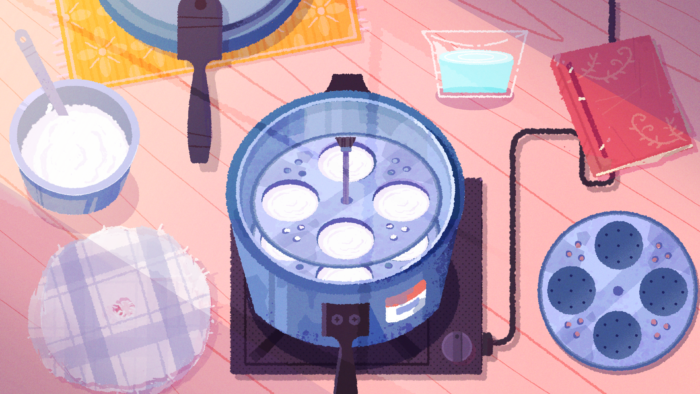 One of the earliest recipes are to make steamed rice cakes called idli. Looks easy? You'd be surprised! (Visai Studios)
Venba features chapters, like a storybook. And each chapter centres around learning to make a traditional recipe from Tamil culture.
(Tamils are an ethnic group mainly based in parts of southern India and Sri Lanka. Theirs is one of the oldest surviving languages on Earth. Around 240,000 Tamils live in Canada.)
In the video game, you play as the title character, Venba. She is a woman who has emigrated from India to Canada in the late 1980s with her husband, Paavalan. One of the things that she brings with her is her mother's recipe book. But the book gets damaged on the trip!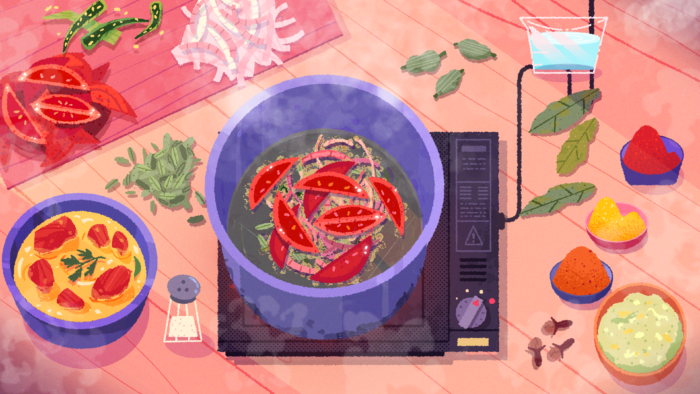 The order that you follow steps when cooking in Venba is key to solving each puzzle. (Visai Studios)
She is determined to restore these recipes, to keep her connection to her homeland alive. It is also a way for her to teach her young son, Kavin, about his own culture.
As you move through the chapters and the dishes become more complex, the gameplay gets more and more challenging. And meals look more and more delicious!
Importance of family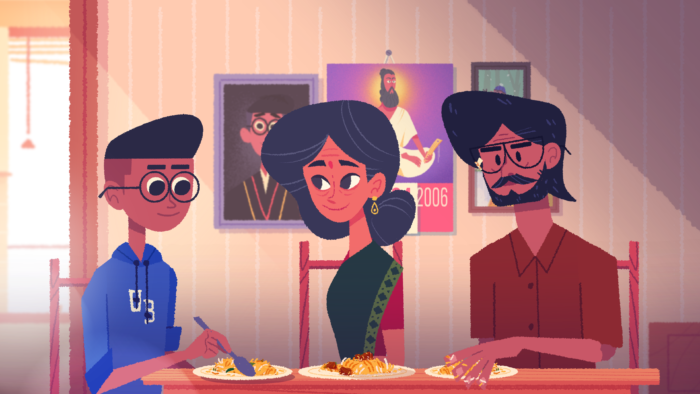 In addition to cooking and solving puzzles, Venba also tells the story of an immigrant family as they grow up together. (Visai Studios)
Throughout the game, Kavin also gets older. His mother begins to worry that she will lose her connection to her son. This makes cooking traditional dishes more important. As we learn through her character in the game, food is how she builds a bridge between her and Kavin.
Abhi has said that he really wanted to make the gameplay from the mother's point of view. This was to pay tribute to the sacrifices that his own mother, and all immigrant parents, make when they move to a completely different country to start a better life for their children.
He and his crew also pay tribute to his culture with beautiful animation and truly delicious looking meals. The only reason we would want to stop playing to make some food in real life for ourselves to eat!
But the best part of Venba is how it mixes challenging puzzles with a heartfelt story. It is relaxing, tricky, and touching all at once.
Watch the trailer for this unique new game below!