Taylor Swift is the biggest music star out there.
How big?
It's her. Hi! (Getty Embed)
The effect that her new Eras tour is having is enormous. For example, a pair of late-July shows in Seattle made headlines for causing seismic activity—the same kind of tremors as a minor earthquake! The cheering, stomping, and noise generated during the performance of her hit "Shake It Off" was even more powerful than what was heard during a famous touchdown run by Seattle Seahawks running back Marshawn "Beast Mode" Lynch in 2011 (it's a Swift Quake versus a Beast Quake)!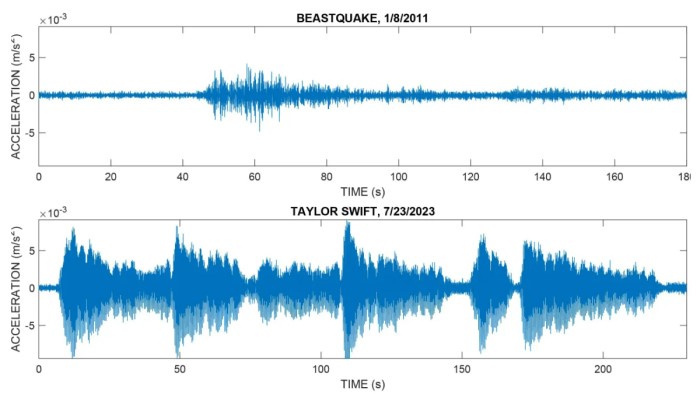 These seismograph readings show how much more the ground shook during a recent Taylor Swift concert in Seattle (bottom) than it did during an important NFL touchdown in the same stadium (top). (Jackie Caplan-Auerbach)
But even when she's not literally shaking the earth, her shows are still changing all of the cities that she visits. That is because her presence is causing people to spend a lot of money. Even the Federal Reserve System, America's central bank, has taken special note of how her concerts are setting records nearly everywhere she goes.
In fact, by the end of her 2023-24 Eras tour, experts estimate that the tour will add as much as $5 billion to the world's economy.
Here come the Swifties
The concerts on her tour have included 44 songs a night. (Getty Embed)
A big reason that her recent shows are doing so well is the theme of Eras.
Not only is this her first major tour in five years, Swift has made it clear that she is playing songs from all across her career in these shows. Many of the concerts are over three hours long (over twice as long as most concerts) and feature surprise songs that are unique to each show.
It's a real experience!
Thousands of fans arrive in Nashville to see their hero perform. (Getty Embed)
Another reason is that her fanbase—a.k.a. Swifties—are very passionate and dedicated. They will travel long distances to see her play, and pay hundreds, even thousands of dollars to see shows.
And because many come from out-of-town, they need places to stay and eat. Restaurants, hotels, parking lots, shops, and other local attractions all make money.
You might say that any entertainment event will do this sort of thing. But not on the scale of Swift. Her concerts are like having a rare, once-a-year event, like the Super Bowl, but night after night.
In fact, after three shows in Chicago, an all-time record was set in the city for hotel rooms filled.
This just in! 🚨

Chicago set its new all-time record for total hotel rooms occupied!

Thanks to three nights of Taylor Swift, the ASCO Annual Meeting, the James Beard Awards and more.

This isn't just post-pandemic–we had more rooms filled than ever in Chicago's history! pic.twitter.com/OqEGB3ZB2C

— Choose Chicago (@ChooseChicago) June 7, 2023
That's a lot of people coming into town!
What can Canada expect?
Taylor will bring her awesome costumes and big show to Canada in November ... 2024! (Getty Embed)
Taylor Swift's shows are such a huge deal, that even world leaders have been politely making public requests that she pays their countries a visit.
Canada's Prime Minister Justin Trudeau did just that in July, after a new batch of tour dates still did not include Canada.
It's me, hi. I know places in Canada would love to have you. So, don't make it another cruel summer. We hope to see you soon.

— Justin Trudeau (@JustinTrudeau) July 6, 2023
Of course, as many of know, Taylor did come through a month later. On August 3, she announced six Canadians shows, all at Rogers Centre in Toronto.
Turns out it's NOT the end of an era 😝 Miami, New Orleans, Indy and Toronto: The Eras Tour is coming to you in 2024 with @gracieabrams! Verified fan registration for all shows is open now - visit https://t.co/xw6YMN3GMc for more information pic.twitter.com/DCgFQb2U22

— Taylor Swift (@taylorswift13) August 3, 2023
Those shows are over a year away, but already the city is getting ready to welcome an estimated 300,000 fans. Experts say that the shows could add $400 to $700 million to the city's economy. By comparison, hosting a Stanley Cup finals series adds around $4 to $8 million per game.
Once again, Taylor Swift is in a category all her own. Or is she?
Beyoncé performs during one of her two shows in Toronto. (Getty Embed)
Beyoncé, who just came to Toronto last month, is also drawing huge crowds and having an almost Swift-sized impact. Her Renaissance tour is expected to make $2 billion worldwide. It is pretty remarkable!
It all means that regardless of whether or not you are able to get tickets yourself to see Taylor perform, if she arrives near your town, you're going to notice the difference!