If you're Tamil, then you already know that January is an important month. Or more exactly, you know that the month of Thai in the Tamil/Indian solar calendar is an important month! (We'll get to more about how these two months overlap soon.)
It is for this reason that, since 2016, January has been known as Tamil Heritage Month in Canada. Today, Canada is home to nearly 200,000 Tamils—in particular, the city of Toronto is home to the largest Tamil population outside of Asia!
To help celebrate, let's take a look at Tamil culture, as well as their history in and contributions to Canada!
A long history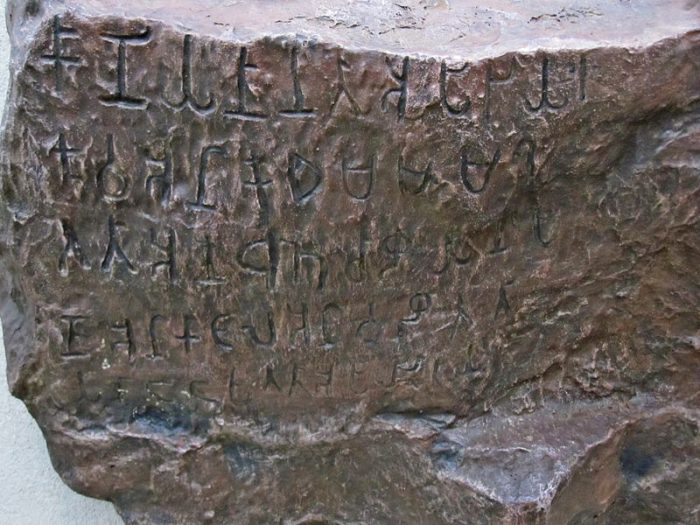 This Tamil inscription in rock is about 2,000 years old. (Wikimedia Commons)
The Tamil people can be traced back to southern India and the island nation of Sri Lanka. Tamils are an ethno-linguistic group, which means that their roots centre around a shared language. In this case, that language—Tamil—is one of the world's oldest surviving languages. In fact, it is over 2,000 years old!
Tamil culture is centred around hospitality (being welcoming), duty, truthfulness, and gratitude. It is also centred around a lot of delicious food! Lentils, rice, coconut, fruit like banana and mango, and a variety of spices can be found at the heart of Tamil cuisine. A common dish—kottu—combines diced flatbread called roti with stir-fried egg, onions, spices, chilies, and veggies and/or meat. Tamil culture also has rich traditions of dance, writing, and music.
Tamils in Canada
Maitreyi Ramakrishnan is a rising Tamil-Canadian actor who has starred in Netflix and Pixar productions. (Getty Embed)
Most Tamils live in south and southeast Asia. There are 69 million (about twice the population of Canada!) Tamils in India alone, and around 3 million living in Sri Lanka. But Canada has a very large Tamil immigrant population. The population really started growing after a civil war broke out in Sri Lanka in 1983—many Tamils living there were targeted with violence during this time.
Canada provided an opportunity to escape this and establish a new life. Today, Tamil-speaking people are a vital part of countless communities across the country, including teachers, restaurant owners, authors, athletes, actors (like Maitreyi Ramakrishnan, who is starring in the upcoming Pixar film, Turning Red!) activists, and politicians. In fact, the current Member of Parliament for Scarborough-Rouge Park is Gary Anandasangaree, a lawyer who was born in Sri Lanka.
A month that is 'overflowing'!
Dance and music—such as this performance taking place in Markham, Ontario—are just part of the celebrations during Pongal. (Getty Embed)
We mentioned how we would come back to why January was chosen as Tamil Heritage Month in Canada. Tamils follow the Tamil solar calendar—though this has twelve months like the Gregorian (Western) calendar, its timing is very different. For example, the Tamil New Year begins with start of the month of Chithirai, and falls on about April 14 every year.
An even more important celebration is the harvest festival Pongal. This a four-day festival that starts on the opening of the month of Thai. Thai overlaps January and February and starts usually on January 14. This is why January was chosen as the month to recognize and celebrate Tamil heritage here.
And what is Pongal—or Thai Pongal—about? Well, as a harvest festival, you can bet there's food! Pongal means 'to boil and overflow', and its traditional dish is made of rice boiled in milk and sweetened with raw sugar. Yum! Not all Tamil populations celebrate Pongal in exactly the same way—sometimes it is a four-day festival complete with distinct rituals for each day, while in other places it lasts one or two days and is more about being with family and loved ones. But no matter how it is celebrated, it is important.
If you celebrated, we hope that your Pongal was a great one!