May is Asian Heritage Month in Canada. To help celebrate, OWLconnected is running several stories this month that highlight the achievements, cultures, perspectives, and diversity of Canadians of Asian descent.
Today we're focusing our attention on five Asian Canadians whose remarkable talents have helped them become inspirational leaders, pop culture icons, and scientific innovators. Some of them helped shape the country we know today—others are busy doing that right now! Read on to get to know them.
Larry Kwong—sports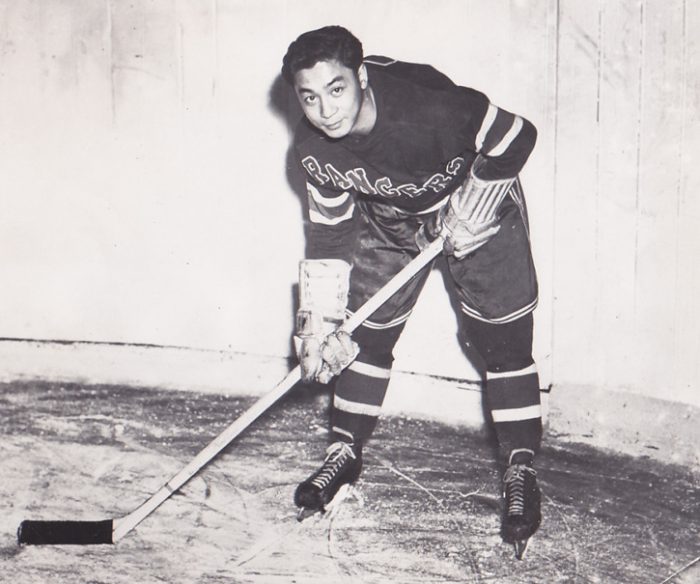 Larry Kwong in a Rangers uniform in 1946. (Wikimedia Commons)
In 1958, Willie O'Ree became the first Black athlete to play in the NHL stepping on the ice for the Boston Bruins. But as significant as his achievement was, he was not the first player to break the NHL's colour barrier. On March 13, 1948—a full ten years before O'Ree—Larry Kwong became the first BIPOC athlete to play for an NHL team, the New York Rangers.
Born in 1923 in Vernon, B.C. to a Cantonese-speaking Chinese family, Kwong was a gifted athlete. In 1946, he was scouted by future Hall of Famer Lester Patrick to play for the New York Rovers, the farm team of the Rangers (a farm team is where prospects, or young players, improve their skills). By 1948, he was the Rovers' top scorer and a prime candidate to play in the NHL. He finally got that chance in a game versus the Montreal Canadiens in Montreal.
Today, athletes of Asian descent like Edmonton's Kailer Yamamoto and Montreal's Nick Suzuki (above) are NHL stars. They owe a lot to the path blazed by Kwong over 70 years earlier. (Getty Embed)
Unfortunately, his NHL career was short-lived—Kwong only played for less than a minute and would never get to play for the Rangers again. "I was disappointed in them because when I made the Rangers, the whole country had my name in the paper that I was playing in the game," Kwong said in an interview with CBC News in 2013. "And it turned out, I didn't get much of a chance."
Kwong chose to leave the Rovers at the end of the season. But he didn't leave hockey. Kwong signed quickly with the Valleyfield Braves of the Quebec Senior Hockey League. There he was a superstar for seven seasons, including leading his team to the championship and winning the league MVP trophy in 1951.
Mayteryi Ramakrishnan—actor
Mayteryi Ramakrishnan attends a Netflix premiere in February 2020. (Getty Embed)
Comedian Mindy Kaling is one of the biggest South Asian-American stars in film and TV. And when she decided that she wanted to create a show loosely based on her own life (Netflix's Never Have I Ever), her search for an actor brought her all the way to Mississauga, Ontario. That's where she found teenager Mayteryi Ramakrishnan, who won the role out of 15,000 candidates!
Ramakrishnan's role as main character Devi Vishwakumar is more than just a dream gig for the young actor. It has become a groundbreaking moment for South Asian representation in Hollywood. Ramakrishnan, now 19, is of Tamil descent—her parents came to Canada from Sri Lanka. Even though Never Have I Ever is her first real acting job, she has received plenty of praise and is nominated for both a Canadian Screen Award and MTV Movie and TV Award—we have a feeling that her career is only just getting started!
Dr. Tak Wah Mak—science
Dr. Mak's career has changed the fields of cancer research and immunology (the study our immune system). (Getty Embed)
Tak Wah Mak's path to Canada was a long one. But once here, he never looked back. Born in southern China  in 1946, his family moved to Hong Kong, where he began to study to become a doctor. In the mid-1960s, his family moved to the United States. It wasn't until the early 1970s that he would finally come to Canada, attending the University of Alberta to earn his PhD in biochemistry.
After completing his degree, he moved to Toronto, became a Canadian citizen, and began to work on a study that would change global medicine forever. In 1983, he identified the T-cell receptor, an achievement that greatly increased our understanding of the human immune system. He made another key discovery in 1995, finding the CTLA-4 receptor, which opened doors to immunotherapy as a possible cancer treatment (this means using our own immune system to fight the disease).
All the while, Dr. Mak stayed loyal to the Canadian scientific community, leading research centres and refusing prestigious job offers outside of the country. He received the Order of Canada in 2000 and is still an active researcher today.
Simu Liu—actor
Simu Liu is pretty excited about his future and so are we! (Getty Embed)
In 2021, fans of the CBC sitcom Kim's Convenience—set in a Korean convenience store in Toronto's Moss Park neighbourhood—were shocked to learn that the show was ending after five popular seasons. But for many of the stars of the show, it was not the end, but a new beginning. Andrew Phung, who played Kimchee, is busy writing a new show for the network. And this summer, Simu Liu (who played Jung Kim) is ready to go from Canadian TV star to international movie star.
That's because Liu will star as Shang-Chi in Marvel's Shang Chi and the Legend of the Ten Rings. The September film is the first Marvel movie with an Asian lead character, and features a cast full of internationally-based Asian talent, including Awkwafina, Michelle Yeoh, and Tony Leung. For Liu—who actually worked as an accountant before becoming a stuntman and actor—it is pretty cool to get to lead a film like this. We're pretty excited for him!
Check out the trailer to this future blockbuster right here.
Jagmeet Singh—politician
Jagmeet Singh has won over many for his ability to blend sincerity with style as a leader of the NDP. (Getty Embed)
Being the leader of a political party is a difficult job. For starters, every day is spent representing the concerns and futures of millions of people—the economy, the environment, and social justice are all things you have to watch over. Then there's the way that your every move, every word is watched over—the press can't wait to attack any mistakes you make. Finally, add on to that the pressures of being the first-ever leader of a political party from a visible minority in your country's history.
And now you've got the world of NDP leader Jagmeet Singh.
Born in Scarborough, Ontario, Singh, who is Sikh, started out as a lawyer before deciding to get into politics. In 2011, he was elected as an MPP to the Ontario government, becoming the first turban-wearing representative there (the turban is traditionally worn by Sikh men). After serving six years as an MPP, he challenged himself to become the new leader of the federal (or national) NDPs. His 2017 victory was the first of its kind for any political party in Canada. Since entering Parliament in 2019, Singh has made a name for himself for how he has challenged issues such as systemic racism, wage inequality (how much people are paid), climate action, and LGBTQ rights.
Who has inspired you?
So who is feeling inspired right now? We certainly are! There's no end to the number of people who have left—or are making—their mark on our world. Which is why we're asking ...
Who has inspired you?