An outdoor basketball court offers some of the best fun around. Grab a ball and some friends and you're good for an afternoon of fun!
But a court can potentially have other uses, too. Like as a massive mural? It's true!
Just ask Emily Kewageshig. This artist from Sheguindah First Nation on Manitoulin Island has seen her art transferred to the surface of a basketball court where it will stay for decades!
The art is awesome and full of significance. In the centre is a turtle, which is a nod to Turtle Island (also known as North America). On the turtle's shell are the four quarters of the medicine wheel, which represent the physical, mental, emotional, and spiritual parts of us all.
Then on either side of the turtle, at the hoops themselves, are circles of colours (orange and red) that reflect Every Child Matters. This is a call to recognize the history of residential schools in Canada, particularly the memory of children who lost their lives there and the resilience of those who survived them.
It is a really powerful piece of art. Emily told CTV News that she made it to honour the importance of culture and community. And even better, it was made possible thanks to many groups of people working with Emily.
Raptors get involved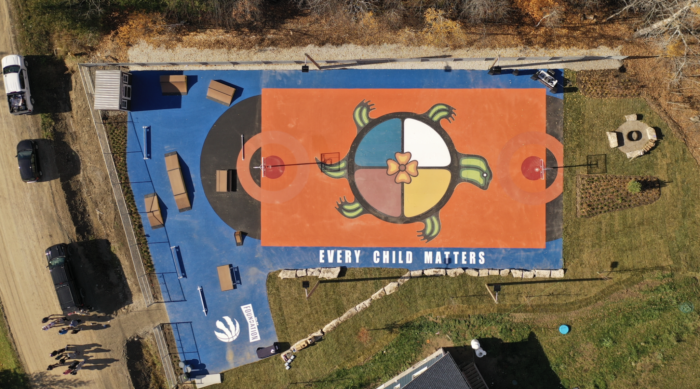 Ready for play! Check out that amazing court. (MLSE)
Though the court already existed, it was refurbished (repaired and restored) with money donated by the Toronto Raptors and MLSE (Maple Leaf Sports and Entertainment, who own the Raptors and other sports team in Toronto). The project was started as a part of the NBA's 75th anniversary year. Representatives from the Raptors met with leaders from Sheguindah to make sure that the design was just right.
Then it was up to Eric Wong, a paint technician from Mississauga to make the design a reality. He specializes in outdoor paints that are UV (ultraviolet radiation) resistant. This stuff is able to be run across, bounced on, not to mention exposed to the sun, wind, rain, snow and ice, year after year, and still keep its colour. And in addition to all of this, the paint contains sand, making it easy to get a great grip as you play.
Sounds perfect!
And as of now, playing is exactly what people are doing on the court. A court that is a place for joy and competition, as well as to connect with community and history.