In Canada, June is National Indigenous History Month. This is a time of recognition, celebration, and education surrounding Indigenous culture, traditions, and contributions. (To read about a very exciting movement in learning Indigenous history, read our story from the weekend!)
June is also Pride Month in many provinces in Canada. This is a time to show support and respect for the 2SLGBTQIA+ community (this acronym represents the broad diversity of identities within the queer community).
One of the provinces celebrating Pride this month is Saskatchewan. And recently, the province's biggest sports team, the CFL's Saskatchewan Roughriders, announced that they are changing their logo for the month of June to celebrate both Pride Month and National Indigenous History Month.
Here's what they had to say about the change.
As a small token of our support of Pride and Indigenous History Month we have changed our logo for the month of June. pic.twitter.com/RgWmGz3lhC

— Saskatchewan Roughriders (@sskroughriders) June 1, 2023
Why recognition matters
The change to the Roughriders' logo may be temporary, but even though the team refers to it as 'a small token of our support', gestures like this one can have a real positive impact.
The key is that efforts like this help to bring visibility to groups of people whose concerns, traditions, and needs are often marginalized. These symbols also signify that people are welcomed into a space where they may not have felt welcomed in the past.
The Roughriders 'Indigenous Pride' logo is one of the first examples that we have seen of a sports team combining both Indigenous and 2SLGBTQIA+ symbols into a single logo. But there have been many examples of really awesome Pride and Indigenous jerseys so far this year, especially hockey jerseys!
Delivering the message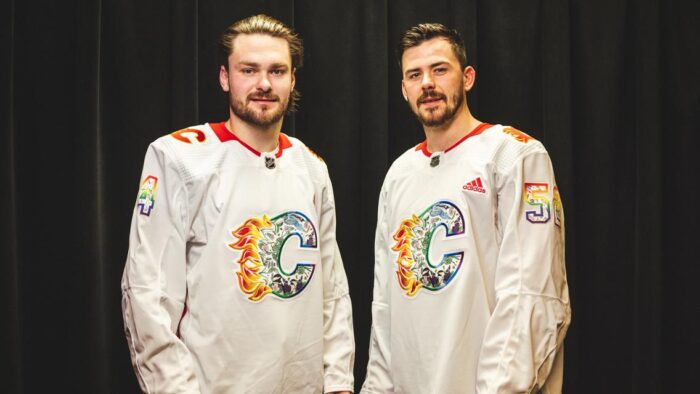 Rasmus Andersson and Mackenzie Weegar of the Calgary Flames model the team's 2023 Pride jerseys. (Calgary Flames)
This Calgary Flames Pride Night jersey from earlier this March was really creative. In addition to the rainbow colours reflecting diversity, the interior of the 'C' includes all sorts of examples of flora and fauna (animals and plant life) that is native to Alberta. The logo was designed by Megan Parker, an artist who is a member of Calgary's 2SLGBTQIA+ community.
We spoke about this wonderful First Nations Celebration Jersey used by the Vancouver Canucks this year when it was released. And how about the beautiful Maple Leafs jersey that was used in the team's January Indigenous Celebration game? 'Tkaronto' is the Mohawk word that Toronto is derived from. It means "the place in the water where the trees are standing".
Tonight's warm ups 🔥 pic.twitter.com/0qR2BXaOnT

— Toronto Maple Leafs (@MapleLeafs) January 7, 2023
It was designed by Tyler Tabobondung Rushnell, an artist from Wasauksing First Nation in central Ontario. You can listen to him speak about the experience of designing the jersey in the video below.
Meet Tyler Tabobondung Rushnell, the artist behind our Indigenous Celebration game warm up jersey & logo pic.twitter.com/F3SCJHtAQc

— Toronto Maple Leafs (@MapleLeafs) January 6, 2023