For eight seasons, from 1990 to 1998, left winger Gino Odjick was a member of the Vancouver Canucks. The peak of his career came in 1994, when he and his teammate came within one game of winning the Stanley Cup (they lost a fateful Game 7 to the New York Rangers).
But all through his career, Odjick, who was born on the Kitiban Zibi Algonquin reserve in Quebec, was loved by fans for his tough play.
Sadly, Odjick died on January 15, 2023. Earlier this month, his life was celebrated in a ceremony that features many of his former Canucks teammates, as well as his family and friends. And the team is continuing to honour his memory with a new jersey.
And the jersey has been designed by an Indigenous comic book artist. His cousin, Jay!
First Nations Celebration
Gino Odjick skating as a member of the Canucks in 1995. (Getty Embed)
March 2 will be the team's first annual First Nations Celebration Game. And during the warm-up, as they get ready to face the Minnesota Wild, the Canucks players will be wearing Jay Odjick's design.
The jersey uses the black, red, and gold colours that were Vancouver's trademark during the late 70s, 80s, and 90s. Starting in the mid-80s, those jerseys had a logo that was a 'flying skate'. (The team has even brought them back as a third jersey this year.) But in his tribute, Jay turned the skate into a thunderbird, a symbol of strength and protection in many Indigenous cultures.
The jersey also has a shoulder patch that features a medicine wheel, another important Indigenous symbol. Over the wheel is Gino's number 29 and it is surrounded by eight feathers—one for every season he played in Vancouver.
The result is both a nod to that exceptional 1994 team, and to Gino's and Jay's heritage.
Here is the jersey being modeled by current Canucks defenseman, Ethan Bear. (Bear is himself an Indigenous player and was the first NHL player to wear a jersey with his name in Cree syllabics.)
Introducing our First Nations Celebration jersey!

Designed by Jay Odjick, cousin of Gino Odjick, the jersey weaves elements that honour Gino's legacy and Jay's own First Nations heritage.

We'll wear this jersey during warm up of our First Nations Celebration game on March 2nd.

— Vancouver Canucks (@Canucks) February 23, 2023
A real honour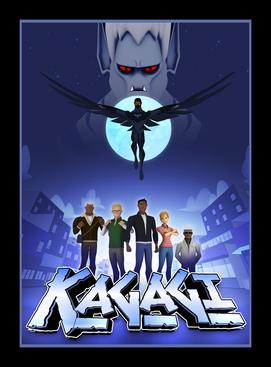 Artist Jay Odjick created the comic book Kagagi, which has been a graphic novel and an animated series. (Getty Embed)
For Jay, the chance to pay tribute to his cousin was an honour. Jay's work as a comic book artist has included the creations of the Anishinaabe superhero Kagagi, or The Raven. As it turns out, Gino had a connection to this comic. When Kagagi was turned into an animated series, Gino did the voice of one of the characters!
Now Jay gets to deliver a lasting tribute to his cousin with this work of wearable art.
And according to the Canucks, the proceeds from the sale of the First Nations Collection will go to Musqueam, Squamish and Tsleil-Waututh First Nations youth programs.
Amazing!