In the world of sports, fan is short for 'fanatic'. And these fevered followers will go to incredible lengths to support the sport that they love.
Just ask Bobby Dubeau of Delta, B.C. This Canadian Football League (CFL) fan just traveled across the country seeing a match in every one of the league's nine cities. (These are Vancouver, Calgary, Edmonton, Regina, Winnipeg, Hamilton, Toronto, Ottawa, and Montreal.)
The really amazing part? He did it all in just 15 days.
And he just might have set a record, too!
Dubeau has sent an application to the officials at Guinness World Records to claim the record of "fastest person to attend a game at every Canadian Football League stadium". He's pretty sure that he's done it.
But whether he has or not, it's a pretty neat example of how far fans will go! Or as he told CBC, "It's a pretty weird thing to do!"
Why not?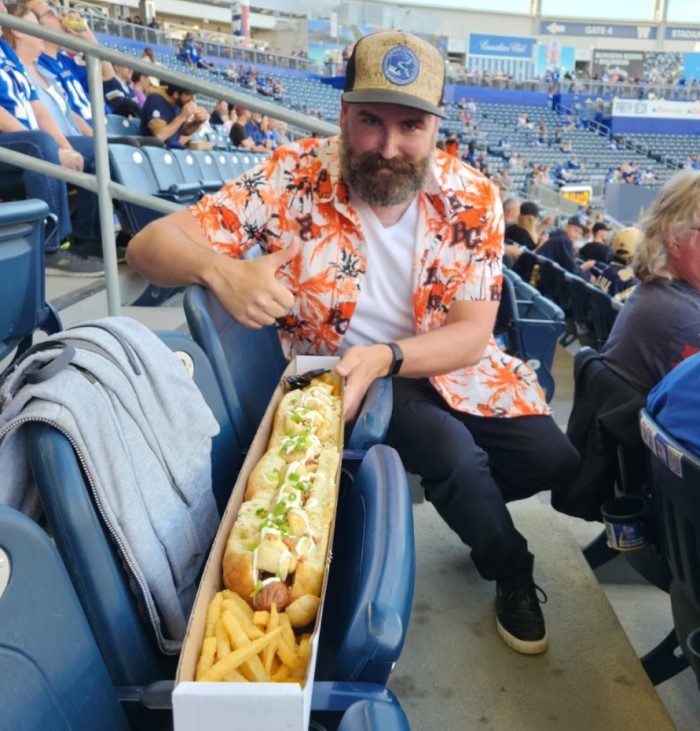 Going to a bunch of football games has its perks, like this 'yard-long' hot dog in Winnipeg! (Courtesy of Bobby Dubeau)
Dubeau is a season ticket holder of the BC Lions, the CFL team based in Vancouver. He has been a fan since he was a child and remembers watching Lions game with his grandmother. But Vancouver is a long way from other CFL cities like Winnipeg and Hamilton.
The idea for his record-setting trip came to him last year when a flight to Nova Scotia was cancelled and he was stranded in Montreal. He noticed that the Montreal Alouettes had a game, so he bought a last-minute ticket and saw the game. Then he saw that the Ottawa Redblacks had their own game the next day. So after a short trip to the nation's capital, he saw that game, too.
Then it hit him: Why not try to see games in all nine cities as quickly as possible next year?
Help from some fans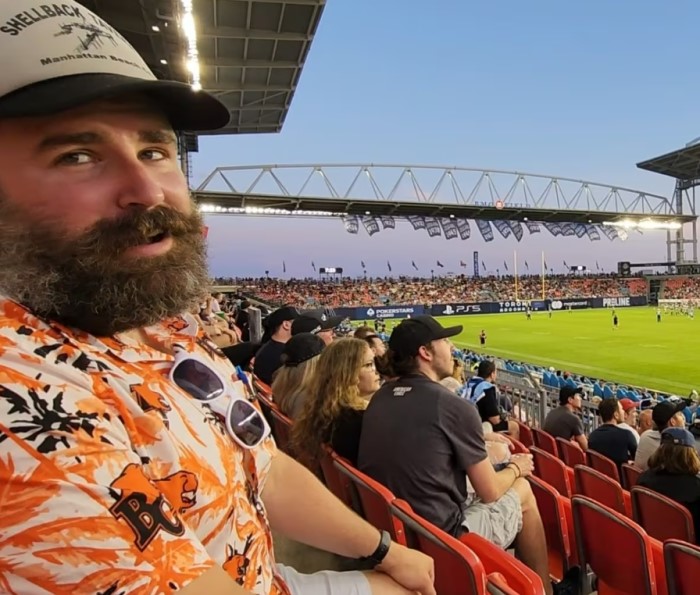 Dubeau at Toronto's BMO Field. (Courtesy of Bobby Dubeau)
As soon as the 2023 season schedule was released, he pored over it, trying to plan the best route. He wanted to take advantage of moments when teams in cities that were pretty close together (such as Toronto and Hamilton) had home games close together. But even then, he could only do so much.
Case in point? His final two games were a 7:00 p.m. night game in Hamilton, followed by a 4:oo p.m. afternoon game back in BC. That's a tight turnaround!
Fortunately, he made many friends along the way. In order to claim the record, he would need people to verify (prove) that he was actually at all of these games, and there from start to finish. "I've got multiple witnesses, signed statements from each game, plus video footage from every hour from every game, as well as lots of media coverage," he told the website Vancouver Is Awesome.
As it turned out, one of these new friends was also trying to see a few CFL games in a row. So he offered Dubeau a ride from Toronto to Hamilton, and then back again so he could catch his flight to Vancouver. Yay!
At the final game in BC, his hometown team even presented him with a specially designed "historical game ball" to mark his achievement. Way to go, Bobby!