Calgary, Alberta's Rob McLeod is a master of the flying disc.
You might know it better as a frisbee. And McLeod prefers to be known as "Frisbee Rob"!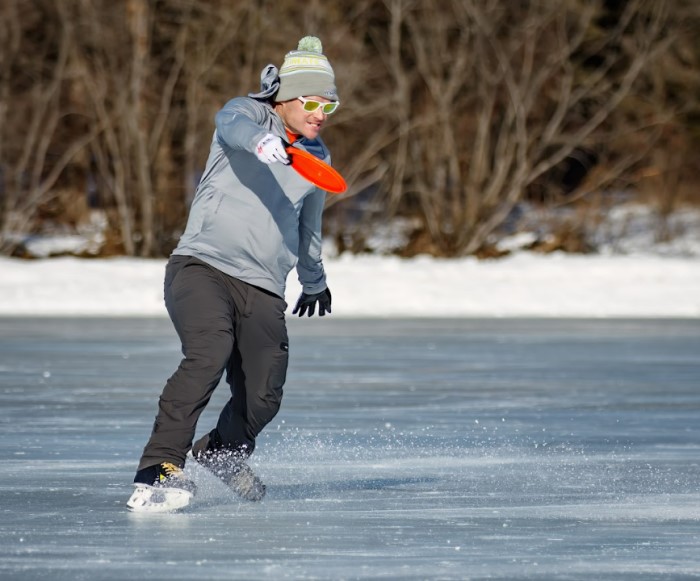 Frisbee Rob holds thirteen frisbee, or flying disc, records. There are ones on skates, ones on the ground, ones that are by himself, and ones with a dog partner. (Courtesy of Guinness World Records)
After years of playing frisbee and working with two whippets—Davey and Sailor—he has set a total of thirteen amazing records, including Farthest mini flying disc throw caught by a dog, and Farthest flying disc throw caught by a dog. And yes, we're talking Guinness World Records!
In fact, he even appears—twice!—in the newest Guinness book, Guinness World Records 2024.
Rob speaks (while Sailor sleeps)!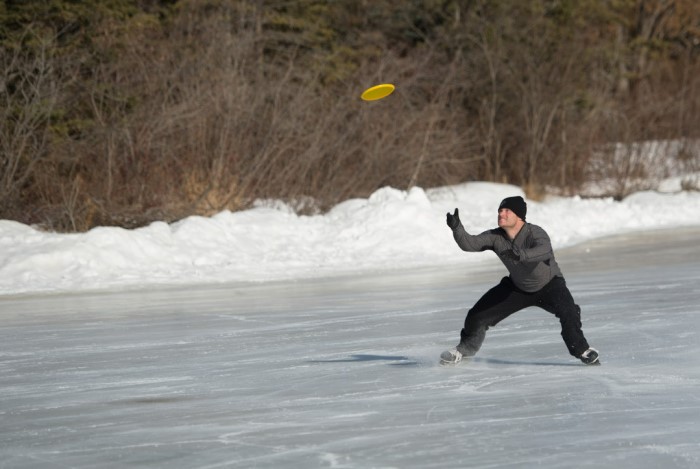 For some of his records, Rob actually catches his own frisbee throws! (Courtesy of Guinness World Records)
To celebrate last week's release of this book, we had the chance to sit and chat with Rob about frisbee and his very interesting career. And we even got to meet his dog, Sailor, too!
OWLconnected: Hi Rob! You are a multiple world record holder and a frisbee expert. How did you get into all of this?
Frisbee Rob: Being curious? You know, I grew up reading OWL!
OC: Yay!
FR: And I grew up reading the Guinness book. Yes, I stuck my tongue on a railing when I was 12 years old to see what would happen. Aaaand my tongue stuck to the railing!
OC: Yikes. Yes, don't try that at home!
FR: Guinness World Records were the ultimate thing for me, but I never thought I'd actually be able to be a title holder. All these records blew my mind. I was like, That's amazing, but maybe I won't do that. And so the dream kind of fell away. But when I discovered frisbee, it kind of reignited that spark of curiosity.
OC: Nice! So how did it become Frisbee with a dog?
FR: At first, it was just frisbee. I played Ultimate Frisbee for about 10 years.
OC: Neat, what is that?
FR: It is a lot like frisbee football, but no tackling. It's the best sport ever. Well, everyone thinks their sport is the best sport ever. <laughs>
Anyway, then a friend found me online to see if I could teach her how to throw frisbees for her dogs. And I was like, Okay, sure!
She had really athletic dogs. And in my first competition with Davey, we broke a world record! That's how I basically got in the Guinness book for the first time! [Davey died a few years ago. Since then, Rob has worked with Sailor.]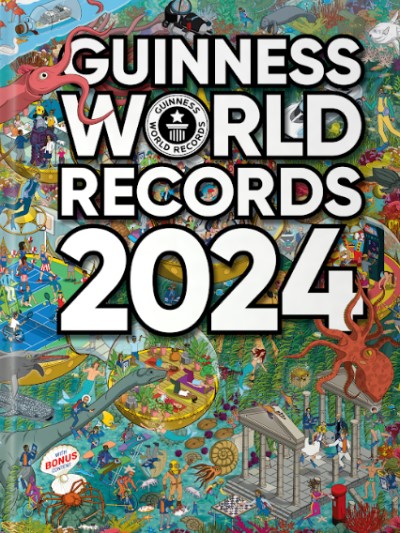 Rob appears with both Davey and Sailor in the new Guinness World Records 2024 book. (Courtesy of Guinness World Records)
OC: Did you grow up around dogs?
FR: Yeah. I grew up in a small town in New Brunswick with two golden retrievers, who will chase whatever you throw at them! When I was nine or something, we won like an obedient show with [one of them]. She would just trot around and do things. So I was like, Oh, like you can actually do things with a dog!
OC: And now you really do things with dogs!
FR: Yeah. I started throwing to dogs and I already knew that I could throw far. Coming into it as an athlete who can throw far with a dog that can run fast. It was a really good combination! I was like, [a dog] is a great teammate.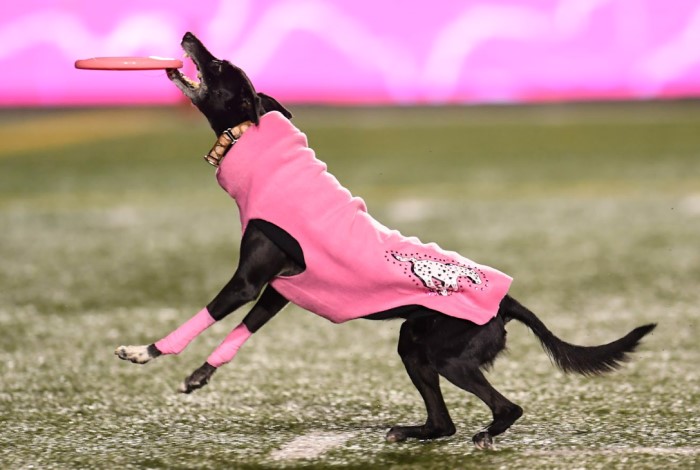 Good boy! Sailor makes another excellent catch. (Courtesy of Guinness World Records)
OC: That's a good point! But Davey and Sailor, they aren't your dogs, right?
FR: My friend owns him, but I'm his teammate. So he spends a lot of time with me. The biggest thing is [being with a dog] changes your life. When he's with me, all I think about is him. Make sure that he's fed twice a day, make sure he's out. If I go out with my friends, I have to make sure that I go home and he's okay. You're always making sure he's fine. That's the biggest thing.
OC: So how often do you see Sailor during the year?
FR: During COVID it was like about three quarters of the year! [His owner] has other dogs, so she doesn't mind. She knows that Sailor is treated very well and gets a lot of time out. And if we have competitions coming up, it's good for me to train him. So I'll usually grab him a couple weeks before and take him home the week after. It is usually a couple weeks at a time.
OC: How did you meet Sailor?
FR: Davey's owner is also Sailor's owner. So I've been competing with her dogs for about 11 years now.
OC: Is it just Davey and Sailor or have you worked with other dogs?
FR: I've had other people ask, but I don't want to just show up and throw to some random dog. I'll do it for fun! But competing with a dog, I want to actually have a bond with them and care. We're a team.
OC: How long does it take to kind of get that bond?
FR: Not long. I love dogs, so I spend a lot of time with them. But a lot of it is like, you throw a couple frisbees and then they're just like so attached to you. They know you're the fun guy to hang out with! The bond is huge.
OC: So you're not the owner, but you're the fun uncle! Do you think you'll get a dog one day?
FR: Yeah. I think people kind of find the breed they like and stick with that. It's kind of what they know. I like to either be really fast or just chill and not do much. It's kind of the same with a whippet [points down to Sailor, who is snoozing at his feet]. We're either at a hundred percent or we're like just relaxing and chilling!
OC: Love it! Thanks so much for your time, Rob. Good boy, Sailor!
FR: Thank you!
---
Watch Frisbee Rob and Sailor in action below as they set the record for Longest mini disc distance to canine catch. Woof!
The new book, Guinness World Records 2024, is out now.