A fifteen year-old from California is flying high.
Mia Peterson is a roller skating maverick. Her skills aren't just impressive—they're world record worthy!
As proof, she recently captured an official Guinness World Record for her high-flying acrobatics. Want to see what we mean?
Of course you do!
Flip and twist
Whoa! In case you're wondering what you just witnessed, that was a Barani flip on roller skates over a dozen (yes, 12!) people laying down in a row. The Barani is a front flip performed while also doing a half twist. Watch the video again to see if you can pick it out.
To get the courage and skill to perform such a daring move, Mia has been working on her skating skills since she was about 11. Around 13, after seeing friends perform flips and tricks on ramps in a skate park, she decided that she would like to try it on her roller skates.
She began attempting flips in foam pits and giant airbags, places that offered her safe, soft landings. But it wasn't all that long before she was pushing herself to do more and more challenging tricks.
Making a record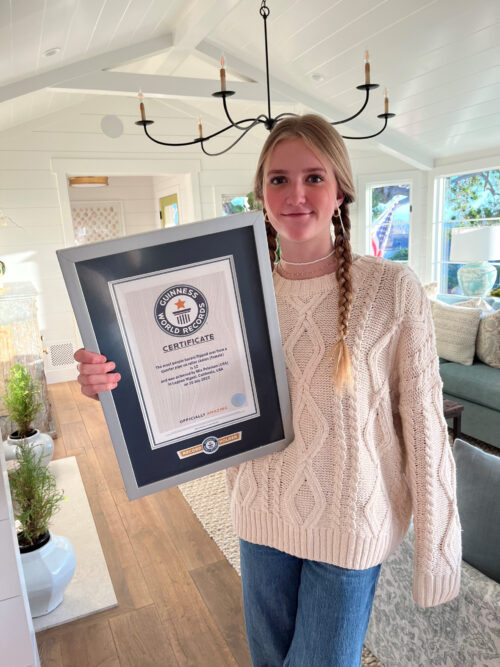 It's official! Mia is in the record books. (Courtesy of Guinness World Records)
Her path to her world record started when here friend Jake suggested that she try to perform a flip while jumping over him. Things moved really fast!
"He seemed to really trust and believe in me," she said in an interview with Guinness, "so we tried it. I landed it first try and in two days, I flipped over Jake and 8 other people."
Wow! Before long, she was flipping over 10 people like it was no big deal. And on July 16, 2022, she pushed herself to complete her amazing, record-setting feat: Most people Barani flipped over from a quarter pipe on roller skates!
In addition to her record, Mia has the honour of being selected as one of Guinness' Young Achievers that are being highlighted in their 2024 book edition. Cool!
"I used to always look up to the people in this book when I was younger," she said about the honour, "and now to be in it, it feels like a dream!"
We're pretty sure that her dream is only just beginning. Fly on, Mia!