June marks Pride Month in Canada. OWLconnected is pleased to welcome Ian Duncan, a self-described 'proudly gay history teacher, husband, and father' from Toronto. He has written today's post about the WE Demand Protest of 1971, and how it still resonates today.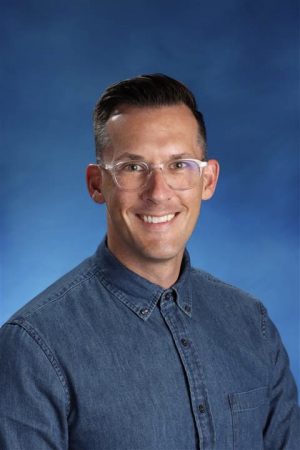 Our guest writer, Ian Duncan! (Courtesy of Ian Duncan)
Pride Parades are held in many cities across Canada in June. You may have seen them on TV or attended one yourself. Though we call these gatherings parades—and they can look like one big party for 2SLGBTQIA+ people—they can also be called protests. They are an important reminder that the journey to respect and inclusion is ongoing.
A scene from the 2014 Pride Parade in Toronto. (Getty Embed)
The parades call attention to the issues and challenges that the 2SLGBTQIA+ community still face today. They bravely protest against discrimination. They show strength, community, and diversity, too! And they are also a celebration of how far we've come in Canada.
Pride is a protest!
WE Demand
The Pride Parades of today were made possible by earlier events. On Saturday August 28, 1971, a few hundred people marched through the streets of Ottawa. The summer's heat had given way to a wet and rainy day, but that did not dampen their spirits. This was the first large-scale protest for gay rights in Canada's history. It wasn't a parade, but it was Pride anyways.
The protesters demanded equal rights at work, and in the streets where they lived. They demanded to be seen and heard and respected by Canadian society. They demanded that people see who they were, and who they loved. The protestors chanted slogans like "two, four, six, eight, gay is just as good as straight" and carried banners and signs to draw attention to their cause.
Who made the demands?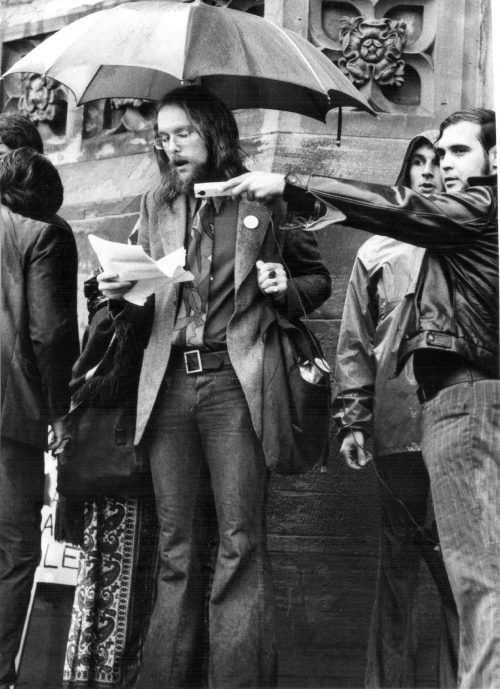 Activist Charlie Hill delivered the main speech at WE Demand. (Jearld Moldenhauer, "Charlie Hill Reading the Demands," The ArQuives Digital Exhibitions)
The WE Demand March gathered together early gay and lesbian rights organizations from across Ontario. It also had support from other groups from across Canada and even the United States. The marching protesters walked through Ottawa and delivered a document to the doorstep of the Canadian Parliament buildings with the simple title at the top: WE DEMAND.
The Prime Minister at the time, Pierre Trudeau, did not show up to receive the WE Demand documents. One of his assistants wrote that he had "many other commitments" and was too busy to meet with the leaders of the protest to discuss their concerns.
Activist Charlie Hill was the first leader of the University of Toronto Homophile Association, seen as one of the first gay rights groups in Canada. He marched in WE Demand as part of another group called Toronto Gay Action. He delivered a speech on the steps of Parliament and read the document's 13 demands.
He said, "Today marks a turning point in our history. No longer are we going to petition others to give us our rights. We're here to demand them as equal citizens and on our own terms."
What were the demands?
The 13 demands of the protesters included the right to serve in Canada's armed forces, protection from discrimination at work and by police, and changes to laws that discriminated against gay, lesbian, and bisexual people. Above all, protesters demanded their equal rights.
The WE Demand march wasn't the first act of 2SLGBTQIA+ protest in Canada, but it was the largest and most public up to that point. The list of demands did not include everything this community fights for today. For example, the list did not include a person's right to diverse gender identity. The protests and anti-discrimination work would continue for generations, but in this moment the 2SLGBTQIA+ community stood loudly and proudly together.
And ongoing protests and expressions of Pride have slowly brought change. Equal rights for gay and lesbian people were recognized in 1997. Same-sex marriage laws were passed in 2005. Demands for the protection of transgender rights were achieved in 2017.
You see, there have been—and continue to be—many steps in the progress of equity for 2SLGBTQIA+ people.
Demonstrating our Pride
Prime Minister Trudeau and his family at the Vancouver Pride Parade in 2016. (Getty Embed)
Today, people in the 2SLGBTQIA+ community have many of the same human rights enjoyed by everyone else in the country. But in our history, this has not been the case. The WE Demand march inspired other marches and protests, and encouraged other 2SLGBTQIA+ groups to speak out for recognition, representation, and equality in Canada. And we have come a long way since that day.
The first Pride Parade in Canada was in Vancouver in 1978, and many Canadians have organized and fought for their right to march in Pride Parades in cities across Canada ever since. In 2016, Prime Minister Justin Trudeau raised the Pride flag on Parliament Hill for the first time in Canada's history.
These things were all set in motion by WE Demand—a protest that still inspires us today.