Trigger warning: This post discusses the traumatic history of residential schools.
A city council in Saskatoon has voted in favour of changing the name of one of its streets.
Normally, such a move would not make national news. But this type of change is at the heart of a big issue across Canada: the country's process of reconciliation with Indigenous Peoples. This process was formally started with the Truth and Reconciliation Committee, which released a report called the 94 Calls To Action that outlined how to address and repair the relationship between settlers and Indigenous Peoples.
In this particular case, John A. MacDonald Road would become miyo-wâhkôhtowin Road. Pronounced mee-yo wah-KOH'-toh-win, it is a Cree word that means "good relationship".
According to Melissa Cote, the city's director of Indigenous initiatives, "The name reflects the theme of reconciliation ... Good relationships will bring us together."
And for many Indigenous Peoples, building a good relationship starts with acknowledging what MacDonald's name represents.
A painful meaning
MacDonald was Canada's first prime minister and a key figure in the building of the country. For this reason, his name is found on a lot of things that have been built by settlers, such as schools, public buildings, and streets.
But as a politician and leader, MacDonald was also the driving force behind policies and programs that ruined the lives and communities of Indigenous Peoples. The biggest example of these acts was the residential schools system.
These schools forcibly took Indigenous children from their families, and forbade them from speaking their language or practicing their culture. Countless numbers of children were abused and died while at these schools.
As a result, the name "John A. MacDonald" is traumatic (a painful reminder of the past) for Indigenous Peoples.
Time to reconcile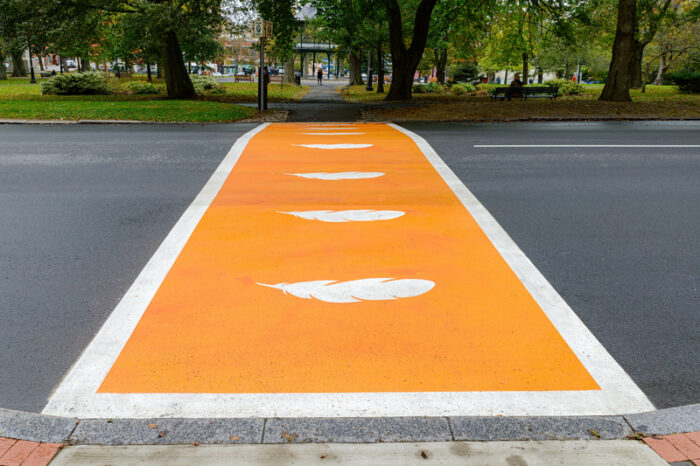 This crosswalk design was painted to honour the survivors and victims of residential schools. (ID232334596 © Madscica | Dreamstime.com)
Part of the proposed actions in the 94 Calls To Action deal with renaming public spaces to address this trauma.
This change in Saskatoon is not the only one being discussed. Last June, it was announced that Ottawa city officials are going to change the Sir John A. MacDonald Parkway to Kichi Zībī Mīkan ("Great River Road").
In Saskatoon, not all residents are excited about the change, particularly those who live on the street itself who said that they were not consulted. But as Jessie Sylvestre, the president of the Saskatchewan Indigenous Cultural Centre, points out, Cree names are already used all across the province. The names Saskatchewan and Saskatoon are both English versions of original Indigenous names. (This is also true of Ottawa, Toronto, and Canada itself.)
"Renaming this street is a meaningful and appropriate act of reconciliation," she told the council. It is also a way of helping to revitalize Indigenous languages and acknowledge the trauma that is found in Canada's history.
If fully approved, the street name will be changed this fall.