Every two weeks, we publish a new issue of our tablet and computer-friendly eMag, OWLconnected. It's free for OWL magazine subscribers.
April 22 is Earth Day. That isn't until this Saturday, but in Issue 163, we're getting you ready in advance.
Earth Day is all about recognizing the importance of the planet and how our actions affect it—both for good and bad. Of course, we would all love for us to do more good for our amazing home. That's why the theme for this year's Earth Day is Invest In Our Planet.
In this issue, we'll show you what that means!
For the Earth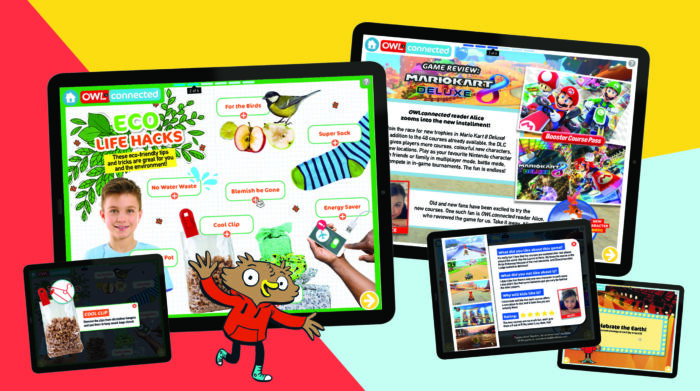 In addition to looking at this year's Earth Day theme, we're giving you all sorts of ways to help out the planet.
Our feature story includes seven awesome Eco-Life Hacks. We'll help you turn everything from old coat hangers and socks to leftover pasta water and bruised fruit into things that can reduce waste, help wildlife, and solve all sorts of household problems. Green and to the rescue!
We're also here to expand you eco-knowledge with an environmental quiz and an informative video on fossil fuels. And if you're looking for a break from all of that green learning, we've also got you covered with a review of the new Booster Pack tracks featured in Nintendo's Mario Kart 8 Deluxe. Vrooooom!
And as always, we round out our eMag with our regular Buzz feature, full of input from kids like you. (This issue features some very calming answers from our kid panel!)
If you're already an OWL magazine subscriber, you can click here to sign in to the latest eMag issue right now.
If not, maybe it's time to take your OWL experience to a whole new level! Get 10 print issues a year sent right to your door, plus over 24 issues of our exclusive eMag by subscribing here.