Canadian Jeremy Hansen is going on the trip of a lifetime.
He is going to the Moon.
On Monday, NASA announced the crew for the upcoming Artemis 2 mission, which will be the first crewed mission to the Moon in over fifty years. The last was Apollo 17 in Dec of 1972. Here is the official crew portrait.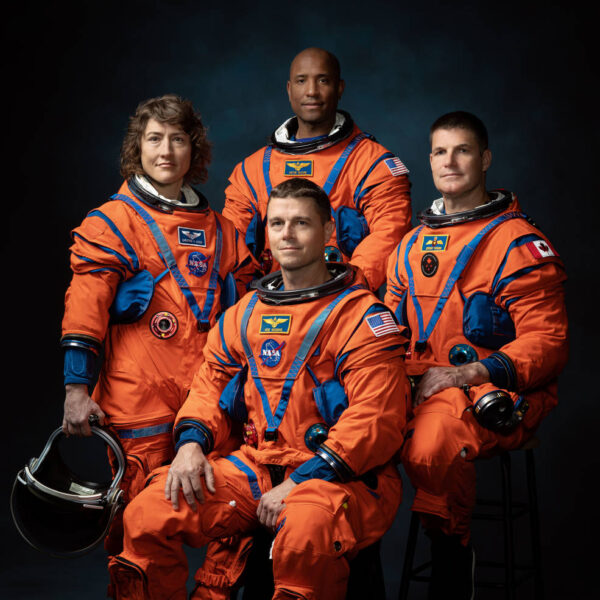 Meet the crew of Artemis II. From left: NASA Astronauts Christina Koch, Victor Glover, Reid Wiseman, Canadian Space Agency Astronaut Jeremy Hansen. (NASA/Josh Valcarcel)
Unlike that Apollo crew, Hansen and his crewmates (Americans Christina Koch, Victor Glover, and Reid Wiseman) will not land there. They will only orbit the Moon, testing the equipment and gathering data for future missions to the surface.
But that is still a pretty small "only". We're talking about a trip to the Moon here! Something that a Canadian has never done before. And Hansen will also be part of the first human crew on board the new Orion spacecraft—a vehicle that NASA hopes will be a part of many missions to come.
Representing the @csa_asc on #Artemis II to the Moon is @Astro_Jeremy, from London, Ontario.

Jeremy Hansen was a fighter pilot before joining CSA, and currently works with NASA on astronaut training and mission operations. This will be Hansen's first mission in space. pic.twitter.com/zIVetAQeFE

— NASA (@NASA) April 3, 2023
And did we forget to mention? Jeremy Hansen is going to the MOON?? "It makes me smile when I say that," Hansen told the media after Monday's announcement.
It makes us smile, too, Jeremy!
Who is he?
Jeremy Hansen meets the media, shortly after his mission was announced. (Getty Embed)
This will be Hansen's first time going into space, but that doesn't mean that he doesn't have a lot of crucial experience already under his belt.
He was born in London, Ontario in 1976. In a way, he has been involved in the armed forces since he was 12 years old, when he joined the Air Cadet program (these cadets aren't officially military, but the program is run by the Canadian Armed Forces). There he learned a lot about planes and their engines, air traffic controlling, piloting, survival skills, and more.
After that, he studied space science and officially became a pilot. He flew CF-18s (Canada's top fighter jet) and achieved the rank of colonel in the Royal Canadian Air Force. But even with his experience piloting supersonic jets, his dreams were always about going higher and faster than that.
He always wanted to be an astronaut.
He was recruited by the Canadian Space Agency (CSA) in 2009 and quickly started to make good on his dreams. Alongside other recruits like David Saint-Jacques (who went to the ISS for six months starting in Dec of 2018), he trained for over decade to become an astronaut. He went to the Arctic, lived in caves, survived for days under the sea—all of these missions tested his ability to stay cool while living in an isolated environment.
Very much like what being in space on board the Orion spacecraft will be like!
Doing Canada proud
It's hugs all around for the Artemis 2 crew and their fellow astronauts. All of these professionals have a big future ahead of them, with many more lunar missions in store. (Getty Embed)
"A Canadian is going to the moon with our international partnership, and it is glorious," said Hansen in an official statement from NASA. "We are going to the moon together. Let's go!"
And it is true: though these upcoming missions are firmly being led by NASA, Canada is a big part of the team!
In addition to Hansen, Saint-Jacques, Jennifer Sidey-Gibbons, and Joshua Kutryk are all active Canadian astronauts who have a chance to be a part of future Artemis missions. This includes Artemis 3 in 2025, which will involve astronauts actually landing on the Moon.
And Canadian engineers are currently building a key lunar rover for the Moon's surface, as well as the Canadarm3, a massive new robot arm that will be a major part of the future Lunar Gateway space station.
But for now, the focus is all on Artemis 2, whose orbit will take Hansen and his crewmates farther away from the planet than any humans before them. What a remarkable honour!
Take a moment to meet Jeremy Hansen in the CSA video below.
And while we're at it, meet the whole crew, including Christina Koch, who will be the first woman to travel to the Moon, and pilot Victor Glover, the first Black astronaut to make the trip. It's all so exciting!