For centuries, the Vikings ruled over southern Norway. On the seas, their marauding ships sailed without fear. But on land, these people faced a landscape of harsh winters and steep mountains. The easiest way to travel was to find a mountain pass — this was a relatively low and gently sloping area where travel was safer.
In a way, these became the 'roads' of Viking society.
And now, thanks to climate change, Norwegian archeologists have found an ancient Viking road under the Lendbreen ice patch.
Changes change everything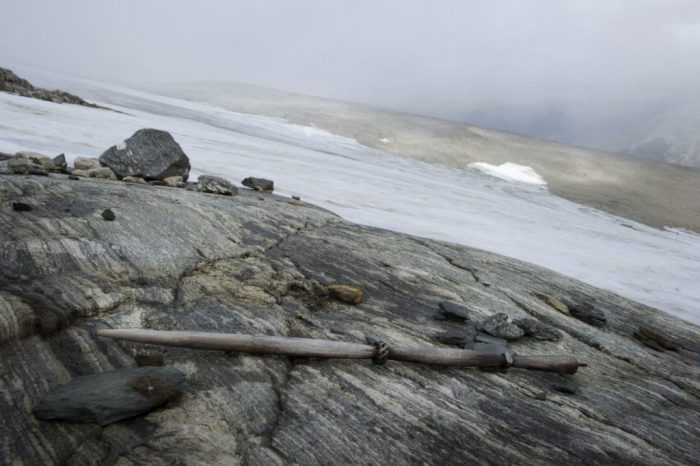 This beautiful wooden distaff was used to spin wool for clothing. It is just one of hundreds of artifacts found. (Espen Finstad, secretsoftheice.com)
To be clear, we're not ones to sing the praises of the changing climate. But it is undeniable that as temperatures rise, many artifacts and fossils that had been frozen shut under glacial ice and permafrost are being discovered. And the number of finds keep growing.
In fact, we wrote earlier in 2018 about discoveries in Norway where all sorts of Viking relics were found after ice had melted. Now as that melting continues, so does the research.
And it's paying off, too.
Where is Lendbreen?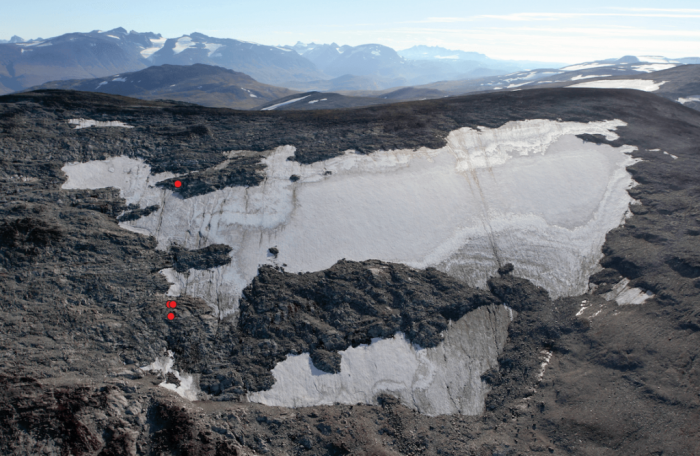 This is an aerial view of the Lendbreen ice patch. Researchers have to look very carefully for items — for example, the red dots show four areas where they found broken parts of the same ski. (Lars Pilø, secretsoftheice.com)
The Lendbreen ice patch is found on an elevated ridge in the Jotunheim Mountains in southern Norway. Though it is quite high up, it is lower and more gentle than the surrounding areas. This is why historians have long suspected that it would be a 'road' for Viking culture between the 8th and 11th centuries.
But for thousands of years, it was regularly covered in ice and snow. Then after extensive melting in 2011, that all changed. Researchers investigated the area, searching for any artifacts that would now be exposed by the melt.
And they returned in 2012. And 2013. 2014 and 2015. And after a break, again in the summers of 2018 and 2019.
What makes a road a road?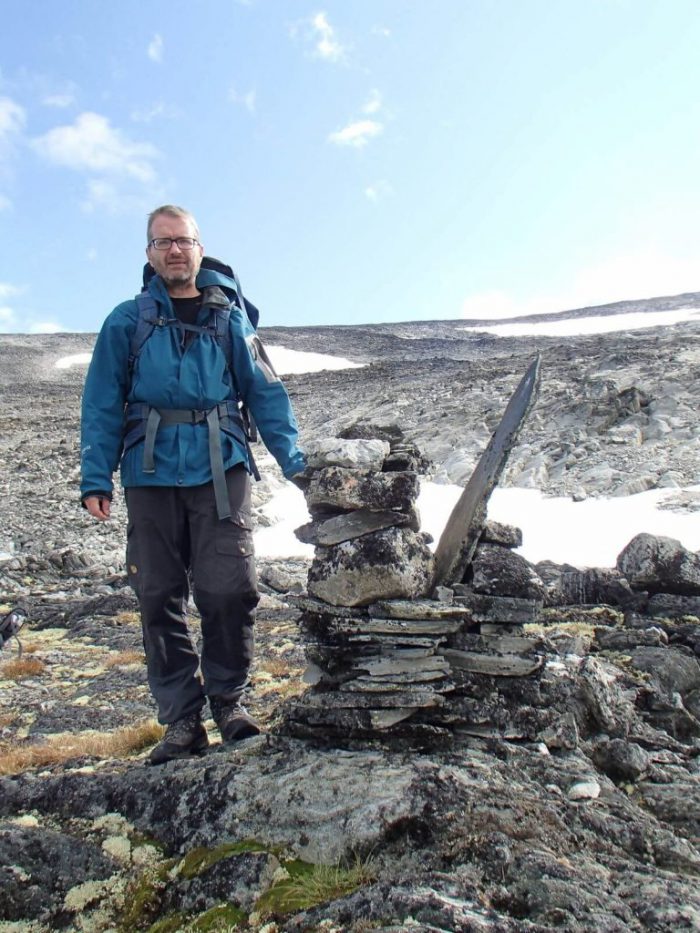 An example of a cairn used to mark the road. (James Barrett, University of Cambridge)
To be clear, when we say 'road', we're not talking about something that was paved. Nor are we saying that traffic would've been very high. There were no bumper-to-bumper jams on the Lendbreen ice patch!
Instead, this was simply a trusted, well-used route for travellers to use as they crossed the mountains. Archeologists have backed up this statement with more than just articles of Viking clothing and culture, such as mittens, shoes, and tunics. They also found artifacts related to travel.
These include snowshoes for horses, walking sticks, as well as piles of rocks called cairns. Cairns were used to mark the Viking road in case travellers lost their way.
Don't wash away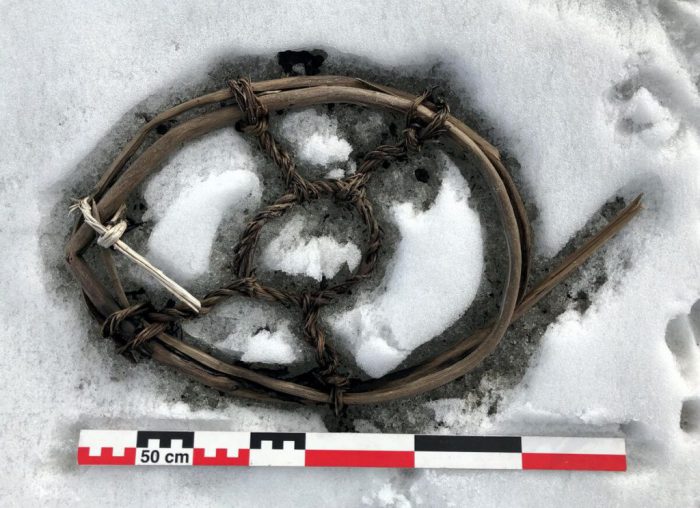 An ancient horse snowshoe. (Espen Finstad, secretsoftheice.com)
If right now is a very exciting time to be an archeologist in Norway (and it definitely is!), it is also a time to move fast.
The melting ice patch covers a huge area, and it is literally full of artifacts. But it is also full of newly flowing water to carry things away, as well as elements of wind, sun, and rain that can damage these fragile relics made of wood, bone, wool, and leather.
Hopefully, archeologists can recover as much as possible to give us a clearer picture of what Viking life and travel was like over a thousand years ago.
In the meantime, share in their joy as they discover a mitten from the 9th century. And you thought you were happy when you found your gloves in the school lost and found!