This Sunday, the opening ceremony for the 2017 North American Indigenous Games (NAIG) with be held at the Aviva Centre in Toronto, Ontario. The week-long Games is one of the biggest events in this continent's Indigenous community, especially for their young people. Over 5,000 athletes aged between 13 and 19 will participate in 14 different sports. They are:
3-D Archery
Athletics
Badminton
Baseball
Basketball
Canoe/Kayak
Golf
Lacrosse
Rifle Shooting
Soccer
Softball
Swimming
Wrestling
Volleyball
Putting it together in record time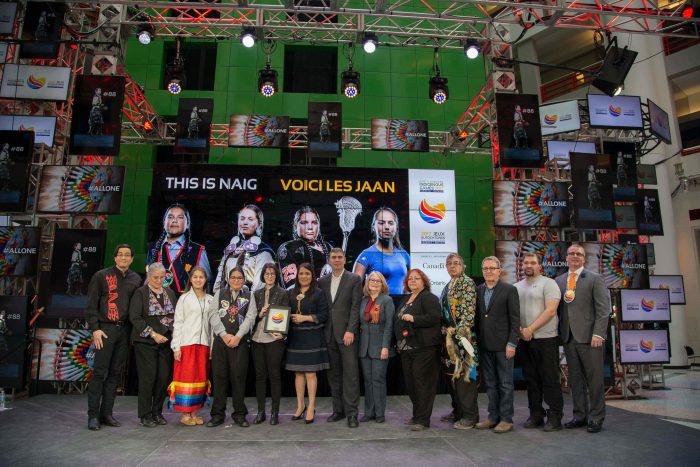 Celebrating the partnership between CBC and NAIG in Toronto. (NAIG)
Toronto was only officially announced as the host city in February 2016—not a lot of time to put together an international sports event! But organizers are proud to say that everything is ready to roll. For starters, around 2,000 volunteers are on hand to make sure things stay on track. The NAIG were also lucky to have so many perfectly-suited athletic venues in Toronto thanks to the fact that the Pan Am and Para Pan Am Games were held there in the summer of 2015. This is a huge advantage because the Games did not have a large budget to work with.
Life-changing event for Team 88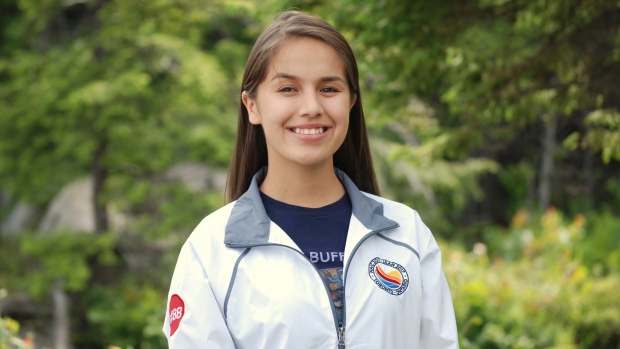 16 year-old athlete Hannah Morningstar is from the Atikameksheng First Nation in northern Ontario. The bronze medallist in javelin is an official ambassador for the Games. (NAIG)
Playing sports keeps us healthy, teaches teamwork, builds confidence, and challenges us. But that's just part of why this will be an incredible experience for these young athletes. A large number of them will be coming from fly-in communities, or ones not reachable by roads. Coming to a place like Toronto alone is a big deal. But coming there to make new friends, display your skills, and be a part of a cultural gathering that unites a whole continent? Well, that's just awesome!
Which brings us to something that you'll see a lot of at these Games: Team 88. What does it mean? In 2015, the Truth and Reconciliation Commission of Canada published its Calls to Action. These were 94 requests made of Canada to help repair its relationship with Indigenous peoples (something that was also a part of recent protests during Canada 150). Call number 88 reads like this:
We call upon all levels of government to take action to ensure long-term Aboriginal athlete development and growth, and continued support for the North American Indigenous Games, including funding to host the games and for provincial and territorial team preparation and travel.
For this reason, Team 88 has become an official slogan of the Indigenous Games and its athletes. Ontario's Hannah Morningstar, 16, is a javelin and discus athlete who is an official Team 88 ambassador.
"When I dance I feel proud, when I play sports I feel proud," she told the CBC in an interview, "and when I was at the NAIG in 2014 (held in Regina, Saskatchewan) I felt proud."
The NAIG: A tradition since 1990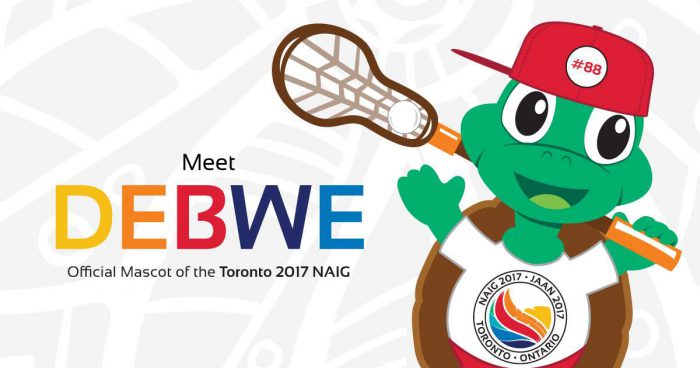 Debwe (pronounced DAY-BH-WAY) is the official NAIG 2017 mascot. This turtle was created by Anton, a 14 year-old from Deer Lake First Nation in Ontario. (NAIG)
The NAIG were first held in 1990 in Edmonton, Alberta. Since then, they've been held once every two to four years in locations in Canada and the United States. 2017 is the 10th NAIG, and the first one to be held in Eastern Canada. As in the Olympics, gold, silver, and bronze medals are awarded to the top athletes or teams in each event. Each of the athletes play for one of 26 different regions. All 13 provinces and territories in Canada are represented, plus 13 more from the United States.
Get ready for the opening ceremonies of the North American Indigenous Games (7 pm EST on CBCsports.ca) by watching the video below. (You'll also be able to stream multiple events on CBCsports.ca during the week!)