As many of us know, 2020 is an Olympic year. The 2020 Summer Olympics will be happening in June in Tokyo, Japan. But that is not the only Olympic event on the calendar. And the other one starts ... today!
The 2020 Winter Youth Olympics will have their opening ceremony at 3:00pm EST in host city, Lausanne, Switzerland. It will kick off two weeks of intense competition between some of the world's best young athletes.
Let's take a quick look at what the event is all about, as well as what makes Lausanne's version unique.
Junior-sized, but big
The Youth Olympics is an international athletic competition for athletes aged 14 to 18. There is a summer and winter version, held in opposite years to their season's main Olympics. So in 2020, there is a Summer Olympics and a Winter Youth Olympics.
Speaking of 2020, with 1,872 athletes from 79 nations competing in 81 events featuring 8 sports across 16 disciplines, the Lausanne Winter Youth Olympics is hardly child's play. It even has its own mascot, an awesome blue creature named Yodli that is a combination of three Swiss mountain animals: a cow, a goat, and a St. Bernard dog!
Bottom line: This a serious event that compares quite well to the regular Olympic Games. How well? The 2018 Pyeongchang Winter Olympics had 2,914 athletes from 92 countries and 102 events featuring 7 sports across 15 disciplines. Pretty similar numbers, really.
It takes discipline
By the way, you might be asking yourself right now ... what's the difference between a sport, a discipline, and an event at the Olympics?
A sport is a type of athletic competition. At the Winter Olympics, these include skating, skiing, ice hockey, or bobsledding, as well as many others.
A discipline is a further style of a particular sport. For example, the sport of skating has three disciplines featured in Lausanne: figure skating, short track speed skating, and speed skating.
An event is a competition that is tailored to a specific group and/or limit. Going with short track speed skating, there are five events in Lausanne. There are:
Boys' 500 metres
Boys' 1000 metres
Girls' 500 metres
Girls' 1000 metres
Mixed NOC Team Relay (meaning both boys and girls compete)
Proving their medal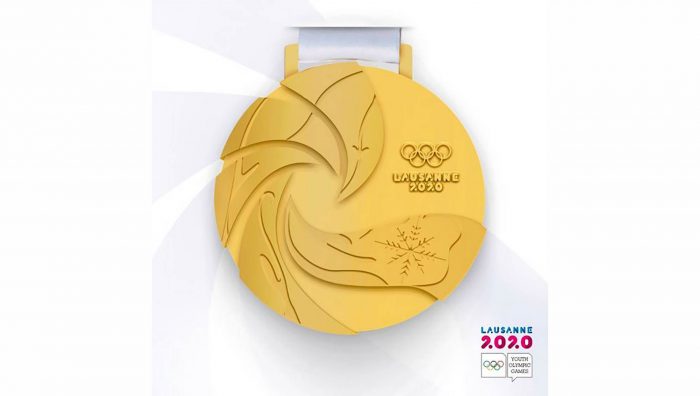 The gold medal design from the Lausanne Winter Youth Olympics. (Olympics.org)
Each event in an Olympics has three medals to award to its best athletes/teams: gold, silver, and bronze. Across 81 events in Lausanne, this means that 243 total medals are up for grabs.
Canadian contingent
And how many of them might go to a Canadian?
The Canadian team features 78 athletes, making it the fifth largest team at these games, trailing Germany, the United States, Russia, and host nation Switzerland. At the last Winter Youth Olympics—in 2016 in Lillehammer, Norway—the Canadian team won 6 medals (3 gold, 2 silver, 1 bronze). So you can bet that these young dynamos are ready to break that total. (Kind of like how the senior team did in Pyeongchang two years ago!)
Leading the way at today's opening ceremonies will be 17 year-old curler, Lauren Rajala. She's the flag bearer for the Canadian team.
Randy in the Rings: Rajala set to take on the world https://t.co/fsmFCDHYSv pic.twitter.com/dCzKHQbtyL

— SudburyStar (@SudburyStar) January 3, 2020
What an honour!
How to watch
If you want to watch Lauren and her teammates, you can tune in here starting at 3:00pm. (CBCSports.ca will also be streaming during all of Lausanne 2020.)
And if you can't even wait that long, check out the trailer below. Good luck to all of the athletes. We'll be reporting on these Games a few times over the next two weeks, so check back!