Ugh. Lugging around your backpack. Right?
Full of books and paper, a change of clothes, that-thing-that-Eric-asked-you-to-hold-for-him-last-Tuesday, and...you think this used to be a banana? Gross. It's like someone collected all of the worst features of your desk, closet, and the basement and compressed it into a cube. And on top of all that? It's heavy.
There has to be another way!!!
Thinking...
Thinking...
I've got it!
WHAT IF YOU COULD RIDE YOUR BACKPACK?
Hey, don't laugh, because it's real.
Introducing the Movpak!
Keep calm and ride your carry-on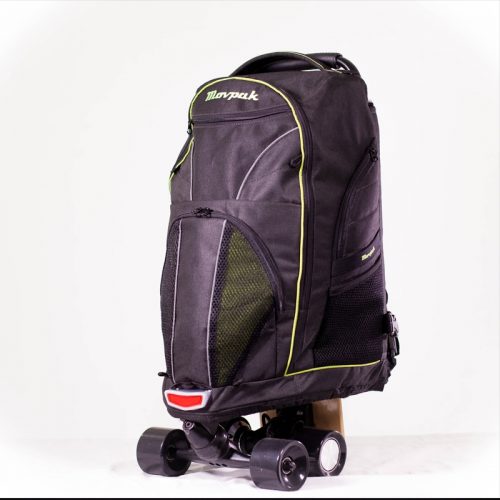 When in backpack mode, the Movpak looks pretty much like an average backpack. (Courtesy of Movpak)
At first glance, the Movpak is basically your everyday backpack. It has pockets and zippers, it carries stuff, and fits on your back. Yep, checks all the boxes! Even the four wheels found on the bottom of the backpack could easily be mistaken for a piece of rolling carry-on luggage.
But a simple lifting motion reveals a handy hidden surprise. Pop! Out slides a board, turning the Movpak into a rideable vehicle. It's a modest vehicle, sure. But as a fully functional electronic skateboard, it has the ability to carry its rider for about 22 km (14 miles). It can even climb hills and has a top speed of about 24 kph (15 mph).
The board is controlled by a small remote control that you hold in one hand as you ride. It has a brake (whew!) that helps to recharge the battery slightly each them you slow down (whoa!). There is even a USB, which allows you to charge your phone, play music, lights for night riding, and more.
Of course, there are some drawbacks. Between the board, wheels, and its battery, this is one of the heavier backpacks you're likely to wear. (Not that you'd notice when you're riding it, we suppose.) And the skateboard isn't exactly made for tricks, or to be ridden without power.
But all-in-all, it's one mighty neat gadget. How would you like to pull up to class on one of these things? See it in action below.