Swimming is an activity that many of us enjoy. But being one of the best swimmers in the world? That is a rare place indeed. Swimmers like Katie Ledecky, Michael Phelps, Taylor Ruck, Kylie Masse, and Penny Oleksiak possess an almost superhuman mixture of endurance, physical gifts, and determination.
And now you can add Brazil's Etiene Medeiros to that list.
This athlete may not have the name recognition of a Ledecky, Phelps, or Oleksiak. But she is a star in her native Brazil, the first Brazilian swimmer to win a gold at the world championships and Pan American games, and a huge advocate for both asthma prevention and the fight against breast cancer.
She is also a world record holder. How do we know? Guinness World Records just confirmed it!
Quick strike backstroke!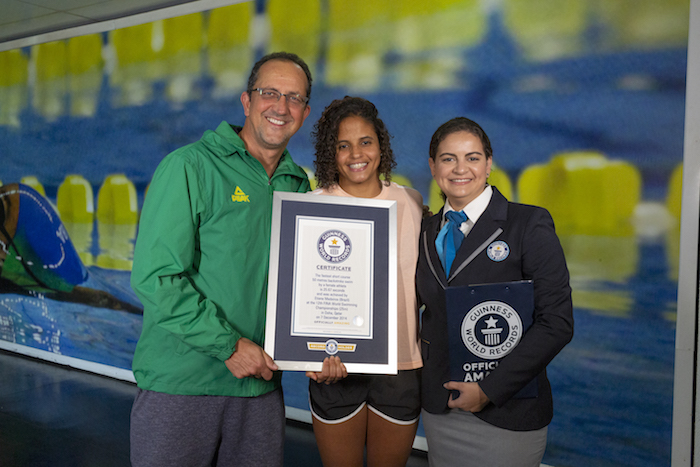 Etiene Medeiros, alongside her coach Fernando Vanzella, accepts her certificate from Guinness World Records adjudicator Raquel Assis. (Courtesy of Guinness World Records)
On March 8, Guinness officially confirmed that Etiene Medeiros owned the fastest ever 50-metre backstroke by a woman. This was for her time of 25.67 seconds at the 12th FINA World Championship in Doha, Qatar on December 7, 2014.
Okay, we know what you're thinking. That's an incredible time but... why did it take almost six years to confirm it as a record?
Well, in confirming the result, Guinness has to consider every other women's 50m backstroke race and at every other swimming event anywhere in the world. Ever. And only after poring over all of these records could they say officially that Etiene was the fastest. Ever.
Which is fine. Because though Etiene is a fast athlete, she is clearly patient enough to take it slow and wait for the recognition. Watch her being presented with the award below. Congrats, Etiene!