A paddleboard is basically just a surfboard. The only difference is that you move it forward by standing and paddling. It's a good workout and a relaxing way to take a little spin on a calm day. Sort of like this:
Though this looks like fun, what's the furthest you would travel on something like this? A couple kilometres maybe?
How about... across the ocean?
Daring feat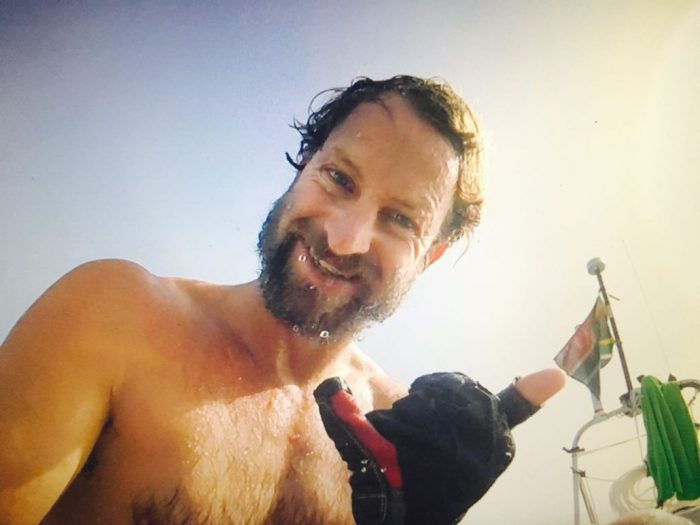 Bertish lets us know that everything is going great. (Courtesy of SUP Crossing)
It might sound crazy, but someone just did it. Meet Chris Bertish, a surfer from South Africa who specializes in big wave surfing. And as of last Thursday, March 9th, he can now claim to be the first person to paddleboard all the way across the Atlantic Ocean. His incredible journey lasted 93 days, and took him from Morocco to Antigua (that's 6,518 kilometres or 4,050 miles).
Bertish's paddleboard, or SUP (for Stand Up Paddleboard) was slightly more high tech than one you use for an average Saturday paddle. The specially-designed craft was the result of five years of planning. The SUP (pronounced just like "Hey, 'sup, buddy?") had solar panels, a small cabin where he could take shelter, a radar, a satellite phone, and a few other gadgets. But its method of propulsion was the same: one person paddling. Let him give you a tour of it here:
Life on the open water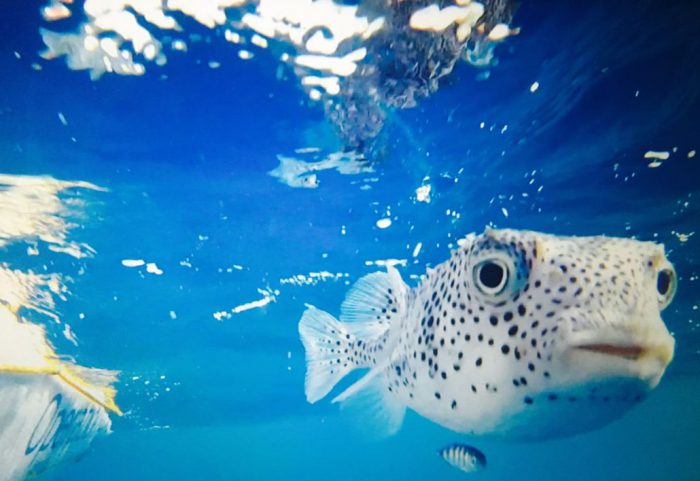 "Hi there, Puffy!" Face-to-face with a pufferfish in the open ocean. (Courtesy of SUP Crossing)
Bertish did most of his paddling at nighttime to avoid the intense sun. He paddled about 12 to 15 hours a day, all by himself. He even did the entire trip without any support vessel (a support vessel is a larger boat that stays close by in case of emergency). That meant that if anything went wrong (which happened often), he had to fix the problem himself. These problems included a malfunctioning steering system, water leaking into the SUP, all of his equipment malfunctioning, and being surrounded by great white sharks. Sounds like a blast!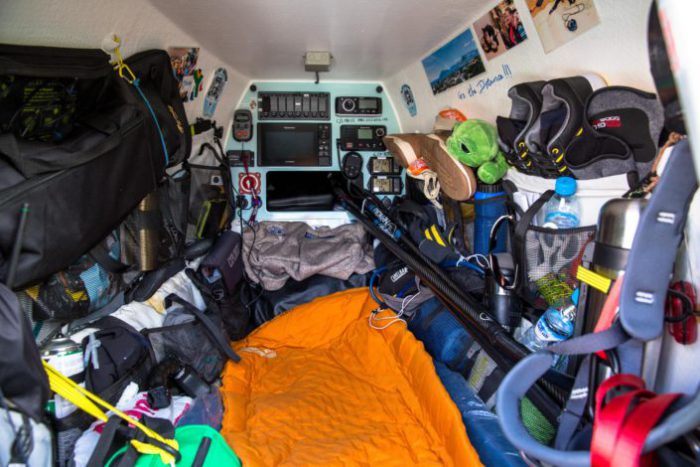 Inside the fully-loaded cabin of the SUP. (Courtesy of SUP Crossing)
Still, Bertish was able to get daily rest, thanks to the cabin found at the front of the SUP. And a desalinization device allowed him to turn the saltwater around him into freshwater that he could drink everyday. All the comforts of home? Maybe not, but what a life-changing journey!
All in all, we're beyond impressed at Bertish's feat. Here he is celebrating his arrival at Antigua.
See Chris' last moments at sea & photos of his arrival celebration over at @SUPthemag https://t.co/J1FF1NAPyT #TheSupCrossing @CarrickWealth pic.twitter.com/smuwBNTOJt

— Chris Bertish (@chris_bertish) March 10, 2017
Can you imagine being alone in the middle of the Atlantic on a paddleboard?