We're about midway through the Tokyo Paralympics, and has it ever been a feast for lovers of sports.
So far, Canadian Paralympians have secured 13 medals (1 gold, 7 silver, 5 bronze), including a bronze won just this morning by Zachary Gingras in the T38 400m final. (T38 is a classification—para athletes compete in certain categories, based on the nature of their disability. T38 is for athletes with cerebral palsy, a permanent condition that affects coordination and movement.)
Canada's Zachary Gingras celebrates a career-best race with a bronze medal. (Getty Embed)
Gingras's medal was a huge achievement for the 20 year-old on the biggest stage of his life. Only recently, he placed eighth in the same event at the World Championships. But in Tokyo, he raced to a lifetime-best 50.85 seconds. Congratulations!
To celebrate the Paralympics and athletes like Zachary, we're giving away a copy of the brand new Owlkids book Amazing Athletes: An All-Star Look at Canada's Paralympians by Marie-Claude Ouellet. Included in the prize pack is an official backpack and baseball hat from the Canadian Paralympic Committee. Details on the contest are below, but before we get there, let's hear more about what's happening in Tokyo!
Golden Rivard
Canada's Aurélie Rivard is overcome with emotion after setting a world-record in her gold medal S10 100m freestyle swim. (Getty Embed)
At the Tokyo Olympics, Canada's first week results were dominated by their exceptional women's swim team, led by superstar Penny Oleksiak. And at the Paralympics, the results are very similar—the Canadian female para swimmers have won several medals, including a silver in the S7 100m backstroke by Danielle Dorris. And their leader—as well as Canada's lone gold medallist so far—is Aurélie Rivard.
How good is Rivard? How about so good that she can break a world record—one that she herself set—twice in the same day? In her qualifying heat (swim race) for the S10 100m freestyle, she swam to a time of 58.60 seconds. A new world record! Then later that day in the final, she did even better, trimming it down to a miraculous 58.14 seconds. Her performance was so dominant, that the silver medallist, Chantalle Zijderveld of the Netherlands, finished over two full seconds behind her—a very long time in such a short race.
"It's probably one of the greatest swims of my life technically," she said afterwards, and what else can we say? The world record speaks for itself!
This contest is now closed
Contest time!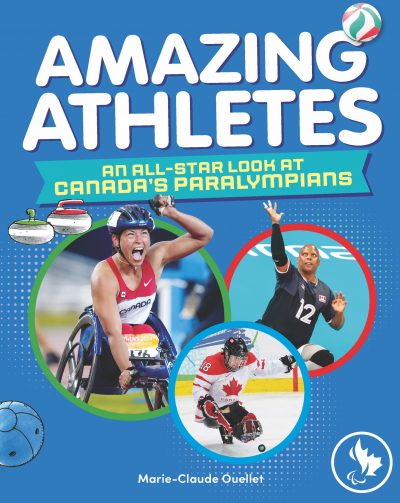 (Owlkids Books)
Of course, Rivard is just one of a host of unbelievable para athletes covering themselves in glory in Tokyo. We don't have anywhere near the space to talk about them all here. But that's where this book comes in!
Amazing Athletes: An All-Star Look at Canada's Paralympians is a look at a broad cast of inspirational and supremely talented athletes. It covers not only para athletes from Canada, but from elsewhere, too, all while exploring what is the third-largest athletics competition in the world!
We're giving one (1) prize pack that includes a copy of this new Owlkids book, plus an official Canadian Paralympic Committee baseball cap and backpack!
To enter, just comment below with your name and your answer to the following question:
How many medals do you think Team Canada will win at the Tokyo Paralympics?
Good luck!
Contest is open to residents of Canada only. Prize courtesy of Owlkids/Canadian Paralympic Committee. Contest closes on September 6th at 11:59PM EST. Winner will be randomly chosen. Full contest rules and regulations can be seen here.