You know what is a great idea when you're feeling a little down? Going for a walk! Think of it...
The fresh air!
Meeting new people!
Coming across endangered species from halfway across the country!
Wait, what?
And yet that is exactly what happened to someone out for a walk in the Vancouver suburb of Burnaby, B.C.
Turtle tourist
On June 23, a person came across a turtle politely wandering around the streets. This seemed a bit unusual, and so the turtle was taken to the Burnaby SPCA (Society for the Prevention of Cruelty to Animals). The SPCA didn't quite know what they had on their hands, so they reached out to the Dewdney Animal Hospital in nearby Maple Ridge.
Turns out this was no ordinary reptile out for a stroll. It was an endangered turtle, and it was native to the other side of Canada.
Wood you believe it?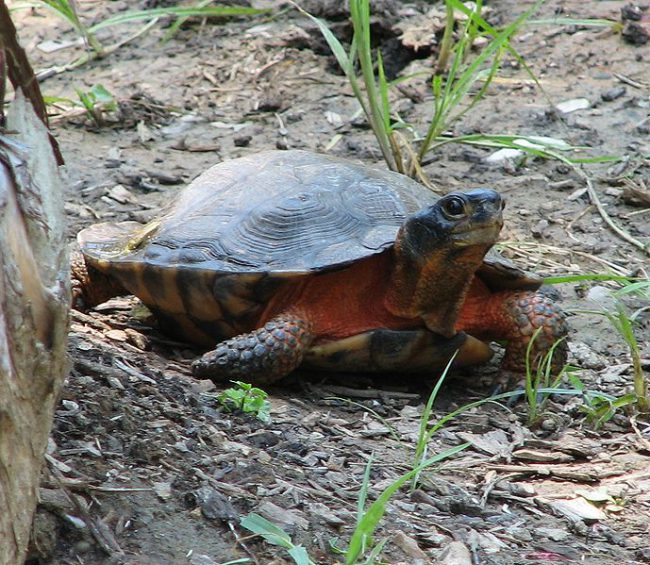 Wood turtles stomp on the ground to coax worms out of under the ground, and then they eat them! (Wikimedia Commons/Ltshears)
The wood turtle is a very rare species of turtle found in parts of central and eastern Canada from Ontario to Nova Scotia, as well as parts of the northeastern United States. This omnivore was officially listed as an endangered turtle in Ontario in 2010. Wood turtle populations have suffered from habitat loss, traffic and farming accidents, and predators such as raccoons.
They are also illegally collected for sale into homes as pets. Experts at the Dewdney Animal Hospital guessed that this particular reptile (now known as Burnaby!) was actually someone's illegal pet before it was either let go or escaped. Now, after a bizarre series of events, it finally made the trip back home... via the delivery service FedEx.
Back home... and on tour!
Thanks to support from the local government—and a special shipper called Reptiles Express—the wood turtle arrived Wednesday afternoon in Severn, Ontario. This is the home of the Speaking of Wildlife animal sanctuary. Here Burnaby will become part of the sanctuary's touring animals. They travel across Ontario to promote awareness of at-risk animals.
Have a look at Burnaby's unusual story in the video below!