The Indian women's hockey team is not used to this. Super smooth ice.
It's the kind of stuff that cities like Calgary and Airdrie, Alberta take for granted. But in an interview with the CBC program, Calgary Eyeopener, Indian goalie Noor Jahan said, "...when you compare [the ice back home] with the indoor rinks here, the difference is huge."
And thanks to the fundraising efforts of people like Canadian Olympic hero Hayley Wickenheiser, these players are getting to experience a real treat. Their entire team is on a life-changing visit to Canada for the Wickenheiser Female World Hockey Festival, or WickFest.
It's a very generous gift, but make no mistake. It's a gift that they've earned.
Making their own way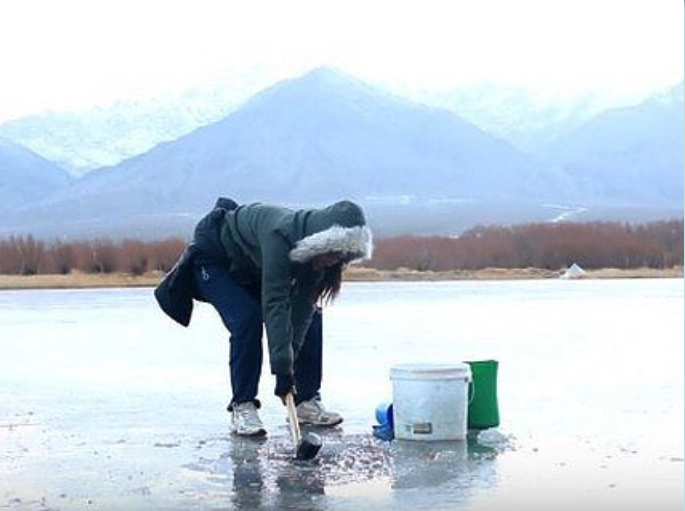 Do you love hockey enough to build your own rink? These women do! (India2YYC)
When players like Noor first took up hockey, not only was there no Indian women's hockey team, there was no support for female players at all. She and most of her teammates are from a remote mountainous region of India called Ladakh, which is found in the Himalayas. They didn't even know that women played at a high level until they searched online. But once they knew, they set about making their dreams come true.
They built their own ice on outdoor rinks, taught each other to play, and scraped together whatever gear they could to realize their dreams. Noor used her brother's old skates, even though they were several sizes too big. And they overcame constant mockery from those who said that women shouldn't play hockey.
Eventually, they got their first opportunity to represent their country in 2016 at an international hockey tournament in Asia. It was the first time the team got a chance to play indoors on a professional rink. What a difference!
Hayley pays a visit
Hayley (middle right) is already known as one of the greatest female hockey players of all time. Today, she works on the staff of the Toronto Maple Leafs and helps run events like WickFest. (Getty Embed)
That tournament helped to prove that these women were on to something. In January 2018, Wickenheiser wanted to see that was happening first hand, so she and former Edmonton Oiler captain Andrew Ference traveled to India. They brought with them dozens of bags of new and used equipment for the women to use.
Wickenheiser was so impressed by the group that she invited them to come to WickFest in November. Now everyday the team is playing exhibition games across Alberta, training with top coaches, and skating on the smooth ice of their dreams. That ice might even be coming back home with them! Wickenheiser is hoping to raise money to help fund new outdoor and indoor facilities back in Ladakh.
Will India one day become a world power in women's hockey? It won't happen overnight, but given how much the Indian women's hockey players have overcome already, we wouldn't bet against it!
See more of their story in this video!