The world of dog sled racing is one filled with legends, strong communities, and athletes with a deep dedication to the sport... and their dogs!
Its biggest event is going on right now. That's Alaska's Iditarod, a 1,510 kilometre (938 mile) race from Anchorage to Nome that takes between 8 and 15 days to complete. If winning the Iditarod is the crowning achievement of any professional musher (dog sled racer), one of the best ways to prepare is to race in the Junior Iditarod.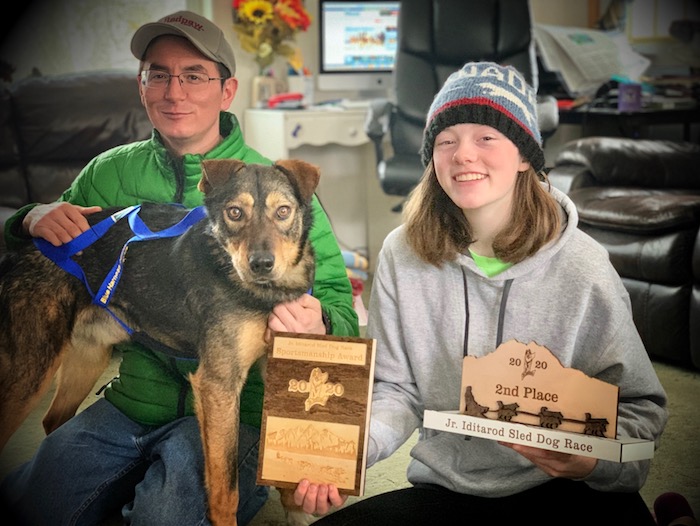 Julia Cross poses with her second place trophy. (Barbara Redington/Courtesy of Criss Cross Racing)
The two-day, two-section race is for mushers aged 14 to 17. It covers 222 km (138 miles) and has a mandatory 10-hour break in between its sections. This year's event happened February 29–March 1. Seventeen-year-old Ontario teen Julia Cross entered the race with high hopes. And she finished it on cloud nine. She led the race for most of the course, finishing in second place — the best finish ever for a Canadian in the event.
We caught up with Julia after her big race to learn more about the sport, the bonds with her dogs, and what her future holds.
Julia Cross says "Mush!"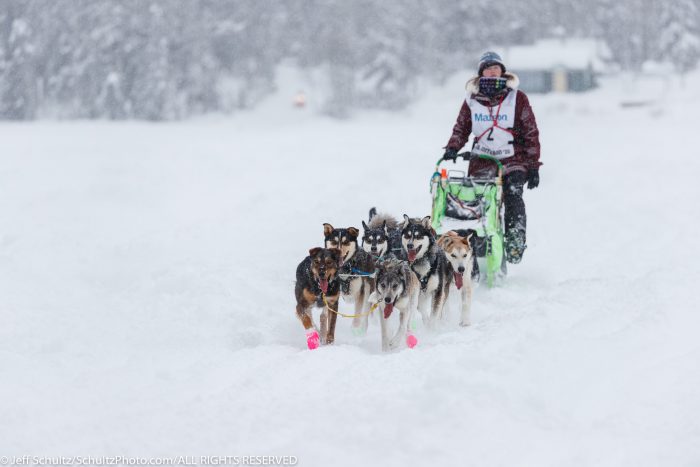 Julia is off and running in the 2020 Junior Iditarod. (Jeff Schultz/Courtesy of Criss Cross Racing)
OWLconnected: You drew the position of lead racer in the Junior Iditarod. Why doesn't everyone start at once? Is it better to go first?
Julia Cross: Depending on the race, each musher starts at 2 minute intervals. This allows for enough time for each team to get to the start safely and out on the trail not all bunched up.
Going out first can be a good or a bad thing, depending on the trail. In a low snow year, going out first is great — you will have a more snow covered trail than the teams behind you. In this year's Junior Iditarod, being out front was good at the beginning. But once it started snowing, it ended up being disadvantageous. Because we were first, my team was working hard breaking a trail through the fresh snow, whereas the teams behind me had the trail I had broken to run on.
OC: How did you qualify for this race?
JC: You need a number of letters of recommendation from known mushers stating that you are capable of taking care of both you and the dog team. I have been racing since 2014 and have done other races requiring me to camp out on the trail, so was also experienced in this style of race.
OC: What are your ideal racing conditions and why?
JC: It all depends on the dogs you have and the trail conditions you train on. For me, ideal trail conditions are a hard-packed trail and temperatures right around -20 Celsius. I prefer running at night as it is cooler and more peaceful as well!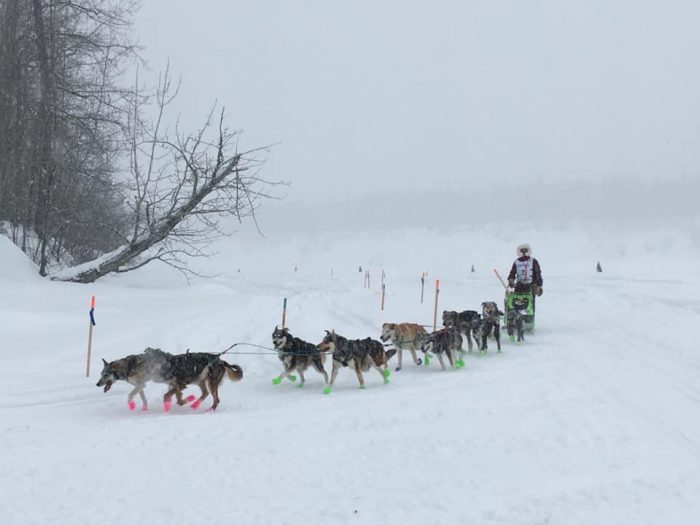 Mushers needs to develop an excellent understanding of the dogs on their team. (Criss Cross Racing)
OC: Tell us about your team of dogs. How do you select them and do they live with you all year round?
JC: The group of dogs I was racing was from a friend of mine and well-known musher, Ryan Redington. Ryan had three teams of dogs trained to race this season. I spent time before heading up to Alaska on training runs at his kennel, and time training them in Alaska prior to the race. We select the dogs based off what they have proven throughout the season, and the projected forecast during the race (for example, some dogs do better in colder temperatures than others). I have five of my own dogs, and typically use a combination of my dogs and another musher's dogs.
OC: Do you use two lead dogs? How are they trained?
JC: On most teams, you would want more than two lead dogs. It's important to switch around a dog's place in the team to suit the dog's needs, and to give some lead dogs a break.
On my Junior Iditarod team I had three main leaders, but five dogs on that team of ten would lead. When we are training dogs to be leaders, we look for dogs who are super forward driven — always wanting to go forward and stay up front — and don't get distracted easily, as well as can continue to keep up a good pace. They need to be dogs you have a good bond with so they listen to you. Lots of dogs can be lead dogs, but some fit the bill better than others.
OC: The Junior Iditarod is run over two days and there's a mandatory ten-hour break in between. Is the break just for sleeping, or do you get to eat and hang out?
JC: The mandatory break in the Junior Iditarod is yours to do what you want. You must stay for ten hours, you are not permitted to go inside the building on site unless it is an emergency. When you first arrive, you will feed and bed down your dogs so they can get as long a break as possible. The first team to arrive at the checkpoint is in charge of starting a group campfire. As other mushers arrive, we all hang out and talk around the campfire. You can eat food you brought with you in your sled, as well as get some sleep, if desired. This year there was a group of five of us around the fire talking and getting to know each other. In the ten-hour break, we each got around an hour of sleep.
OC: Wow, just one hour! Speaking of not sleeping much, describe the feeling of finishing second. You made Canadian history!
JC: It was pretty incredible. My entire life I had dreamed of going up to Alaska and racing dogs. To do so well in my first dogsled race up there was really an awesome feeling, especially to make Canadian history. When I was younger, I made my goal in life to be the first Canadian to win the full Iditarod. It was pretty cool to be a step in my goal in life by being the highest placing Canadian in the Junior Iditarod!
OC: What are your future plans?
JC: My current plans for my racing career are to build up my kennel. I have some pretty awesome dogs with great bloodlines that I want to breed to help kickstart the rest of my kennel. I'm going to run some longer races next season to get me qualified to run the full Iditarod. Right now my goal is to run Iditarod in 2025. I also plan to go to school for a job in the veterinary field (vet or vet tech). I want to race for the rest of my life, while having a job that supports it.