When you're sixteen, you're not used to breaking barriers and having adults say that they look up to you.
But Jaida Lee is no ordinary sixteen-year-old.
The 5-foot-10-inch-tall athlete from St. John's, Newfoundland just finished a whirlwind tour of the baseball world.
In between signing autographs and posing for pictures with fans young and old, she has set a first for females in Canadian baseball, represented her province in high-level national competition and thrown the ceremonial first pitch before a recent Toronto Blue Jays game.
Though she has only become known nationwide over the last couple weeks, back in St. John's, she is well known for her determination. And wicked fastball!
For many decades, women had more often played a variation of baseball called softball. But not only is she one of a growing number of female athletes playing baseball, she is winning spots for herself on men's baseball teams as well.
Softball? Baseball? What's the difference?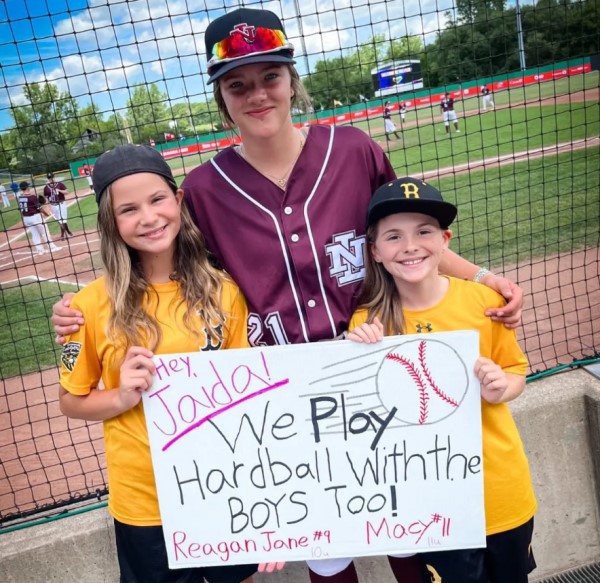 Jaida alongside some young fans at the Canada Games. (2022CanadaGames/Twitter)
First, let's clear up a small detail about the sport she plays (and the one that she doesn't play).
Softball is a sport that is very similar to baseball. Its biggest differences? The size of the ball (a softball is grapefruit-sized, not apple-sized), and the style of pitching. Softball uses an underarm delivery. But baseball (sometimes called hardball) is overarm, which allows for harder, faster pitches.
Currently, around 250,000 people play softball in Canada. But in a recent interview with the St. Catharines Standard, Jaida was really clear about why she is not one of them.
"I like pitching the most," she told the reporter, "and I don't like underhand pitching."
Speaking to CBC, she said that she plays around 80 games a year (up to four times more games than most players her age) by joining both men's and women's teams in her area. It is that desire that helped drive her to being a member of her biggest squad yet: the Newfoundland and Labrador men's baseball team!
Captured the flag
Jaida's recent adventures started at the Canada Summer Games, which just finished being held in the Niagara Region in Southern Ontario. This is a national multisport competition that is similar to the Olympics. And like the Olympics, it has an opening ceremony where the teams march out and are led by a flagbearer.
This Games' flagbearer for Newfoundland and Labrador was Jaida! You can see it below.
Jaida Lee of St. John's is the flagbearer for @teamnl at the opening ceremony of the 2022 Canada Summer Games. At the Games, Jaida will be the first-ever female to compete on an all-male baseball team in the history of the multi-sport competition. Way to go, Jaida! #GovNL pic.twitter.com/wlG0z9cPTO

— Tourism, Culture, Arts and Recreation (@TCAR_GovNL) July 19, 2022
Here's the pitch!
With the Games underway, it was time for her to feature in an actual game. Her big moment came as a relief pitcher in a game against Alberta (relief pitchers appear later on, after the starting pitcher begins to get tired). She successfully retired (got out) all three batters she faced in her first inning, before getting a fourth out in the next inning. Though her team lost the game, it was a solid appearance for Jaida.
And one other thing: the ball that she threw on her first pitch? It was saved and is being given to the Canadian Baseball Hall Of Fame as the first pitch thrown by a woman at the Canada Games. Here it is!
Jaida Lee makes Games history, first female to participate in baseball.@teamnl pic.twitter.com/OmSFQ2PUOI

— Gary Martin (@Martinsports3) August 8, 2022
Pretty amazing!
The biggest stage
What can top that experience? How about throwing the ceremonial first pitch at a Major League Baseball game?
That's what she did on August 13 before a Saturday match between the Toronto Blue Jays and Cleveland Guardians. (Toronto won 2-1, snapping a long losing streak, by the way. Coincidence? We think not!)
The moment capped an excellent couple of weeks for this amazing young athlete. But it is by no means the end of her story.
Jaida now has her sights set on playing college baseball in the United States. This is a place that is full of top-level competition—many current major leaguers developed their skills playing college baseball. And one day, Jaida wants to join them. Not just at college or even the minor leagues. But as a major league pitcher.
After what she has accomplished, who would bet against her?
Watch her throw the pitch at the Jays game and talk about her recent experiences in the video below.