What a World Series! The Houston Astros are the champs!
We thought last year was something, but somehow, this year's version was even more wild. On the way to the Astros' first-ever World Series title (Congratulations!), Houston and Los Angeles put on a show for the ages.
Dramatic comebacks? Uh huh.
Tons of scoring and big home runs? Was there ever!
Exceptional pitching? Umm...well, actually not so much.
Something strange?
Kenley Jansen's pitches were next to unhittable all year...until he fell apart in Game 2. (Getty Embed)
That last point surprised many. Despite this World Series having many of baseball's best pitchers (Clayton Kershaw, Justin Verlander, Dallas Keuchel, Yu Darvish, Kenley Jansen...), the balls were just flying out of the park. The 24 homers hit by the two teams is the most ever hit in a World Series. Game 2 alone had 8 homers, while Game 5 had 7 and a final score of 13–12!
Crazy high scores, record numbers of homers, top pitchers curiously underperforming...is it all a coincidence? Not according to some.
They claim that this World Series used juiced baseballs.
Freshly squeezed!
Houston's star pitcher Justin Verlander had trouble with the World Series balls. (Getty Embed)
"Juiced baseballs." What does that even mean?
When people say that the balls are "juiced", they just mean that the balls have been changed to perform better (a.k.a. to increase how many runs are scored with them).
This all sounds like a weird conspiracy theory. Until you start reading more about it. Pitchers and coaches on both teams said that these World Series balls were noticeably different. They looked different. They felt slicker. When Houston starter Lance McCullers was blindfolded, he could successfully tell the "normal" and World Series balls apart.
Even the respected sports magazine Sports Illustrated wrote about the phenomenon. Houston's pitching coach, Brent Strom, told them, "It's obvious. You can see [the difference] and you can feel it. It's not the same. Someone's got to explain to me why."
Juicy sliders
L.A.'s Yu Darvish's best pitch is a slider. Things did not work out great for him—or that pitch—in this World Series. (Getty Embed)
Let's say this is true. Why would it lead to more runs? The key is how it affects a pitcher's grip on the ball.
Pitchers use different grips to throw certain pitches. And while a fastball travels hard and straight, pitches like a curveball follow twisting paths caused by flicking motions when the ball is released. This is especially true of a slider.
From Darvish to Verlander, pitcher after pitcher complained that the ball was too slick to grasp correctly for a slider. And that when they tried, their opponents often hit (you guessed it) a home run.
"I noticed it especially throwing a slider," Verlander told Sports Illustrated. "The home run I gave up to [L.A.'s Joc] Pederson was a slider."
Does it really matter?
Houston's George Springer was a home run machine, tying a record for most homers by a single player in a World Series with 5. (Getty Embed)
For his part, Major League Baseball commissioner Rob Manfred says that the balls are the same now as during the regular season. Which leads us to ask: Juiced baseballs or not, does it really matter?
After all, both teams were still using the same balls, right? And we've already discussed that MLB players hit more home runs during this regular season than ever before. It makes sense that this carried over to the World Series. Maybe these two teams just have very good hitters.
Especially the new champs.
So noticeably good, in fact, that this was a cover of Sports Illustrated, back in June of 2014. Yep, even three years ago!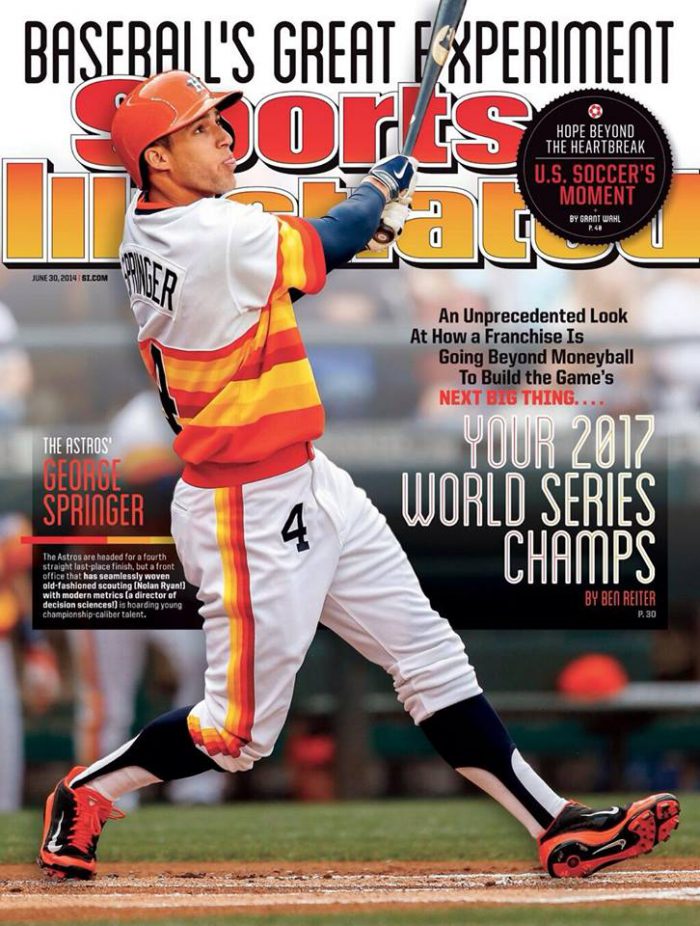 What a prediction! (Sports Illustrated)
Sometimes, a great team really is just a great team.