Is there anyone who doesn't love kittens?
Theoretically, we suppose that there are some folks out there whose hearts remain unmoved by the sight of tiny balls of fluff and their sweet, wee mews. But the crew of construction workers who rescued five kitten stowaways from a steel pipe last month were definitely moved to act when they saw their cute kitten faces!
Next stop where?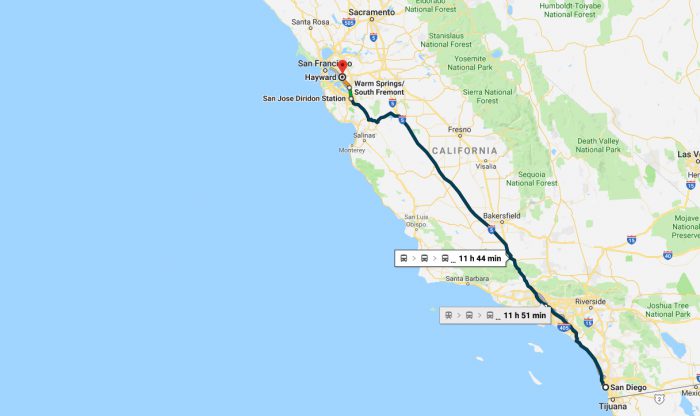 That is one long trip for five little cats! (Google Maps)
The kittens had made an incredible 12-hour, 640-kilometre (400-mile) journey from Hayward (near San Francisco) to San Diego inside of an 18-metre (60-foot) steel column. Construction workers were about to place the pipe into places when they heard meows coming from inside. (Best. Surprise. Ever.)
The column was tilted and, sure enough, out slid five kitten stowaways. How did they get there? No one knows. But the workers certainly knew where they needed to be.
They turned the furry bundles over to the San Diego Humane Society, to be cared for. Though we're pretty sure that they snuck in a few cuddles before handing them over. They also likely had a hand in the kittens' names: Chisel, Crowbar, Jackhammer, Piper, and Rebar. It's no surprise that a couple of the workers are hoping to adopt some of the kittens once they're old enough to leave the humane society. How could they not?
To see these crafty hitchhikers for yourself, watch the video below!