Like a lot of water birds, geese mothers are fiercely protective and watchful parents. If you don't know what I'm talking about, just trust me. You don't want to find yourself in between a mommy and her baby birds. Honk! Squawk! Nibble! Peck!
Okay, okay, Mommy goose! I'm leaving!
Anyway, you get the idea.
And that protective, concerned nature makes this story all the more amazing. Because this is a story of a goose who not only trusted a person with one of her goslings. It seems that she went looking for human help on purpose.
Honk! Over here!
Sergeant James Givens has been on the Cincinnati police force for 26 years. He's helped a lot of people and seen a lot of things. But this was a first. He was sitting in his parked police cruiser when a lone Canada goose came waddling over into the lot. It started to honk and peck at his car door. It was as though she was trying to get the officer's attention.
"It kept pecking and pecking and normally they don't come near us," Sergeant Givens told a reporter at Cincinnati TV station WKRC. "Then it walked away and then it stopped and looked back so I followed it."
Emergency call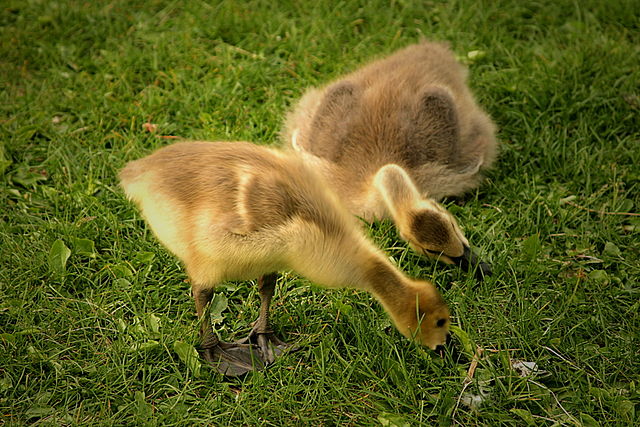 Goslings (Wikimedia Commons)
The officer was led by the goose to one of her goslings. The baby bird was tangled up in some string tied to a burst balloon. Sgt. Givens figured that he was being asked to help the bird, but he was still worried that the goose might attack him if he touched her baby. So he radioed for an animal expert at SPCA (that's the Society for the Protection of Cruelty to Animals), but no one was available. But his colleague, Officer Cecilia Charron, heard the call and said that she wanted to help.
Soon, Officer Charron was there, working gently to untie the little gosling.
"She showed up on her own," Sgt. Givens told the website The Dodo. "I told her to be careful, but she just walked over and untangled the baby. The mother goose just watched, like she knew. It was amazing."
Yep. It's amazing alright. In the video below, taken by Sgt. Givens, you can see it all unfold, including the happy reunion of a mother and her baby as the two waddle off toward the water. Throughout, the mother and baby honk and squeak to one another, while Officer Charron keeps reassuring them, "It's okay. It's okay. I know."
And what do you know? It was okay. Yay!