I want to EAT a part of it, New York, New Yooooooork!
Uh, isn't that how the song goes?
Either way, a cake artist from Innisfil, Ontario named Beatrix Müller is making that wish come true with an unbelievable creation. A 300-pound, two-metre tall gingerbread model of New York City. Gingerbread house? Forget that ... this is a gingeropolis!
The city that never sleeps (or stops being eaten)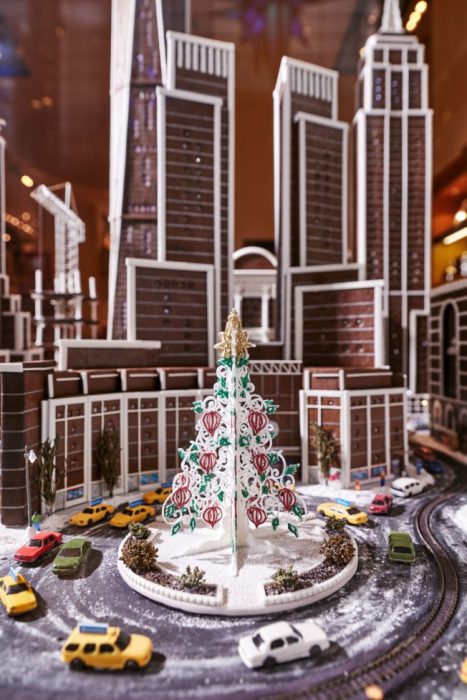 Even the tiny pine trees are made of herbs, like rosemary. She thought of everything! (Nico Schinco)
Müller's achievement only gets more impressive when you hear all the details. It took two months to build. All of the buildings that are included are done to scale—she used Google Earth to get it all right. The list of famous structures includes the Empire State Building, the Chrysler Building, One World Trade Center, the Woolworth Building, and more.
And the entire thing is edible. There are no plastic supports at all— even though the tallest buildings are the size of an adult person. She also achieved all of this using a recipe that makes soft gingerbread, not the hard 'construction' gingerbread that you'd get in a typical home kit. How is that possible?
As Müller told the Williams-Sonoma blog site, "The secret to building such big and tall buildings with soft gingerbread cookies lies in erecting the right internal edible structure that will support the soft cookies. I do this by baking gingerbread posts and beams as well as making pastillage [thick sugar paste] beams to support weight bearing walls."
Wow!
Sounds delicious. There's just one problem ... who would dare eat such an amazing work of art?