Hockey news? Now? In July?
Even in Canada that's a bit odd. We want to hit the pool, not the rink!
But these are odd times, calling for odd solutions. And the National Hockey League looks closer than ever to solving the problem of how to restart its suspended 2019-2020 season.
And that solution? It looks like it's hockey in Canada in the summer!
Hub love
Even though Connor McDavid and the Oilers will get to play teams like Mark Scheifele's Winnipeg Jets in his home arena, there will be no fans and no home advantage. (Getty Embed)
Back in this May post, we talked about how the league was looking to move forward by playing in hub cities—these are locations where the league could isolate teams and make sure that they were tested regularly for COVID. And now, multiple reports say that any day now the league will officially announce that those hub cities are Toronto and Edmonton.
In this NHL restart plan, all Eastern Conference teams will play their games in Toronto. Edmonton will host the Western Conference teams. Exactly where the Stanley Cup final will be played hasn't been announced yet, but it is likely that it will be in just one of the two cities.
Why in Canada?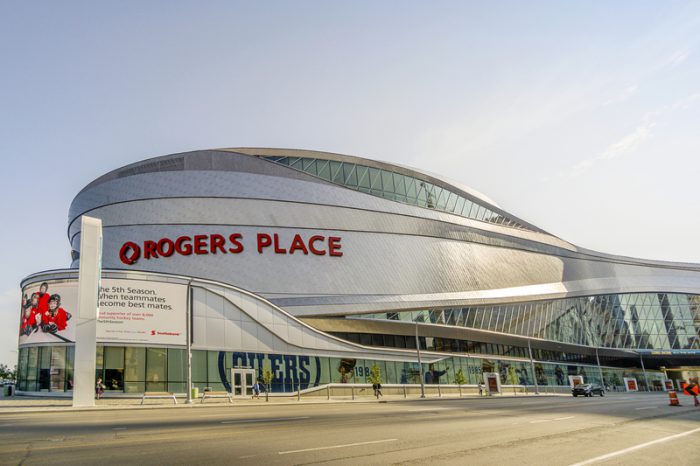 Normally, leagues like the NHL have a lot of travel as teams go from city to city. But under this plan, half of the league will play at Rogers Place in Edmonton. (© Jacek Sopotnicki - Dreamstime.com)
While no one needs convincing that Canadians love hockey, it might seem a bit weird that both cities in the hub are going to be in Canada. After all, 24 of the league's 31 teams are American and the league headquarters is in New York City. Also rumours were that Las Vegas—with its endless hotels and flashy arena and fresh new team—was a frontrunner for one of the spots. So how did Toronto and Edmonton end up being selected?
Well, for starters, both are capable of doing the job. Edmonton's Rogers Place is maybe the best arena in the whole league, while Toronto has plenty of places for players to stay. Also, the pandemic has hit the revenues of leagues like the NHL very hard (not having any games to sell tickets to or watch on TV will do that!). With Canada's dollar being cheaper than the American dollar, the league can save a lot of money by sticking in Canada.
But maybe the biggest deciding factor is what led to this shut down in the first place: COVID. While America is dealing with new outbreaks of the virus in states like Florida, Texas, and Arizona, Canada has kept the virus more under control. When keeping players safe is the name of the game, this fact makes all the difference.
Is it a sure thing?
Though they'll get to play, all NHL players will be under strict quarantine and will be tested for COVID daily. (Getty Embed)
Not yet. Despite the news being out since July 1, we still don't have an official announcement yet from the NHL. This is because it will still be a very difficult plan to pull off.
And the virus is still a factor. Several players have tested positive for COVID recently, so the NHL has to take extra care. And there is still the possibility that many players won't feel comfortable doing playing at all, knowing the risks. All players are allowed to say no to playing without penalty.
But given the success of restarts in the German Bundesliga and English Premier League, it does feel possible. Are you ready for hockey? It looks like it might just happen!